Jean-Paul Ly is going places in the world of action movies.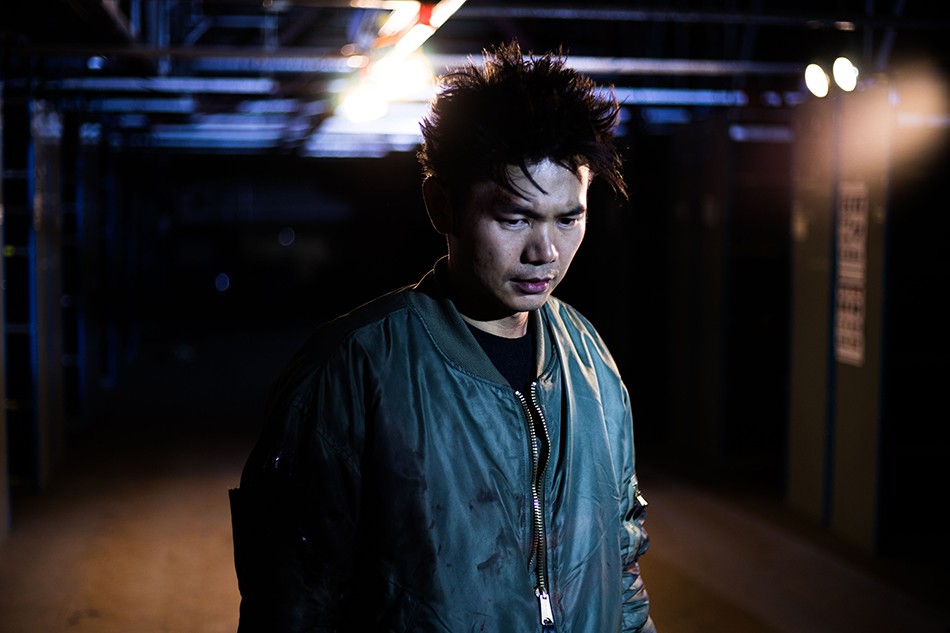 A stuntman and budding martial arts master, Jean-Paul Ly steals the show in his latest movie, Nightshooters, which serves as a brilliantly balls-to-the-wall fusion of Die Hard and The Raid by way of Shaun of the Dead. Read our full UAMC review below…
Shoot the Night with Jean-Paul Ly in the Action Packed NIGHTSHOOTERS
It focuses on a group of budding filmmakers who accidentally witness a gangland murder during a night shoot at a soon-to-be-demolished high rise. A bloody and often amusing game of cat and mouse unfolds and the results do not disappoint.
A noticeable British affair, writer/director Marc Price's film may be packed full of that familiar English wit but it's Ly who leads the way in the action stakes, taking centre stage in a series of well-choreographed action set pieces.
To mark the film's home release, Ultimate Action Movie Club spoke to Ly about Nightshooters, action movies and who would win in a fight between Jean-Claude Van Damme and Steven Seagal.
Who were your ultimate action movie heroes growing up?
Like a lot of people, i grew up watching Bruce Lee movies, and then later on the Jackie Chan and Jet Li' ones. They were massive inspirations, not only for martial arts but as "ambassadors" in films for asian representation.
How did you get involved in Nightshooters?
We were discussing with Marc Price about a project he had in mind for several months (it wasn't Nightshooters at that time).
I've always wanted to act in a British comedy, and we thought that mixing the action and comedy would be a good idea. He was nice enough to trust me as an actor and in the action design, so we kept on working until getting the opportunity to make another, more affordable film in his line up, Nightshooters.
What's your ultimate action movie, one that you can watch again and again?
Jackie Chan "Armour of God 2" (Operation Condor in french)!
This film had everything: the adventure, the comedy, traveling, and the great action.
How did you get started in the action movie business?
I've started 5 years ago, which does surprise a lot of people! Long story short: I was a marketing manager for a pharmaceutical company in asia, but i couldn't stop thinking about martial arts, every single day. So i've decided to quit that job and then went back to my hometown (Paris), announced to my parents my will to work in the film business and flew to London 2 days later.
Why should action movie fans seek out Nightshooters?
I think it will appeal for people who like:
– The British humor : it's quite dark at some point
– Very likeable characters : the cast in this film is amazing, and i was blessed to be working alongside such talented actors. They are the force of the movie.
– The martial arts : by showcasing different styles
My biggest fear was to make the usual B movie, where the focus is only on the action, but i believe that Nightshootershad a strong direction and is more a comedy, before being an action film.
If you could go back and star in any action movie, which would it be?
None! They are perfect as they are 🙂
Who has been your biggest influence as an action movie star?
I would say Donnie Yen today. I like the grounded approach, very stylised kicks, but mainly because he's one of the few who's adaptive to many styles and forms, if not the only one.
What was the biggest challenge of working on a movie like this?
As you can tell, it's a very low budget film! Which means that i didn't have enough time to rehearse, or polish it all nicely. The action department had around 2 weeks of prep and creation. I choreographed it all myself, and with the support of a great stunt team (Donovan Louie, Axel Nu, Eddie Lee, Tom Cotton, Jon Alagoa and Danny Darwin), we've designed/rehearsed it all together. The movie wouldn't be made without them.
But, like my previous film Jailbreak, i've faced that same situation of doing both the acting and the action design. Being a fight choreographer is a full time job in itself, and i'm still learning on processing both. In a bigger budget or with a bigger team, that would be much easier, but i've never had that chance yet!
Settle an ultimate action movie debate for us: Stallone or Schwarzenegger?
Arnold all the way! He is THE ultimate action star that has ever lived.
If you could team up with any action star for your own buddy cop movie, who would it be and why?
I would say The Rock but let's not dream too much!
We noticed you are working as a stunt performer on Fast & Furious Presents: Hobbs & Shaw – can you tell us anything about the movie? Is it going to be as crazy as the trailer looks?
I've been working on for a few days during the London shoot, thanks to the awesome Fight Coordinator Greg Rementer and his team. The shooting was intense but also very relaxed, because it was so well directed.
It was amazing to be working with Jason Statham and The Rock on set, we laughed a lot seeing them act and so at ease with their characters.
I am certain that it will be one of the best action blockbuster of this year.
What's the best thing about working in the action movie business?
Simply to be fortunate enough to do martial arts for the screen!
Finally, who would win in a fight between Jean-Claude Van Damme and Steven Seagal?
Draw!

---
Find out how you can watch Nightshooters here. Let us know your thoughts in the comments or on our Facebook page!