Timothy Dalton at his James Bond Best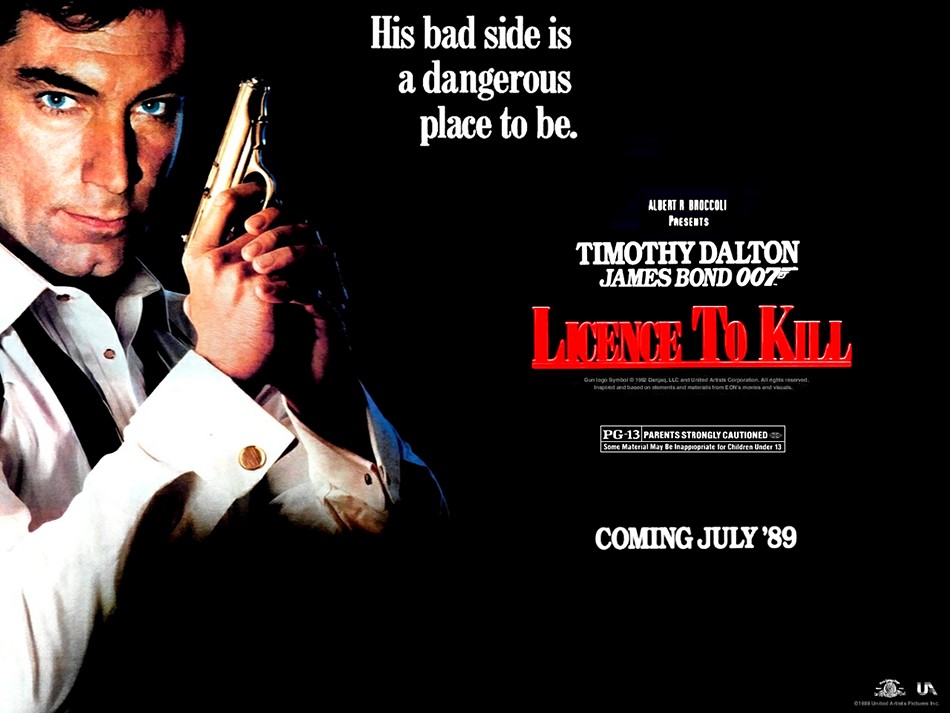 Nowadays we are a lot more accustomed to a harder edge to Great Britain's debonair super spy James Bond with the modern take on 007 owing a lot more to the Daniel Craig's incarnation of Bond, than the Pierce Brosnan version of the character ever really managed to achieve despite, his strong opening stanza with 1995's GoldenEye.
In many ways Bond was redefined in a dynamic sense by the Jason Bourne movies that came out around the time of Brosnan taking over the role. It became apparent that for a character which first hit the screen in the form of 1963's Dr. No to survive in the modern world, changes would have to be made. That change would be Timothy Dalton in Licence to Kill (1989).
The James Bond Lineage
At the time of Bond first appearing in cinemas, Sean Connery was the definition of an ultra-cool and deadly assassin. To quote an often-used phrase. "Men wanted to be him and women wanted to be with him. But times had changed and viewing audiences were perhaps given the first glimpse of what was to come in the form of 1987's Living Daylights starring Timothy Dalton in the lead role.
Of course, Bond now has a history of interchanging lead actors. Connery grew weary of the character and was eventually replaced by Roger Moore after a one film variation with Australia's George Lazenby in 1968's On Her Majesty's Secret Service, followed by Connery being seduced back by one last pay cheque with 1971's Diamonds are Forever, before Moore eventually began his run of films in the series with 1973's Live and Let Die.
Moore brought a different approach to the character than had previously been seen on the silver screen. His version of Bond was a lot more jovial and always seemed to be giving a silent wink to the viewing audience and his run as 007 proved to be a hit with the fans of the series but, age is a race that no man can win and this lead to him finally hanging up his tuxedo after 1989's View to a Kill, resulting in the role of Bond being passed on to a relatively unknown actor (to movie fans at the time) named Timothy Dalton with the release of 1987's The Living Daylights.
The Timothy Dalton Era Begins
Dalton had mainly been known as a stage actor prior to his new appointment and he had toured with the Royal Shakespeare Company, although he had already appeared in several motion pictures and was probably most recognisable to most cinema goers at the time from his role as Prince Barinin 1980's Flash Gordon.
The role of Bond wasn't that unfamiliar to him as he'd actually initially been in serious consideration to precede Moore in the first place, when he was first courted to replace Sean Connery in 1968 with On Her Majesty's Secret Service, but in a 1987 interview he explained that he had turned down any idea of playing the role that would eventually then go to Lazenby, due to his then young age and the franchises iconic leading man stating:
"Originally I did not want to take over from Sean Connery. He was far too good, he was wonderful. I was about 24 or 25, which is too young. But when you've seen Bond from the beginning, you don't take over from Sean Connery."
The Ultimate Action Role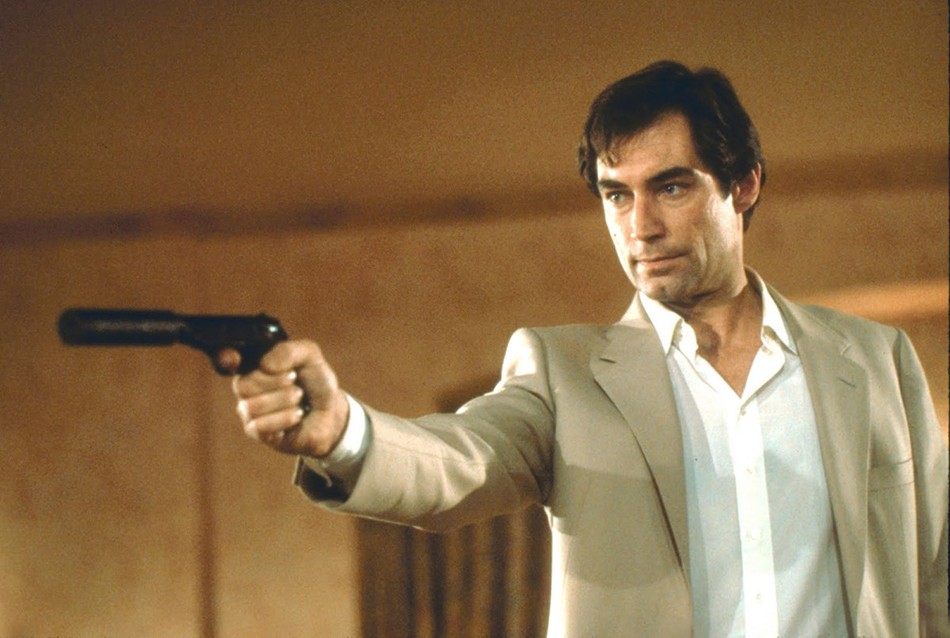 Dalton was once again in serious contention for the part when the film's producers skirted with the idea of changing the lead actor in the early 80's, but ultimately it appeared that his eventual predecessor Pierce Bronson was the favourite to nab the part after Moore's departure, only for the GoldenEye star to fall foul of the legal red tape that bound him to his television show Remington Steele. With the Broccoli's first choice now benched you can almost picture them finding an old headshot of Dalton and wondering if it would be third time lucky if they asked him again.
Dalton of course accepted their proposal this time around and the rest is now cinematic history. A fan of the original Ian Fleming series of books, he agreed to a three-film deal on the proviso that his Bond would be a harder edged version of the character than audiences had become accustomed to during Moore's reign.
Daltons opening gambit in 1987's The Living Daylights proved successful both critically and financially with the film outperforming Moore's last two Bond films 1983's Octopussy and 1985's View to a Kill with a worldwide box office gross of $191 million to make it (at that time) the fourth most successful film in the Bond franchise. Dalton's take on the character was vastly different in its tone than Moore's and it appeared that film goers approved of this grittier version of 007 and for Dalton's second appearance as James Bond, the producers took an even bolder step with 1989's Licence Revoked, or as it would end up being known after a last-minute title reshuffle, Licence To Kill.
Licence to Kill at the Box Office
This came after American test audiences remarked that the original title reminded them of having their driving licenses taken away. Licence To Kill is perhaps more interesting than most remember.  The first Bond film to get the 15 certificate in the UK, although it did scrape through as a PG-13 in the USA.
Whereas The Living Daylights had given audiences an introductory glimpse at a harder, grittier Bond the second and unfortunately, last appearance of Dalton's 007 really upped the ante. This new incarnation of Bond really was a more serious take on the character.
Mark Kamen Hits Takes His Shot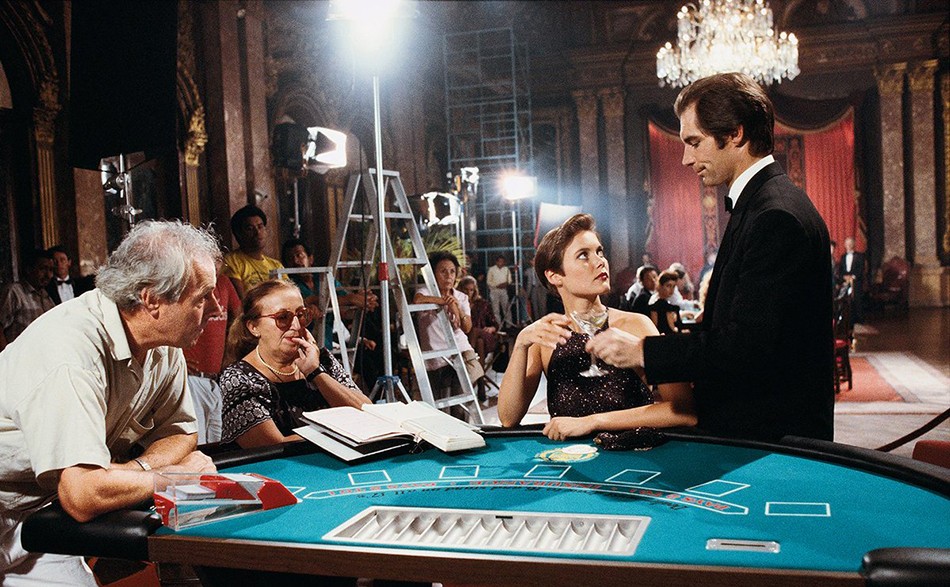 A mix of the old and the new would be a challenge for sure. One of the perhaps most familiar things with a Bond film is its score. With John Barry passing on his regular gig this time around, due to throat surgery, the production took a rather brave decision to go with a completely new feel by giving Mark Kamen the job.
Kamen of course famous provides the same service for 1987's Lethal Weapon and 1988's Die Hard.  It would be fair to say that the score used here practically borders on the identical in many parts, but it definitely adds to the whole experience that you are indeed, watching something different from a more familiar feeling Bond film.
A New Bond Tune
Initially Eric Clapton and Vic Flick were asked to write and perform the theme song. The theme was said to have been a new version based on the original Bond theme but when this failed to come fruition, the filmmakers went down the more traditional Bond type opening theme entitled simply "Licencne To Kill" which was written by Narada Micheal Walden, Jeffrey Cohen and Walter Afanasieff, which was based on the horn line from Goldfinger which meant it required royalty payments to the original writers.
The opening song was performed by Gladys Knight.  A fine example of a Bond tune indeed, even if an unfortunate bit of percussion, sometimes makes me hear her singing "Licence to Kil(t)". The accompanying music video to the song was directed by Daniel Kleinman, who would later take over the reins of title designer from Maurice Binder for next Bond film, 1995's GoldenEye.
A Licence to Kill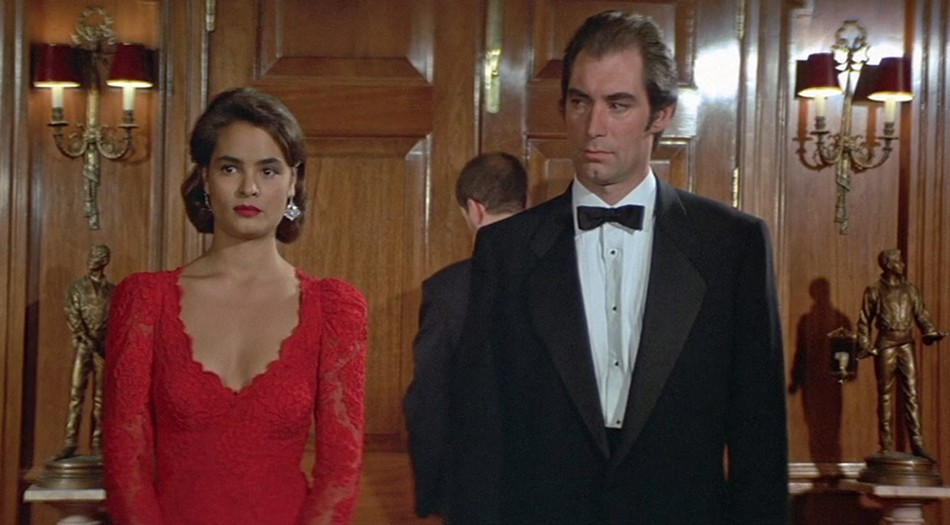 Whilst Licence To Kill failed to beat The Living Daylights at the box office it still did well worldwide and managed to pull in a respectable haul of $156 million, which when coupled with both the facts that it had a more restricted audience due to the more mature cinema rating and possibly due to the fact that the first film in the series of a "New Bond" naturally gathers more of a wide spread interest from the casual film fan, speaks volumes for the film.
The US box office returns were also significantly affected by the film being released in direct competition with the third Indiana Jones film which just so happened to introduce a new character played by a certain actor by the name of Sean Connery, echoing Dalton's previous fear of being compared to the original big screen version of the character.
As previously mentioned this would be Dalton's last hurrah as the debonair super spy. With one film still on his contract to be completed the actor found himself sat on the side-lines and unable to complete his trilogy as a result of a lengthy legal dispute between MGM/United Artists and Eon productions, which lasted for four years until 1993.
UAMC Legacy Lives On
By now Dalton's contract had expired due to the specific timescales given for the scheduled filming of his three films and he shocked everyone when he refused to return to the role after preliminary negotiations, with an official announcement citing that after the long, drawn out disputes he'd simply loss the urge to return. The announcement of Brosnon as the new Bond followed shortly afterwards and GoldenEye was released in 1995.
Licence To Kill may well be one of the most important Bond films ever made in some respects.  It showed that there was indeed a market place for a more serious and stripped back version of 007.
Of course, as I've previously alluded to throughout this piece, the film does tend to merely flirt with the idea rather than giving it a full commitment, but as much as the Daniel Craig era brought the character into a more realistic setting, this film surely laid down the foundations many years before the 2006 release of Casino Royale.
---
Carolco Films present. An article by Neil Gaskin. Father to an amazing son, former husband to an ex wife. And I will have my vegetables, in this life or the next. Neil Gaskin is a co-founder of Film89.co.uk & can be found bringing pretty much every subject back to Sylvester Stallone as a regular co-host on the Film 89 Podcast. A traditional man in many ways, he believes it's not really Christmas Eve until he's watching Die Hard & plans on leading the resistance against Skynet. A child of the Video Store revolution and a disciple of Rocky Balboa.  He's still got a little left in the basement and fully intends to crash into the next life yelling "Yippee ki-yay"