Vince Murdocco takes action Direct-to-Video
God, I loved the video store. Trolling the shelves of my local Blockbuster or Planet Video for the hidden gems of action and horror movies. Sure, I saw a lot of crummy flicks, but every once in a while, I found a video that blew my mind.
Trolling through the depths of Amazon Prime and Netflix isn't exactly the same experience, but ultimately the results are the same. Sometimes you discover something awesome like Shotgun, but to get to these gems you have to dig through a lot of L.A. Wars.
L.A. Wars
Starring former kickboxing North American Cruiserweight Champion and star of the softcore sequel Flesh Gordon Meets the Cosmic Cheerleaders, Vince Murdocco, this 1994 direct-to-video offering tells the story of two rival mafia families – the Giovannis and the Guzmans – locked in a battle for turf, and Jake Quinn – the one ex-cop who can stop the war.  Also, Quinn falls in love with one of the mob bosses daughters.
A Movie That Has it All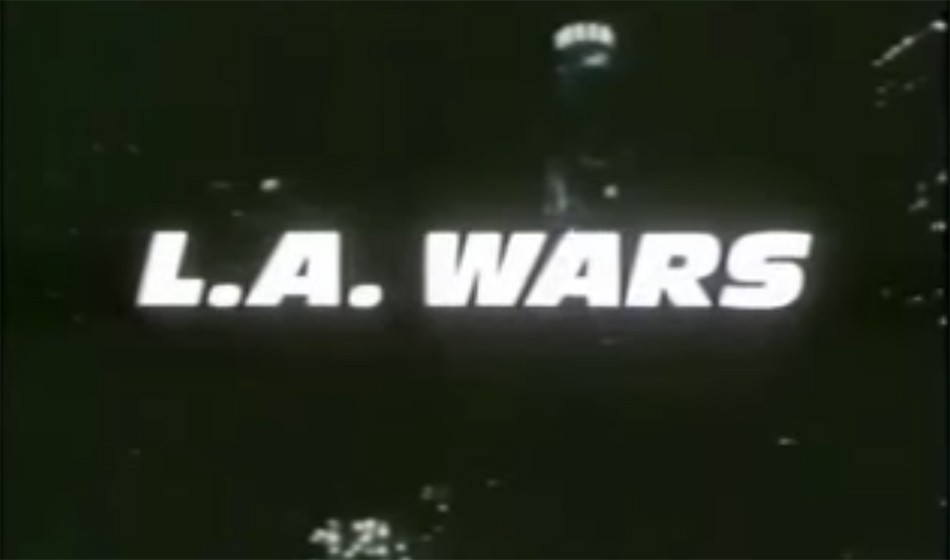 L.A. Wars is a movie – not a great movie or a terrible movie, it's a movie. It's just a hair under 90 minutes long, there was a script (or at least an outline), music and according to the internet there was a release date and VHS box. So, by definition, this is a movie. And, you can tell it was made in the 1990s because it has:
A kickboxing ex-cop

Men wearing tight shirts with high-waisted baggy pants

A mobster saying "sleeping with the fishes"

A lazy stripper with the craziest fake boobs you've ever seen

Neck snaps and throat slashes

A hero that has his own brand of justice – this time called Quinn's Law

A fight in a parking garage

A woman expressing gratitude to the hero with sex

A villain named Vinnie

A bum walking around with a shopping cart filled with empty cans

A verbally aggressive police captain

Shirtless hero cocking a large gun

An exploding car flipping over a parked car

A nameless henchman pushed off the roof of a building

A final battle in a poorly lit warehouse (bonus points for light shining through an industrial fan)
And while those things all sound great, this movie also has really bad sound and lighting, wooden dialogue, at least one mic dipping into the scene, a paint-by-numbers story and scenes like this.
The VHS Opening
Still, while L.A. Wars could easily be described as clichéd and formulaic, it's rarely. In his first project as a lead, Murdocco, who also starred in Ring of Fire and Ring of Fire 2 with Don "The Dragon" Wilson, definitely has charisma, but he has nothing to work with. Surprisingly, the most believably fierce character was a minor henchwoman, Rosa, played by Kerri Kasem. Kasem, that name sounds familiar. I wonder if she's related to … yup, Casey Kasem's daughter and host of Sixx Sense with Mötley Crüe's Nikki Sixx. And, Quinn's girlfriend, mob daughter Carla, is played by former Miss Ohio Mary Zilba – who went on to be a singer with 7 top 40 hits on Canadian Radio and a stint on The Real Housewives of Vancouver. Neat.
As I back out of the rabbit hole, I have this to say about L.A. Wars. It's fine. If you're sitting in your couch on a rain Sunday afternoon, searching through Amazon Prime for something to watch that isn't to hard on the brain, this movie will do the trick.

---
Article by Eric LaRose – a Wisconsin-based connoisseur of action, horror and sci-fi movies from the '80s and '90s. A former journalist and podcaster, Eric wrote the ending to the Toxic Avenger Part 4, but the only person who will back up that claim is his wife.
Let us know what you what you think in the comments or on our!