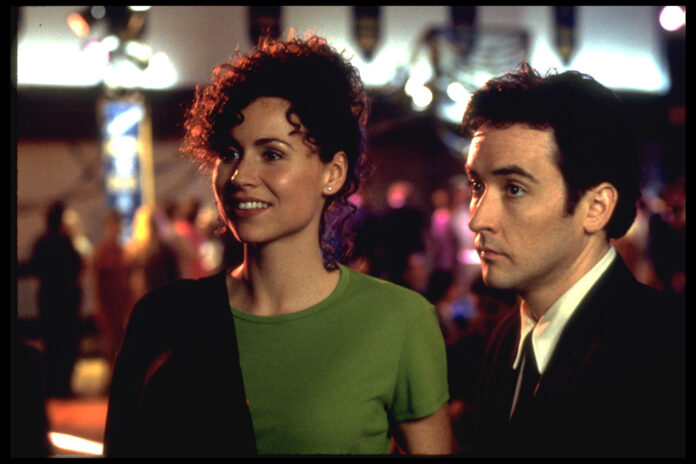 A look back at this
unique and ingenious blend of comedy, tragedy, romance and action.
In 1997, John Cusack had a hand in two movie highlights for action fans, and his role as US Marshal Larkin in Con Air will always be fondly remembered. His other film from that year, Grosse Pointe Blank, is a very different, but equally awesome beast.  This romantic action dark comedy throws together a high-school reunion, a tragic romance, and the bloody business of a contract killer. If such a genre crossover does not immediately sound convincing to you, hopefully we can eliminate any of your doubts about this ultimate masterpiece in our article!
Martin Blank is a professional killer. His next job brings him to his hometown of Grosse Pointe, where incidentally also the ten-year reunion of his high-school class is held. Upon arriving, Blank encounters old buddies, his former girlfriend Debbie (whom he ditched on Prom Night to enter the killing business), and a whole slate of fellow assassins going after him and his contract. 
"Don't Kill Anybody For A Few Days." "I'll Give It A Shot."
The film creates a slightly absurd setting by linking an improbable character with a familiar. A neurotic hitman hits a sort of midlife crisis at already 28 years of age, which is understandable when your life expectancy is significantly reduced because of your profession. While Martin is initially being afraid of what awaits him upon returning to his home, he gets rejuvenated by making contact with normal life again. 
The film also broaches the question about the life we live vs. the all the lives we haven't lived in a charmingly bittersweet way. What if he hadn't left? Would he have become an unhappy car dealer or real estate salesman like his former schoolmates? Or would he have found eternal happiness with Debbie? 
The Only High-School Reunion Film That Matters
Director Armitage and his writers make sure we never fall into depression while pondering these questions, and they created some of the most funny and witty dialogues that ever made their way into a film. We're talking razor-sharp, Pulp Fiction level lines here, that are supplemented by many laugh-out moments. There's a whole bunch of great running gags, such as the assassin's tradition of always approaching people sideways, and sitting with the back to the wall whenever possible.
The characters are all adorable and surprisingly relatable, brought to life by a bunch of great actors. John Cusack as the paranoid, disillusioned but also sincere Martin Blank is one of a kind in his role. He's an intriguing multi-layered character, and Cusack plays him with a stunning intensity. Mimi Rogers is just as great in the portrayal of her character Debbie, who was abruptly abandoned by Martin on Prom night, and remained somewhat traumatized for several years. And Dan Aykroyd delivers one of his few truly great post-1980s appearances as chatty assassin who is trying to get Martin to join his union.
"If I Show Up At Your Door, You Did Something To Bring Me There"
Martin doesn't just bring his assassin attitude and secrets to the reunion, but his work also follows him in a usually violent fashion. Grosse Pointe Blank delivers its action well-dosed, but there's more than enough creative killing going on to keep action fans hooked. They include sniper hits, poisoning and bombings, and in the finale even frying pans and TV sets become deadly instruments. Cusack is an experienced kickboxer, and he gets some opportunity to showcase his talent when duking it out with a fellow assassin (played by his decades-long trainer and kickboxing world champion Benny Urquidez). 
But the film also shows us alternatives for a confrontation between two men: instead of beating each other up, they read poetry! A fantastic soundtrack with groovy and emotional 1980s rock and indie classics also keeps our spirits high in and outside of the action sequences. Grosse Pointe Blank is unique and ingenious blend of comedy, tragedy, romance and action into a thrilling masterpiece. It is one of the funniest films to come out of the 1990s, and also the only high-school reunion themed film you ever need to watch.