Why Die Hard is not only a Christmas movie, but the MOST ULTIMATE Christmas movie of all time!
It's that time of year again. We've all seen enough turkey to last us until next year, spent too much money on Black Friday and Cyber Monday deals, and wondered where the year has gone. With another year almost in the books, there's only one more holiday to celebrate before the new year arrives. With Christmas upon us, a seemingly new tradition has emerged in recent years. 
Anyone not living under rock the past 30 years is familiar with the action-packed Die Hard franchise and its driving force, Det. John McClane; a New York City cop who has the worst luck being in the wrong place at the right time. Time and time again he stumbles upon (or is forced into) situations in which he must outwit and outgun his well-armed adversaries, often in the most explosive ways possible. Die Hard is the franchise that transformed Bruce Willis into an instant action star and cemented his place among the Big 3 of Hollywood action heavyweights; thanks, in large part, to its first entry.
But I'm not here to revel in the things we all know and agree on. I'm here to discuss something much more divisive. While it probably isn't the most important topic of discussion, it certainly is the most fun debate I partake in this time of year: "Is Die Hard a Christmas movie?" The short answer is yes. Here are 5 reasons why Die Hard is not only a Christmas movie but the Ultimate Christmas movie.
READ MORE: BRUCE WILLIS IS BACK FOR 'DIE HARD' PREQUEL – 'MCCLANE'
"It Isn't About Christmas"
This is the number one argument I hear against Die Hard being a Christmas movie: "Just because it happens at Christmas time, doesn't mean it's ABOUT Christmas." Actually, that's exactly what it means. While the plot isn't directly about celebrating Christmas, no one can deny the presence of the holiday. Anyone who says Die Hard isn't a Christmas movie because it isn't about the holiday must say the same about the Halloween franchise because it's technically about Michael Myers, not the holiday. Yeah, good luck with that.
READ MORE: THE BEST ACTION MOVIES TO WATCH DURING THE HOLIDAYS
Family at Its Core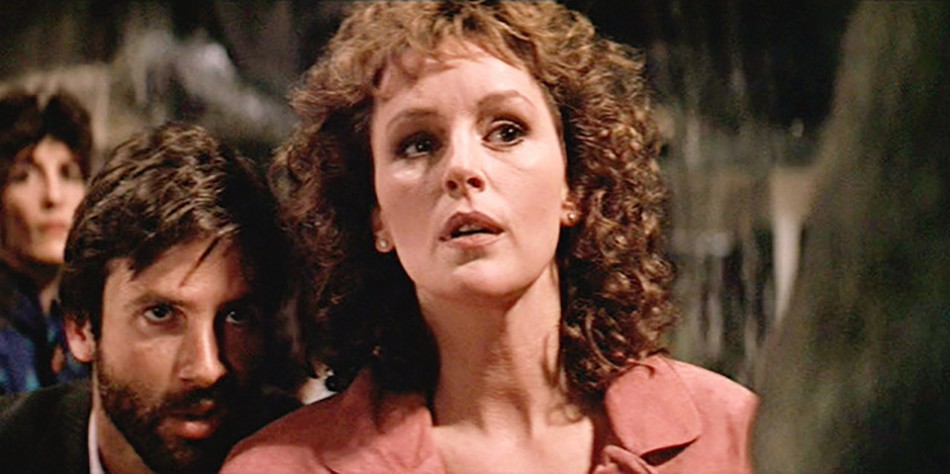 I would venture to say that most people's ideal Christmas revolves around family (regardless of how dysfunctional). Love 'em or hate 'em, they are still family. Die Hard is no different. At its core, the film is about reconciliation. The entire premise revolves around John coming to Los Angeles in hopes of patching things up with his wife, Holly, and spending Christmas together with their kids as a family. We can all relate to that.
READ MORE: RANKING THE DIE HARD MOVIES FROM WORST TO BEST
"But It's an Action Movie"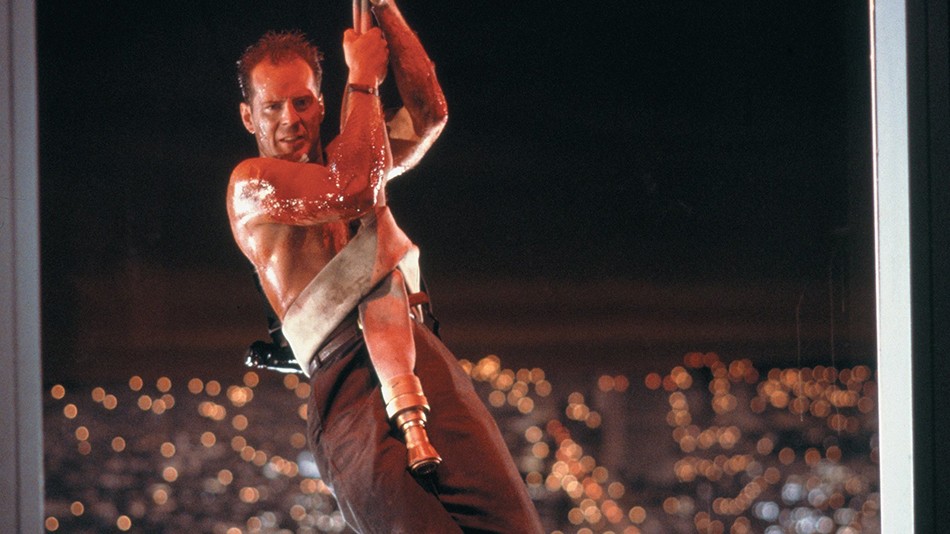 Since when have Christmas movies been declared Hallmark Channel exclusives? Having a plethora of guns, explosions, and coarse language doesn't make it any less about Christmas. It's just a Christmas movie of the male persuasion. 
PSA: This, in no way, means that people who "identify" as women can't like Christmas movies with guns, explosions, and coarse language. I'm just saying that the Hallmark Channel doesn't air them, unfortunately. Maybe the Hallmark Channel should be more gender neutral…
P.S. If that subtle jab offended you, maybe you should identify as a man and stop watching the Hallmark Channel.
P.S.S. I'm just kidding, Hallmark. I don't hate you. It's Lifetime I hate.
READ MORE: THE MOST VILLAINOUS BAD GUYS IN ULTIMATE ACTION MOVIE HISTORY (guess who is #1!)
It's a Feel-Good Flick
Why do we enjoy watching Christmas movies? The answer is because they make us feel good. Often, they start at a place of pure bliss and stay there throughout. Other times the journey is more… eventful. But the destination is always the same. Who (except Ellis; RIP) doesn't want to see John and Holly end up back together at the end of Die Hard? Don't forget about Sgt. Powell's overlooked roller coaster of a career from normal street cop to accidental kid killer to troubled desk jockey to Johnny got his gun back. Maybe this should be on the Hallmark Channel…
READ MORE: DIE HARD'S REGINALD VELJOHNSON ISN'T RULING OUT A RETURN FOR SERGEANT AL POWELL
"It's Christmas, It's Christmas, Christmas Everywhere"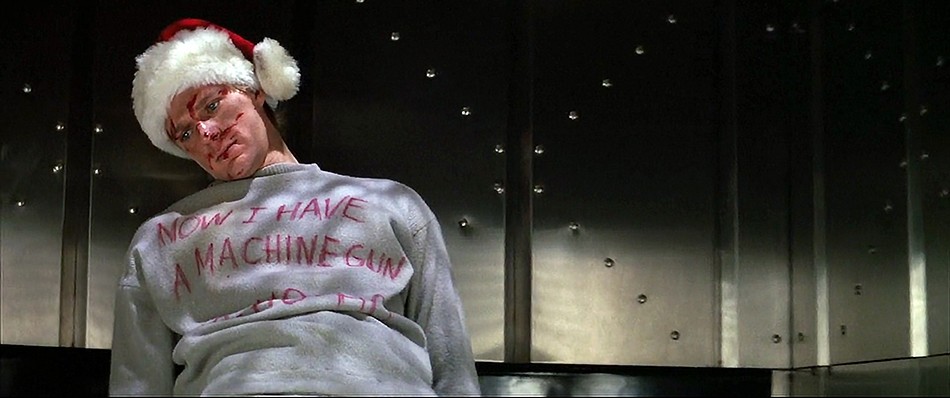 From the sleigh bells ringing in the opening sequence, to the Christmas party, to the soundtrack, to the dialogue, the film is littered with Christmas themes and references. There is a total of 51 Christmas references in the film; 16 in the first FIVE MINUTES! (yes, I counted). Here, is the full list. If this number alone doesn't settle this debate, then you are simply being a Scrooge. 
NOTE: I meticulously documented every Christmas reference found in the film, but I'm not "God's greatest gift" so I could've missed some. See what I did there? A Christmas reference and a Die Hard reference in an article about Die Hard being a Christmas movie. Try hard? Oh, forget it. Yippee-Ki-Yay, motherf***er!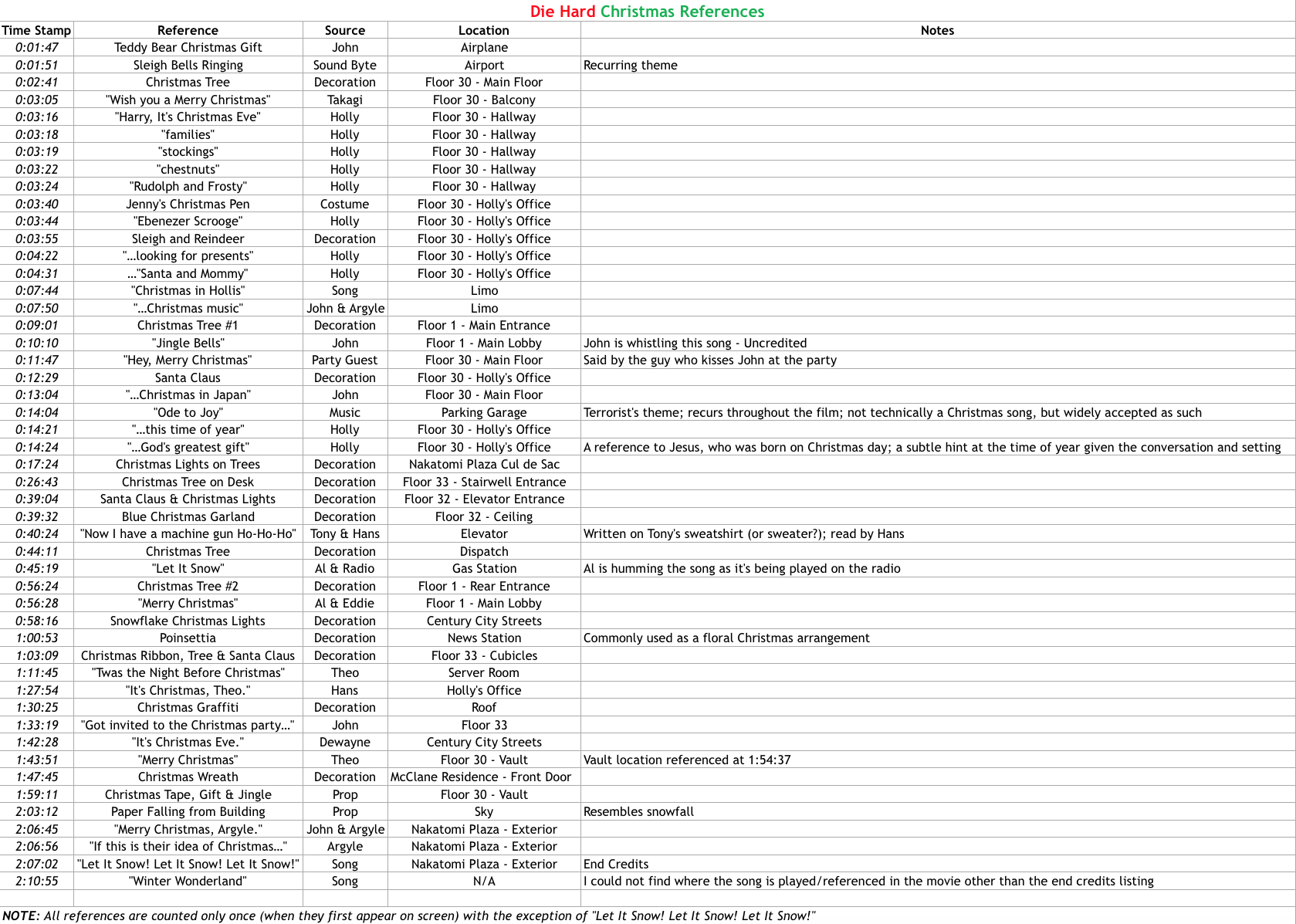 ---
This badass article was written by Derek Kennamer – a cinematic fanatic and the coolest rockstar in his own fantasy world whose favorite superpower is quoting movies in everyday life.
Let us know what you think in the comments or on our Facebook page!