Featuring a killer cast of UAMC characters with
Yuji Okumoto,

Charles Napier, Vernon Wells and Professor Toru Tanaka!

By the mid 90's, David Bradley had already cemented his place in DTV (direct to video) action movie history and in the hearts of fans, by taking over the American Ninja series, as well as vehicles like American Samurai, and Cyborg Cop, among others. But Hard Justice, while not as well known as the before mentioned, is his best or my personal favorite anyway.
Unapologetically borrowing from Van Damme's classic Death Warrant, Hard Justice carves out its own place in the genre as well, due to the strong supporting cast and just the over the top action sequences that make it a blast to watch.
Dean Cochran in the Nu Image Gem 'Target of Opportunity' (2005)
Another Nu Image Classic
In this Nu Image flick, David Bradley stars as an ATF agent who ends up going undercover in a prison to unravel the mystery of what happened to his good friend and fellow agent, who got killed there. Lets just say his friend witnessed some illegal activities going on there, involving all kinds of crooked individuals, ranging from the warden, to others who aren't revealed until the later parts of the movie.
Hard Justice starts and ends with a couple really well put together and stylized shootouts, with enough fight sequences in the middle to satisfy any martial arts fan. We first see Bradley when he crashes through the window of a warehouse where a deal is going down and he comes face to face with his longtime adversary, played by the talented Yuji Okumoto, whose resume is vast as well – The Karate Kid Part II, Nemesis, Mean Guns, American Yakuza, Bloodfist V and more.
Much like The Sandman in Death Warrant, Okumoto comes into play later on in the movie where he is brought into the prison.
An Undercover Cop in Prison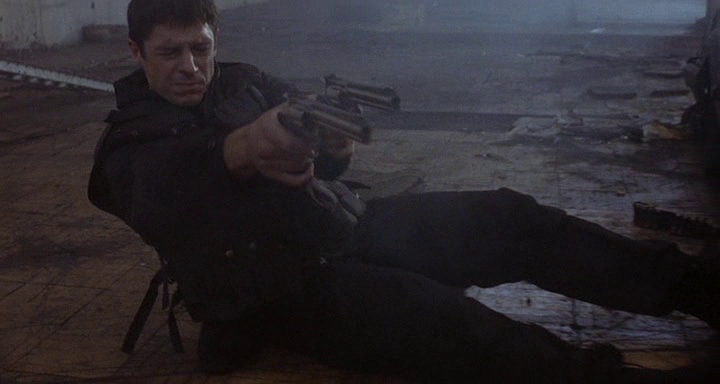 Now to the warden… One of the factors that really puts this movie over the top for me, making it one of my absolute cult favorites of the genre, is the warden, none other than Charles Napier, who we all loved to hate in Rambo II.
Here he is at his ultimate best, with his holier than thou attitude,  he just plays it perfectly. In the explosive finale, he shouts out things like "I demand order!" and "this is my world!" as he is wielding a machine gun in each hand.
As I mentioned with the fights, Bradley always delivers. They are frequent and complete with some good one liners like; "You really need to clean up your act" as he throws a guy in a washing machine. When he is surrounded in a shower fight scene, he says "Well I guess you guys aren't here to conserve water!".
He gets a nice showdown with Okumoto, but I also have to mention the first fight in the movie where he meets his cellmate named "Mr Clean" (Jim Maniaci) – it is pretty extended and badass, earning each other's respect.
Let's Acknowledge the Insanely Ultimate Cast of 'Hollow Point' (1996)
So Many Ultimate Character Roles!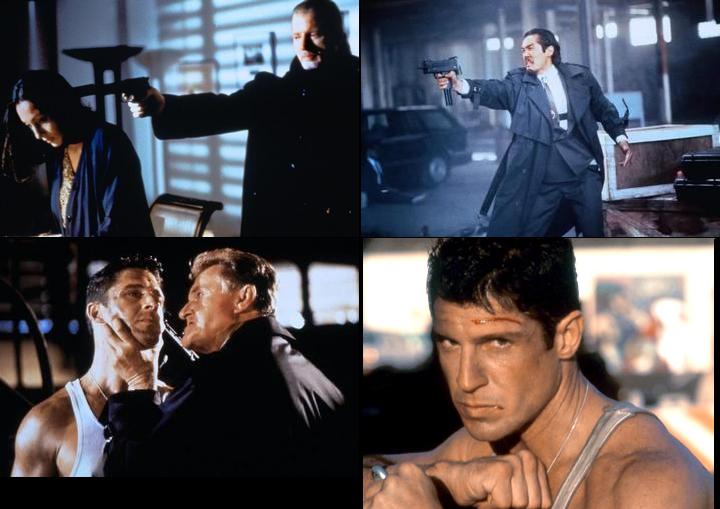 I can't not talk about Hard Justice without mentioning a tattoo-faced Vernon Wells (Commando/Stranglehold), who plays a fellow prisoner. My only complaint would be his lack of screen time, but he is great as always and makes the most of the scenes he is in.
Not to mention, a surprising, uncredited cameo from Professor Toru Tanaka. Who is known for everything from 007's Goldfinger, to An Eye For An Eye, to The Running Man. Lets just say he doesn't last nearly as long here as he did in The Perfect Weapon, as Bradley takes him down with one, apparently powerful punch, surprising even himself. Still was nice to see Tanaka in what I believe was his last appearance on film.
Andre Benita (Three Amigos) and stunt legend John Koyama (The Perfect Weapon/Breaking Bad) also highlight a strong cast.
David Bradley gives it one hell of a go to have Hard Justice up there with Death Warrant when it comes to undercover cop in prison films, and he just about pulls it off. Recommended if you are lucky enough to find this now out of print gem!