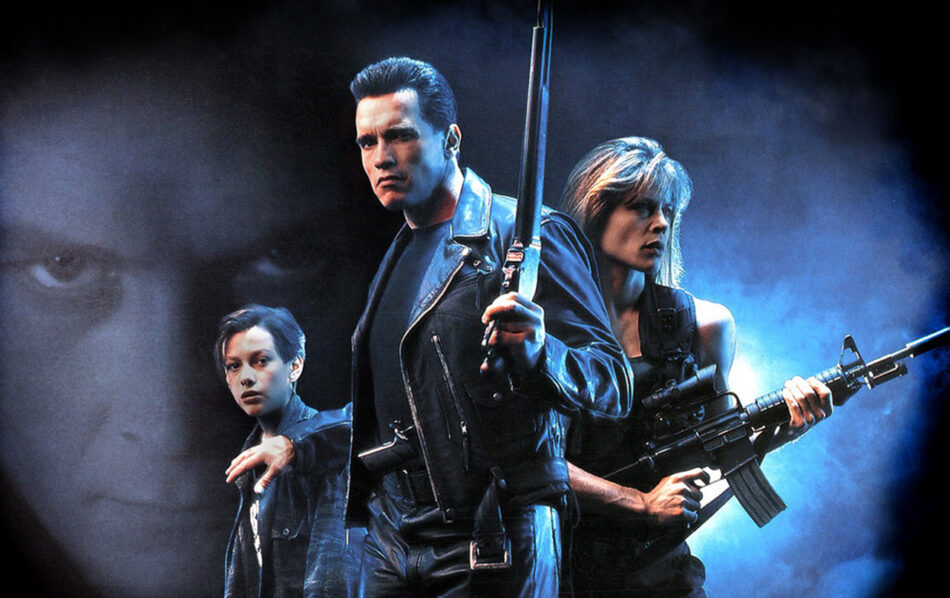 The world was not ready for the ultimate juggernaut that became T2 (1991).
August 16th 1991, Judgement Day, well, for me at least. One day after my birthday and the release date of the one movie was on my heart and lips. That movie was Terminator 2: Judgment Day or T2 to its friends – the much anticipated next part of the Terminator series. You better believe it, the hype was real, damn real. Advertising was everywhere, the television, radio and print media, Arnold Schwarzenegger, looking badass on the poster on the side of buses and billboards.
My father, who worked for a newspaper, had managed to grab me facsimiles of parts of the press kit which sat proudly on the pin board in my bedroom. There was one issue, I had just turned 8 years of age and as well as the fact that I could not battle Skynet another system stood in my way.  An enemy so menacing that it stopped me viewing T2 in the cinema. That enemy was the British Board of Film Classification who rated T2 as a 15 certificate.
Unlike the more enlightened approach of the American movie certificate where children can see a movie of a higher certificate with an adult, in the UK, you have to hit the appropriate age to see the film, so sadly readers, a cinematic screening was completely prohibited. That did nothing at all to stop me from enjoying T2 in just about every other way. All it took was my imagination and the landslide of merchandise for the movie. Let's time travel to the early 90s and explore the multimedia phenomenon that was T2.
The Most Anticipated Action Movie Ever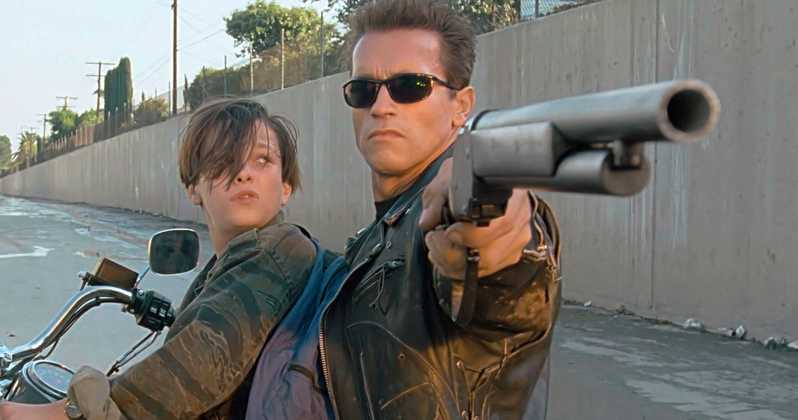 It's very easy to forget how massive the marketing push was for T2. We live in an age where even a mid-budget movie will receive a huge marketing push with a library full of tie in media. In fact, by the mid-90s it was almost expected that a film came accompanied by toys, books and video games but it was still a relatively new phenomenon on the release of T2.
Most tie in media before its release was put out after the fact, almost as an act of nostalgia but T2 used tie in media as a pop culture assault in the build-up to the release of the movie. Selling the cool, chrome heavy metal fantasy to audiences, T2 wasn't just a movie, it was an experience.
Before digital and online media came to prominence, revisiting your favourite flicks was more of a challenge, sure there was home video, but the gap between cinema and home video release was long, sometimes years. This meant that the market for print adaptations was strong.
The summer of the film's release saw a Marvel comics version released over 3 parts which would later be collected into a trade paperback, it was written by Gregory Wright and the art was provided by Klaus Johnson.
Watch: Sylvester Stallone Deep Fake Added Into 'Terminator 2'
T2 Becomes the Ultimate Action Juggernaut
The importance of this release can't be underestimated, Terminator comics have basically become a franchise of their own and almost every comic book company of significance has worked on the property. It's well worth noting that within that franchise T2 specifically, has become basically an imprint of the franchise spawning spin-offs decades after the release of the movie by various comic book companies.
T2 prose books were also hot off the press, the selection included The making of Terminator 2: Judgement Day by John Shay and Jody Duncan, there was a book of the film which was an illustrated screenplay with an introduction by James Cameron and there was also the novelisation of the picture by Randall Franks which is highly acclaimed as a movie novelization and expands beyond its original screenplay
As with the comics, the success of these publications really kick-started the Terminator franchise in print and again like the comics T2's impact would be felt for a very long time.
7 Scenes That Prove Terminator 2 is Arnold's Ultimate Action Movie
And Don't Forget the Music!
Music from T2 was another runaway hit for this instalment of the franchise. The score by Brad Fiedel was a commercial hit, with the album staying on the Billboard chart for 6 weeks and being so popular that it has been reissued.
T2 also had massive success In the worldwide singles chart with 'You Could Be Mine' by Guns n Roses. It hit number 29 on the Billboard chart, number 3 in the UK top 40 and number 1 in Spain and Finland and was a smash hit in many other countries.
The single was supported by an awesome music video which was partly co-directed by Andy Morahan (Highlander 3) and the legendary Stan Winston and stars Arnold Schwarzenegger. This music video is an excellent example of one of the reasons T2  supporting media was so good, it's because of the amazing creative talent behind it.
And the T2 Toys and Merch!
T2 made a huge splash in the world of toys and games. Toy manufacturer Kenner released a range of action figures, these were mostly variations of the movie's T 800 but there was a T 1000 and a John Conner figure. A larger T 800 was also released which said phrases from the movie. This toy line was incredibly popular and ran well into the 90s.
In fact, the action figures are so iconic that Macfarlane toys made T2 toys years later and toy company NECA have gone one step further by actually recreating some of the original Kenner T2 toy line in greater scale and detail. As the world of video games was exploding, games developers exploited T2 on just about every possible computer platform possible.
Terminator 2: Judgement Day the arcade game was a fantastic game which had the player shoot plastic machine guns at on-screen T 800s, flying Hunter Killers and Skynet tanks. An 8-bit T2 game was released on both Saga and Nintendo consoles. A separate Game Boy version came out, which was a great deal of fun to play. Ocean software developed a T2 game for systems such as the Amiga, Amstrad, Atari, Commodore 64 and other platforms. The Terminator computer games were everywhere on the computer games market despite some mediocre reviews. A pinball game was also produced for arcades.
The Most Villainous Bad Guys in Ultimate Action Movie History
And the Games and Ultimate Rides!
Like all the other media mentioned this mass release of product lead to a huge dynasty of games related to the franchise. It wasn't just T2 computer games that dominated the market,T2 tabletop games also made their presence known in the marketplace as  MB games produced a board game
A couple of years later a tabletop wargame was developed by Leading Edge Games called Terminator 2 Year of Darkness which was supported by a range of wargames miniatures.
The last thing of note is T2 3D: Battle Across Time, which was an attraction at Universal Studios theme park. It was directed by Cameron, had most of the T2 original cast, a budget of 60 million dollars and a run time of 12 minutes. It was one of the most expensive productions per minute of film ever made. It was so popular that even into the 2000s the attraction was being recreated across the globe in Universal's parks.
A True Multimedia Action Legacy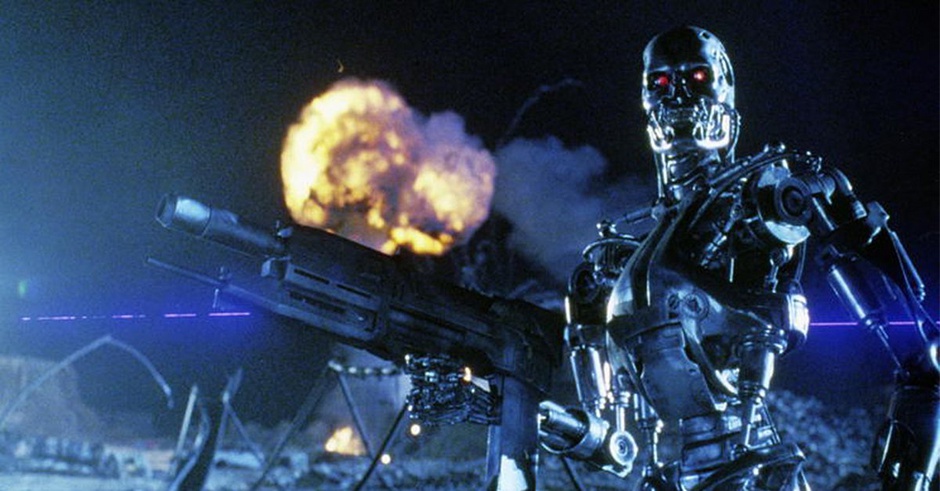 The impressive thing about T2s multimedia success is what a huge legacy it created in almost every form of media it was licenced to and also the quality of the tie in media itself.
The creative minds behind the movie were very much involved with the media which really set a precedent and helped shape audience expectations. After this examination, it's no wonder T2 became the ultimate action juggernaut it is today.