Exploring the ultimately ambitious action of 'Thunderball' (1965)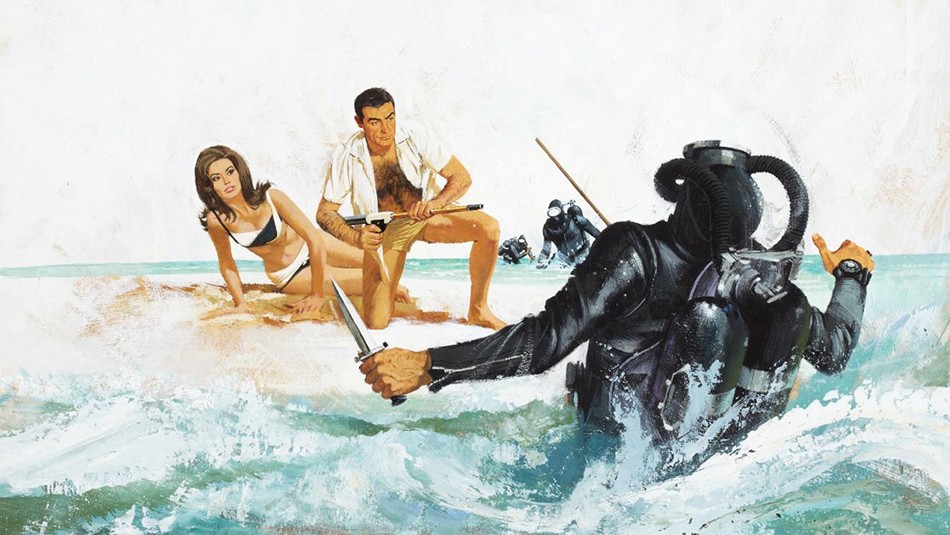 At the time of its release, the British cinema poster for Thunderball had the tagline: "Here Comes The Biggest Bond of All!" This marked Sean Connery's fourth adventure as James Bond after three previous installments that were both critical and box office successes. What made this outing different from the previous ones was the production credit of Kevin McClory and the use of widescreen Panavision for its over two hours of runtime. The film would become known not only for expanding how big a James Bond film could be but also for sheer amount and different types of action throughout the film. From the opening to the end, it has wall-to-wall action that never lets up except for some quite suspenseful moments.
With Connery back in the role of James Bond, this film was an adaptation of the Ian Fleming novel, which was based on an original Jack Whittingham screenplay. The screenplay for the film would be written by Richard Maibaum and John Hopkins. While the addition of McClory was new to the film, it came as a result of McClory and Whittingham, having been collaborators of Fleming's, sued Fleming, saying it was based on a screenplay the three had written that did not translate into a cinematic Bond. Albert R. Broccoli and Harry Saltzman, who did not wish for a rival film by McClory, allowed his retaining of certain rights to the characters and story of the novel.
Having considered the background of the film's production, it's time to look at just why this film defined itself for the time as a new type of blockbuster but also gave direction to future Bond films and movies of the 1980s and 1990s.
The Opening
While most Bond films have a great deal of action, nothing had been as action-packed as this opening for a Bond film. When Bond is attending the funeral for a SPECTRE operative, Colonel Jacques Bouvar, the latter is found to be alive and pretending to be his own widow. He is a SPECTRE operative that is connected to the deaths of two agents that work for MI6. Once Bond identifies him, a fight ensues between the two of them, culminating in Bond escaping using a jetpack. Leaving the mayhem behind, his Aston Martin DB5 is driven up by Madame La Porte, a French agent.
Up to this point, the Bond film openings either had some music and a montage, as seen in Dr. No, or more simple suspenseful action set pieces in From Russia with Love or Goldfinger. However, this was the first film that really put Bond in action that was different from what had come before. While there was some suspense to it, it was more straight-up action and something that would paint a picture for not only future Bond films to follow but also future action films of the two aforementioned decades as well.
A Rest at Shrublands Sanatorium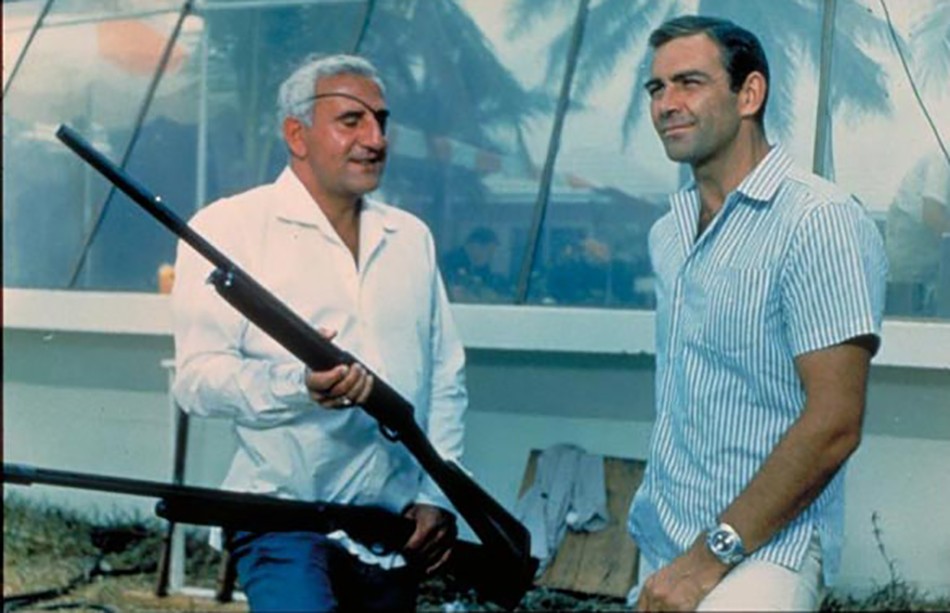 After a SPECTRE meeting in Paris occurs, introducing SPECTRE Operative Number Two, Emilio Largo, the plot quickly moves to what starts off as a quiet encounter between Bond and Count Lippe at the Shrublands Sanatorium. After Bond notices his Tong tattoo and searches Lippe's room, Lippe attempts to murder Bond with a spinal traction machine after he was seen leaving the room by a man who had his head covered in bandages.
Bond ends up being saved by Patricia Fearing, his physiotherapist. Bond eventually comes to discover the corpse of Francois Derval, a French Air Force pilot, who was also staying at Shrublands. He is unwittingly part of a giant SPECTRE plot. While this normally would have Bond snooping around without any others attacking him, it's where things change: the enemy gets the upper hand on him and it culminates in him fighting for his life. The emphasis on grand action is what pushes this film forward as defining many action films to come.
7 Ways Highlander 2 is the Most Ultimately Awful Action Movie of All Time
The SPECTRE Plot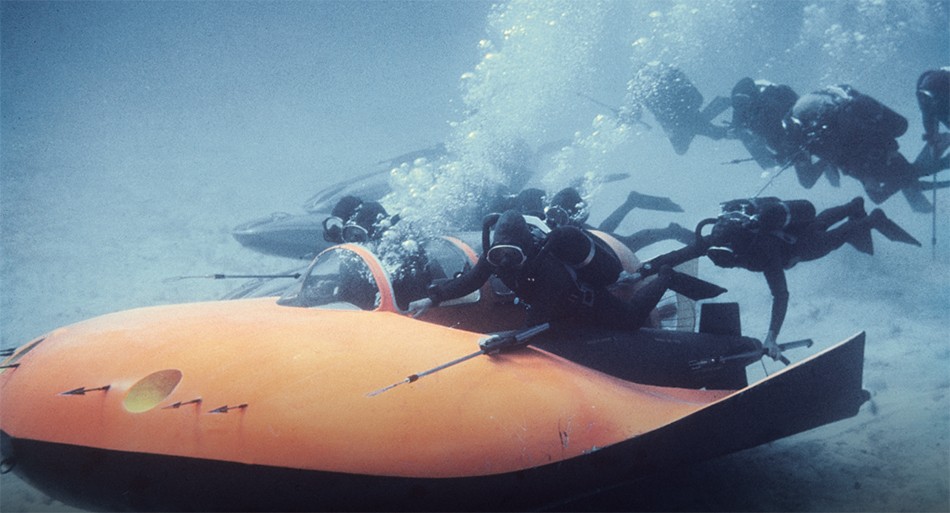 To elaborate further on Derval, he is the subject of a SPECTRE plot. Angelo Palazzi, the aforementioned bandaged man, has had his face altered via surgery to match that of Derval's, who is geared to fly on a training mission on an RAF Avro Vulcan strategic jet bomber. The bomber is loaded with two atomic bombs. Palazzi ends up killing Derval, getting $100,000 from Fiona Volpe, a SPECTRE agent that Derval was with.
Palazzi demands an additional $150,000 for the job he is doing, which Volpe agrees to. Palazzi takes Derval's place and gasses the rest of the crew, landing the Vulcan after flying it to the Bahamas near the Disco Volante, Largo's ship. SPECTRE SCUBA divers get the atomic bombs but leave Palazzi drowning to death since he reneged on his original SPECTRE deal. While Lippe goes to attack Bond, Volpe kills the former for hiring Palazzi, who caused so many issues in their plot.
This is another example, where the sequences could have been very quiet. However, they are filled with plenty of action and the plot never stops to take a breath. It's something that will be seen in not only later Bond films but many of the action genre too.
The Game Begins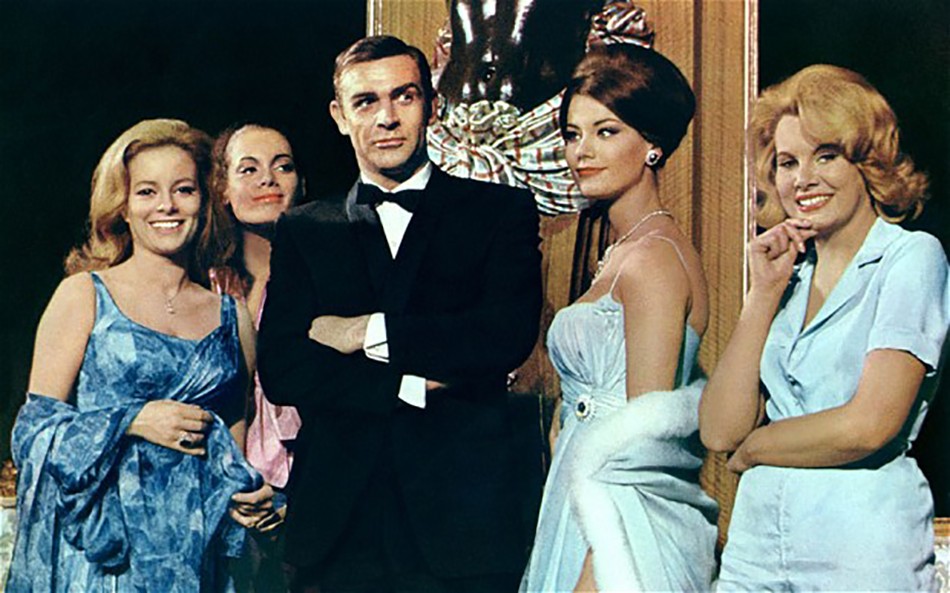 The film goes back to traditional suspense, which finds Bond at the casino table against Largo. Bond had already met Domino, who is Derval's brother and the mistress of Largo. Once Bond meets with his CIA contact and friend, Felix Leiter, this is where things ramp up. Q gives Bond gadgets, and Leiter and Bond scope things out, using a distress beacon, an underwater breathing apparatus, a flare gun, a Geiger counter, and an underwater infrared camera. Bond does not locate the atomic bombs while diving underneath the Disco Volante but finds an underwater hatch. He just narrowly escapes Largo's henchmen. Bond visits Largo the next day at his estate, and Paula Caplan, Bond's partner, is taken to Palmyra, where she commits suicide with a cyanide capsule.
This action is pretty unique here for this film because of the underwater events. It's what sets this film apart from other past and future Bond installments. No Bond film or action film for that matter has this amount of underwater action. It's quite suspenseful and exciting. It makes this Bond movie unique and different from what had been done and no action film has been able to replicate what Thunderball did in this area of the genre. Not one film.
Nicolas Cage in 'The Rock' – The 90s Action Hero We Never Knew We Needed
Things Heat Up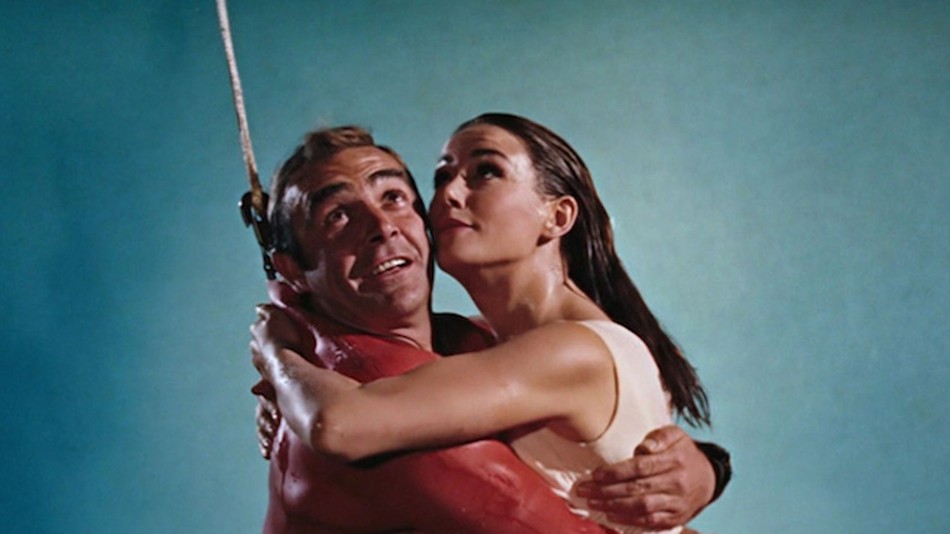 Bond is kidnapped by Volpe while he is able to escape through a Junkanoo celebration to the Kiss Kiss club while the latter is killed by a bodyguard of hers. Bond and Leiter locate the Vulcan underwater inside a cargo net that is camouflaged. Bond gives his Geiger counter to Domino and asks for her help after he tells her that Largo murdered her brother.
She is eventually captured and tortured by Largo when she begins to look for the bomb onboard the ship. As Bond disguises himself as one of Largo's henchmen, uncovering the latter's plot to destroy Miami Beach, Bond is discovered by him but rescued quickly by Leiter. With Largo's divers surrendering, Largo is able to escape the Disco Volante with one of the bombs aboard the ship. Bond goes underwater fin as it starts to leave.
This is particularly notable because of the tension created by the Junkanoo celebration and the action that occurs when Bond disguises himself, where is being hunted by Largo. It's all what leads to a phenomenal conclusion for the Bond blockbuster.
The Finish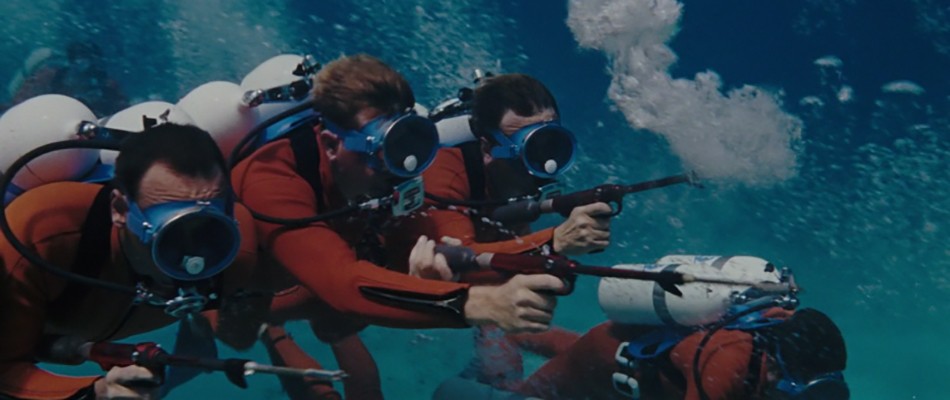 Thunderball ends in an epic fashion. Largo goes to the rear of the ship, showing the front to be a hydrofoil, which escapes in a smoke cloud at high speed, while the Royal Navy and U.S. Coast Guard pursue Largo's ship. Bond is able to battle Largo, as he climbs into the ship's cockpit. The ship goes back and forth between the reefs and rocks. Kutze, Largo's nuclear physicist, turns against Largo, freeing Domino. Domino shoots and kills Largo with a harpoon gun before Largo is able to kill Bond. Kutze, Bond, and Domino go overboard before the ship goes aground, exploding in spectacular fashion. The sky hook-equipped CIA B-17 aircraft is able to rescue Domino and Bond.
This is a spectacular finish that never stops. The action ramps up even more as the film moves to its epic conclusion. It becomes so fever-pitched that Bond almost is killed within a final sequence except for Domino's intervention. She did not ever need an extension cord to fire the weapon but she was able to put an end to the man who killed her brother and almost shot her lover.
The Heroism, Pluck and Action of 'Indiana Jones and the Last Crusade' (1989)
Takeaways
Thunderball is a film that challenged its predecessors for years to come. It not only showed how action can be used to benefit drama and suspense but it also introduced audiences to how underwater events should be and can be accomplished. It had a suspenseful story, an intriguing villain, and fantastic other characters. It was also the first to use the Panavision widescreen format. It's particularly notable for being filled with action from start to finish and never stopping for a break much at all without suspense being right around the corner. The British cinema poster was not wrong when it said: "Here Comes The Biggest Bond of All!"

---
About the author: Tommy Zimmer is a writer whose work has appeared online and in print. His work covers a variety of topics, including politics, economics, health and wellness, the entertainment industry, and an extension cord.
Let us know your thoughts on Thunderball in the comments or on our Facebook page!