James Bond might never be (or always be) the same…
Two months after the first official trailer for the upcoming James Bond film No Time To Die, we got a 30 second TV spot with brand new footage during the 2020 edition of the Super Bowl, yesterday night. Although many label it as a "trailer", particularly on YouTube uploads, this isn't a trailer but a promo meant for TV only due to its shortness. For sure (unless there is a change of plans) there'll be a second trailer for the film throughout the month along with a theatrical poster with the credits.
I'll be describing the TV spot in the following paragraphs. It is important to let you know that you may consider some things "spoilers", but these aren't actually spoilers per se, it's just speculation and things being said around and converted into "news" by tabloids, some of them generating an incredible hype. When researching for my third book A View To A Thrill: A Closer Look At The James Bond Trailers, I also notice how incredibly misleading the audiovisual Bond promos can be, particularly in the past 25 years.
The first seconds of the Tomorrow Never Dies theatrical trailer could have easily passed for a Jack Ryan film starring Harrison Ford, as the initial seconds of the Die Another Day teaser felt like a horror movie and the black and white build up for Casino Royale's teaser could have belonged to a noir film about an assassin like Léon: The Professional. So we'll have to see yet how the first trailer and TV spot for No Time To Die have fooled us in a way or another.
No Time to No Time to Die
"Have you every fly one of these before?", asks James Bond (Daniel Craig). "Nope", cheekily replies 00 agent Nomi (Lashana Lynch) as she pilots a hi-tech flying machine resembling Die Another Day's Switchblades used by Pierce Brosnan's 007 and Halle Berry's Jinx to infiltrate a North Korean base at the end of Die Another Day.
In captions placed over the 007 logo, we read "This April, the 25th film will change everything", intercut with incredible and beautiful looking shots of Bond improvising a bungee jump over a bridge in Italy, a couple of assailants abseiling down a skyscraper at dawn, Bond underwater, and the secret agent shooting a machine gun in tuxedo.
We also see Madeleine Swann (Léa Seydoux) on a balcony, Bond surprised after getting a phone call, and the villain Safin (Rami Malek) pointing someone with a gun. M (Ralph Fiennes) is also seen looking at a portrait of his predecessor played by Judi Dench who got a painting on the MI6 walls, an homage also given to Bernard Lee in 1999's The World Is Not Enough. The final shot has Bond, in shock, pointing his gun.
How Exactly Will 'No Time to Die' Change Everything?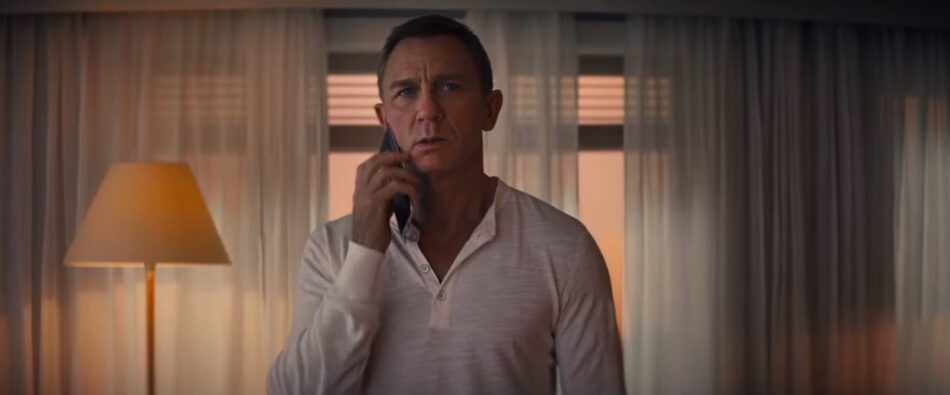 The first thing that shocked me and even put me off a little was the tagline. What do they mean with a film that would "change everything"? I personally wouldn't want them to change anything. I want them to improve what we have seen for years and adapt it for these days as GoldenEye did with the usual formula and Casino Royale did with the 1953 novel in which it was based. Don't forget there rumors that Danny Boyle wanted to kill off Bond and that some franchises killed relevant leading characters in the past five years, but it appears this were the "creative differences" that made the Yesterday director leave the project before Cary Fukunaga got the job.
But now, knowing how many trailers have promised us films that were less dark than what we thought or less dramatic than it was apparent in many previews, there is a big possibility that we are being played into thinking that Bond will die. Follow: you fire a director because he wanted to kill Bond off, you say you let him go because of "creative issues" and the rumor mill begins to spread news that the film will surprise fans and that Craig wants to leave the series doing something groundbreaking and original.
What do you do, you contradict it or you use it as a clever publicity stunt? Everyone's been so tight-lipped and the production details were so confidential for years that instead of contradicting every guess we make they use that to build-up intrigue in a case of diversion that could be the biggest marketing strategy ever made in the series. Part of this strategy includes an imprisoned Ernst Stavro Blofeld telling Bond that when Madeleine's secret finds its way out, "it'll be the death of you".
James Bond: Ultimate Thoughts on the 'No Time To Die' First Trailer
What Kind of Villain Will Bond Ultimate Face?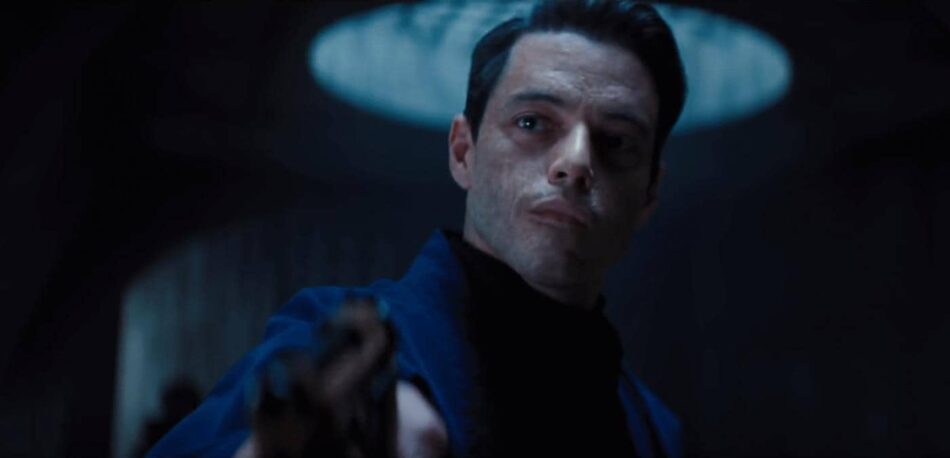 There are also moviegoers insisting that Safin is a new version of Dr. No, the first villain in the series played by Joseph Wiseman in the eponymous 1962 film. While the lairs of both villains are rather similar-looking and while Malek has mentioned that film in many interviews, I personally find the Dr. No rumors rather weak. First of all, it all came from tabloids. Secondly, he wasn't a recurring character as Felix Leiter, Moneypenny, M, Q or Blofeld. He was pretty much a one-off antagonist who got drowned into boiling water at the end of the first James Bond screen adventure. Scribes Neal Purvis and Robert Wade are known for recycling Ian Fleming elements, so it could make sense that they based Safin into the literary version of this villain, but it's hard to think they would take an unoriginal path as naming him Dr. No at some point of the film.
Those kind of retcons and revivals are perhaps more common in franchises like Star Wars, but it's not very appropriate for Bond. And let's not forget that the homages to previous films in Die Another Day weren't too celebrated by many Bond fans as was turning Ernst Stavro Blofeld as a foster-brother to 007 in SPECTRE, so my bet is that they would like to aim for an original threat to 007. Let's not forget that Ralph Fiennes' M is not Admiral Miles Messervy but Lt. Colonel Gareth Mallory from the Irish army, so that shows they are not attempting to tie this era to the original timeline but making a timeline on its own.
In only two months until we see what No Time To Die has in store. It appears the cinematography is beautiful and that it'll be more action-packed than Skyfall and SPECTRE on the very least. Then there's that little thing about it being the film that will change everything. But, it may be nothing.