Because Charles Bronson Wishes Death On Us All
The Death Wish movies hold a special place in my heart. My all time favorite action franchise in my all time favorite action sub genre, "the vigilante", this is the series that defined Charles Bronson as one of the greatest action stars of all time, let alone the 80s.
Bronson became an action movie legend as mild mannered architect turned badass vigilante Paul Kersey, who after the death of his wife and rape of his daughter at the hands of muggers, turns to a life a vigilantism to deal with his grief. Now that the remake is upon us, starring fellow action movie legend Bruce Willis, I want to take a look at the entire series, and share with you my thoughts on it and how I rank them. BONUS: review of Death Wish (6) included at the end of the article!
I know I'm gonna have my detractors, but hey, that's what opinions are for, right??
After the brutal rape and death of his daughter, Paul Kersey arms up to prowl the streets again, this time in seedy LA, in search of vengeance.
I can just imagine your shock. "Death Wish 2 ranked last??" "You ranked 5 over 2??" Yes I did. And I'll tell you why: Although there is a multitude of badassery in this, it is the least fun of the series. Yes, Bronson is the ultimate badass here, with some of my favorite moments of his career contained in this. But after practically opening up the film with back to back rapes (director Michael Winner went all out), it's hard to feel good after that, even as Kersey blows away all the scum involved. Really. Those rape scenes are hard to stomach, and afterwards and you just feel… dirty. It hangs over the remainder of the proceedings and really puts a damper in the entertainment factor. Still badass, though…
MOST ULTIMATE MOMENT:
"You believe in Jesus?"
"Yes I do."
"Well, you're gonna meet him"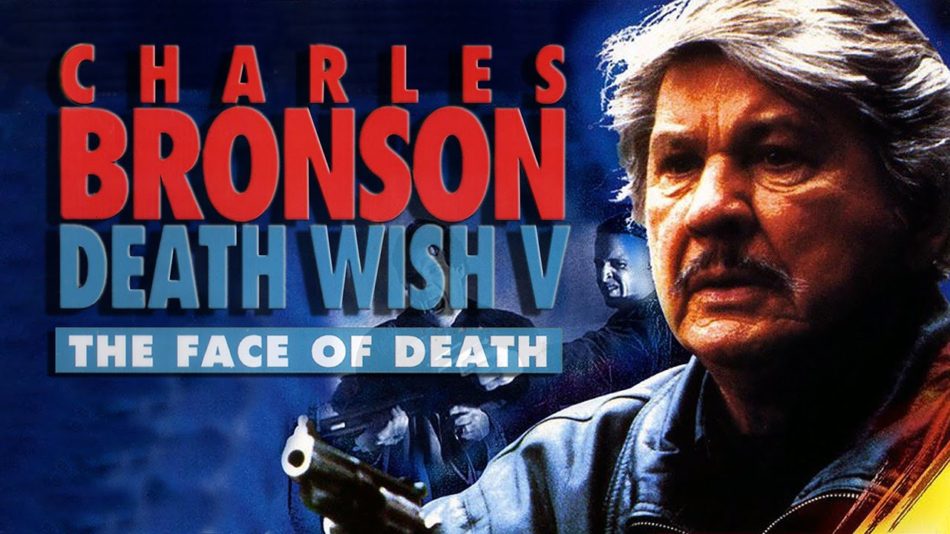 After the death of his fiancee at the hands of her mob boss ex-husband, Kersey this time takes on the mob in his quest for revenge.
Yes, I rank this above part 2. Why? Because it's fun! Seriously, I don't know why people rag on this one so much. It's not the greatest but at least its directed with some sense of style and flair. And I like that Kersey goes the more sadistic route with his vigilantism, and actually takes pride in his kills. To see him smile as he takes down the creeps who murdered his (5th) love is actually kind of endearing.
Especially when you think about all he's gone through in this series. Also, I love how creative the kills were in here. Cyanide Cannolis. Exploding Soccer balls. Pools filled with acid. Fun stuff. And it has the late, great Michael Parks as an Irish mob boss. C'mon… Michael Parks, man. That automatically gives it the edge of part 2.
MOST ULTIMATE MOMENT:
"Hey Freddy, I'm gonna take care of your dandruff problem for you…"
"Nooooooooo *blows up*"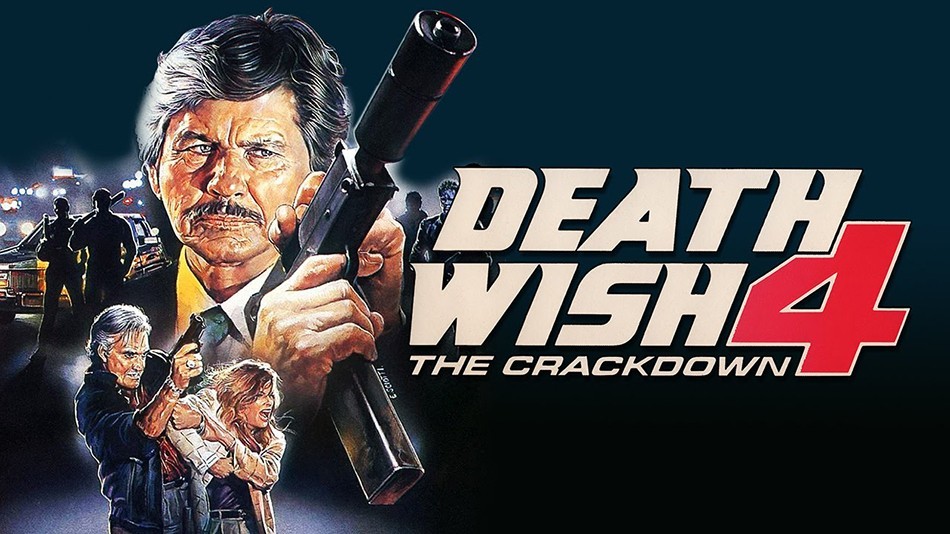 After the death of his girlfriend's daughter due to drug use, Kersey arms up once again, with his sights set on the crack/cocaine trade.
Kersey basically becomes an assassin in this, and I love it! After 3 movies of just shooting random creeps, Kersey takes on the drug trade, going on stealth missions to gather up intel before blowing all the drug pushers away. Sweet! Definitely the glossiest Death Wish of the bunch (although the low budget gives itself away a few times), this is arguably also the best directed film of the series, as Bronson reteams with frequent collaborator J. Lee Thompson to give new life and vibrancy into a series that should have worn out its welcome by now. And we have Cannon regulars John P. Ryan, Soon-Tek Oh, and Machete himself Danny Trejo in a small role. How badass is that??
MOST ULTIMATE MOMENT:
"How many…"
"How many what?"
"How many children have you killed with this s***!"
After the death of his wife and brutal rape of his daughter, mild mannered architect Paul Kersey becomes judge, jury and executioner as he takes down muggers on the mean streets of New York.
The one that started it all. The debut of Paul Kersey, and the film that shot Bronson into superstardom is in my opinion technically the best film of the series from a storytelling standpoint, as it's not really an action film, but more a gritty drama about a man who becomes addicted to vigilantism. The film is an allegory about addiction, it's just Paul's addiction is shooting muggers. While critics have gone on record claiming Bronson was miscast in the role compared to how it was written in the original novel by Brian Garfield, I think Bronson asserts himself well, and gives one of his best performances ever. And I like how Vigilantism is seen from both sides. 1. As a solution to crime. And 2. in Kersey's case, a deeper, psychological problem…
MOST ULTIMATE MOMENT:
[No dialogue, just Bronson wasting some street punks]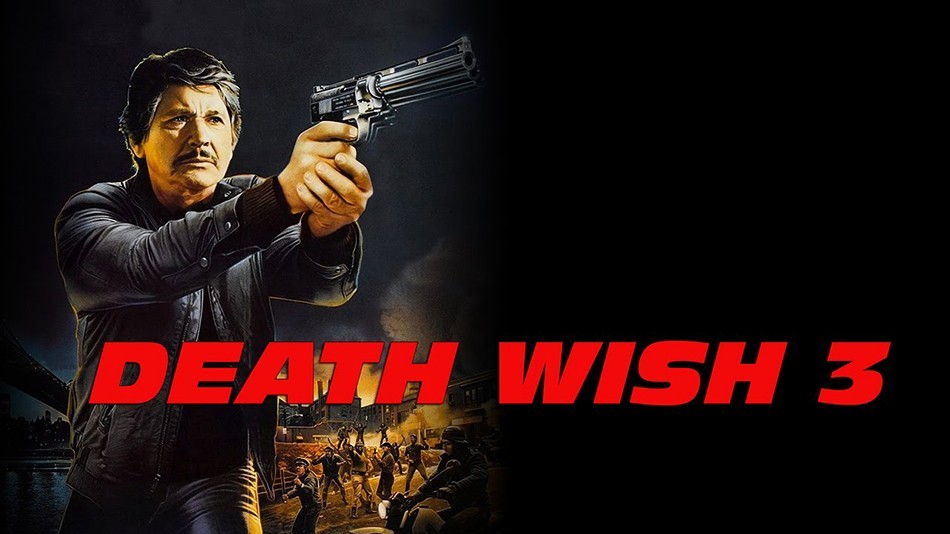 After the death of his old war buddy, Kersey wages war on a violent gang of creeps who terrorize the inhabitants of the local neighborhood.
You just had to have known this would be #1. This is pinnacle of not only Bronson's career, but also 80s action. You can't talk about 80s action movies without bringing up Death Wish 3. Oh no, siree! Definitely 80s action movie Mount Rushmore. Bar none. I remember I was once accused of watching Death Wish 3 too much. Seriously, how can you watch Death Wish 3 too much?? Not even possible. This movie is such an Iconic symbol of the awesome 80s. And so many great characters. Every character in this movie is memorable: The Giggler, Bennett, The Kaprovs, Rodriguez and his lovely wife Maria. And leading the way is Bronson, at his most badass. Kersey basically becomes urban Rambo in this entry, leaving leaving piles of dead creeps in his path of destruction. Kersey, and his friend Wildey.
Ah yes, the .475 Wildey Magnum. A gun as awesome and iconic as the .44 Magnum from Dirty Harry, that bad boy helped Kersey turn the entire creep population into splattered cherry pie all over those London streets (No, Winner. You didn't fool anyone into thinking that was New York). As this was the final entry in the series to be directed by Winner, I think we can all say he saved the best for last.
MOST ULTIMATE MOMENT:
"We're stealing the f***ing car, what's it to you?"
"Its my car!"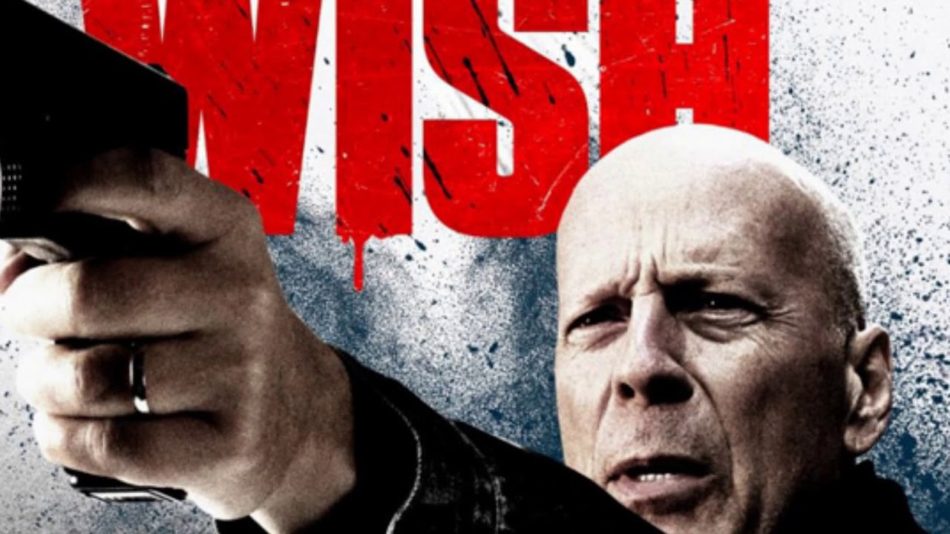 Surprisingly… I enjoyed it. A very competently made re-imagining of the original, the flick was a lot more serious than that godawful first trailer led us to believe. I like how it posed serious questions about vigilantism. It made some good points from both sides of the argument. The action bits are very well handled, although one sequence devolved into routine as it went along. It also seemed to be more comfortable with bursts of action rather than extended sequences. And that's ok. Also, being that this is an Eli Roth movie, the bloodletting is maximized considerably. Blood, brains and guts go flying everywhere in here. Complete carnage candy.
The film does have major issues though, the main one being Bruce Willis himself. During the dramatic scenes, the man is so completely devoid of life at times that I began to laugh. He just seemed sooo bored. Sure, he sheds some tears and gets loud, but it's obvious the man could care less.
EMOTE, DAMNIT! It was during these moments that I wished Vincent D'Onofrio, who plays Paul's brother Frank, had played the lead role instead. Willis is a lot more believable during the action scenes, unsurprisingly. But, other than that, I enjoyed this. It moves fast, makes you think a bit, and has some real badass moments. Just wished Bruce Willis still gave a crap about his roles.
MOST ULTIMATE MOMENT:
"Are you the ice cream man?
"Who the f**k are you??"
"Your last customer.."
Well, that's my rankings of the Death Wish series (don't shoot me). A series I hold as near and dear to my heart as my own father and mother. I can only hope the legacy of the original series lives on. Otherwise Charles Bronson may be forced to come back from the dead to hunt us down one-by-one, and none of us want that. (But that'd make a pretty ultimate action movie, so maybe one day!)
---
Let us know what you think about the article in the comments!