The Living Dead can't stop the Dolphster in 'Dead Trigger' trailer!
Dolph Lundgren has gone up against some major Hollywood heavyweights down the years.
From Sylvester Stallone, through to the Skeletor, the Big Swede has been there and done that.
But one thing Dolph hasn't had many dealings with, as yet, is an army of the living dead.
Thankfully, that's about to change with the release of Lundgren's latest brilliantly B-movie effort, Dead Trigger.
The Big Swede is Back!
Out on May 3rd, the movie's premise couldn't be simpler: a virus has transformed humanity into flesh-eating zombies, and it is up to Lundgren to straighten things out.
He plays an elite soldier leading a team of fellow badasses in a fight-to-the-death battle with a big old bunch of zombies with a hankering for a bite of Dolph.
These walkers chose the wrong man to mess with though, as the trailer demonstrates.
Dolphs vs. Zombies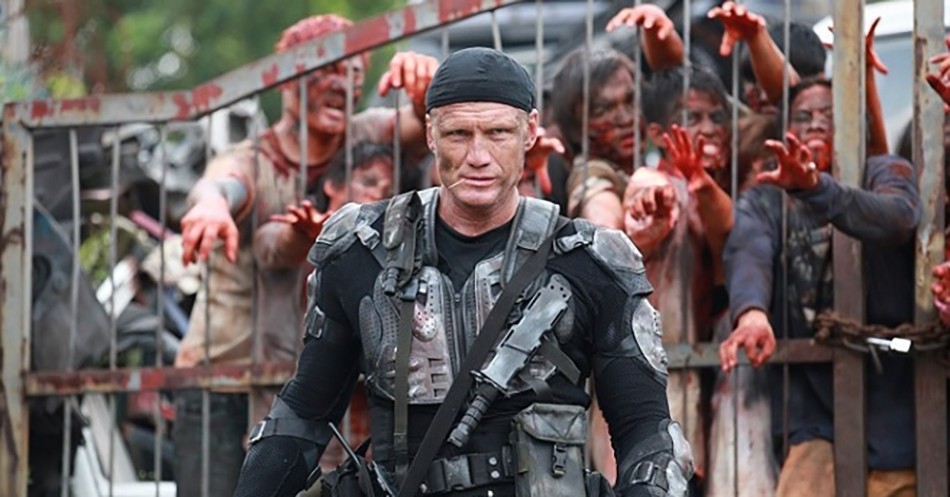 The film represents a noticeable departure for Lundgren, who has even dyed his luscious blonde locks and decidedly darker shade for this effort.
Our favourite Swede has some decent reinforcement backing him up this time around too with Autumn Reeser, Romeo Miller, and Isaiah Washington also starring.
A bloody but fun looking effort, Dead Trigger is directed by Mike Cuff and Scott Windhauser, and written by Heinz Treschnitzer.
One thing is for sure: he will break them.
Dead Trigger is out May 3.

---
What are your thoughts on the Dolphster in Dead Trigger? Let us know on our Facebook page!