Steven Seagal violent plea for environmental conscience was the last — but perhaps the best — mainstream action flick of his career.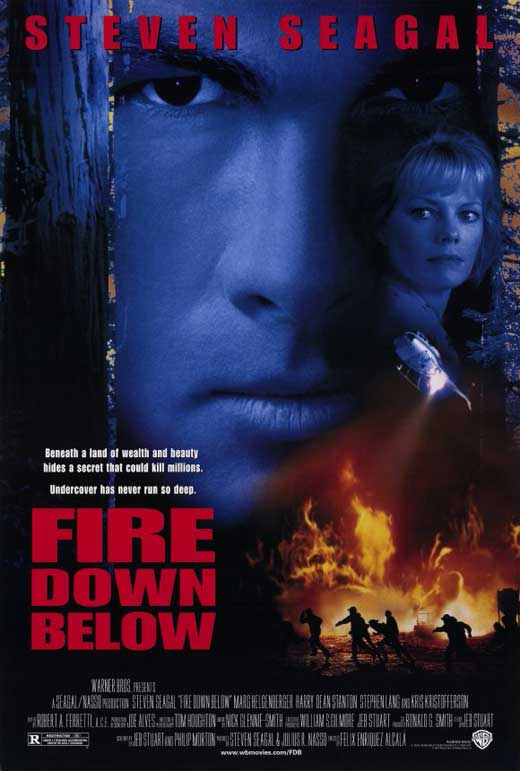 In the 1990s, Steven Seagal started to become an advocate for protection of the environment, even though what he exactly meant by that always remained a bit fuzzy. In his crazy classic On Deadly Ground he lashed out against Big Oil, and the film marked the start of an unofficial environmental-themed trilogy.
In 1997, he followed up with Fire Down Below that broached the topic of illegal dumping of toxic waste and the incapability of the Environmental Protection Agency to deal with it. So let's check out if this violent plea for environmental conscience became another slam dunk for Sensei Seagal!

EPA agent Jack Taggert is sent to a small Kentucky town to investigate the death of a colleague and rumors about the illegal dumping of toxic waste. He goes undercover as a carpenter, befriends the locals and gets into the crosshairs of crooked industrial magnate Orin Hanner and his henchmen.
"You are accused of dumping 4 million barrels of toxic waste 42 times in 13 different locations"
You know you're in Kentucky when people are flaring gas in their front yard. Aside from that, the film paints a sympathetic picture of a peaceful rural community surrounded by a beautiful countryside. We get to see the benefits of a slow life, and the village could be a great place to live if it wasn't for Orin Hanner and his goons. The chill vibe is enhanced by plenty of country music on the audio track. Six-String Seagal himself picks up the guitar in a scene at a party that rapidly escalates into a brawl with some of the more unsavory village folks, and it's not because they didn't like his musical performance.

All these elements give Fire Down Below a surprisingly mellow vibe. The action keeps coming at a good rate and is anything but mellow, but the film retains the impression of the most laid-back actioner Seagal has ever made. His performance is nicely in tune with the overall atmosphere, and while his Taggert still likes to patronize everyone, he dials back on the macho attitude outside of the fights significantly. When facing his adversaries, he is also in an unusually good mood almost all the time, and cracks a lot of jokes before beating everyone to a pulp. And his display of half a dozen eccentric leather jackets worn throughout the film only adds to the fun.
Seagal's Most Laid-Back and Last Mainstream Movie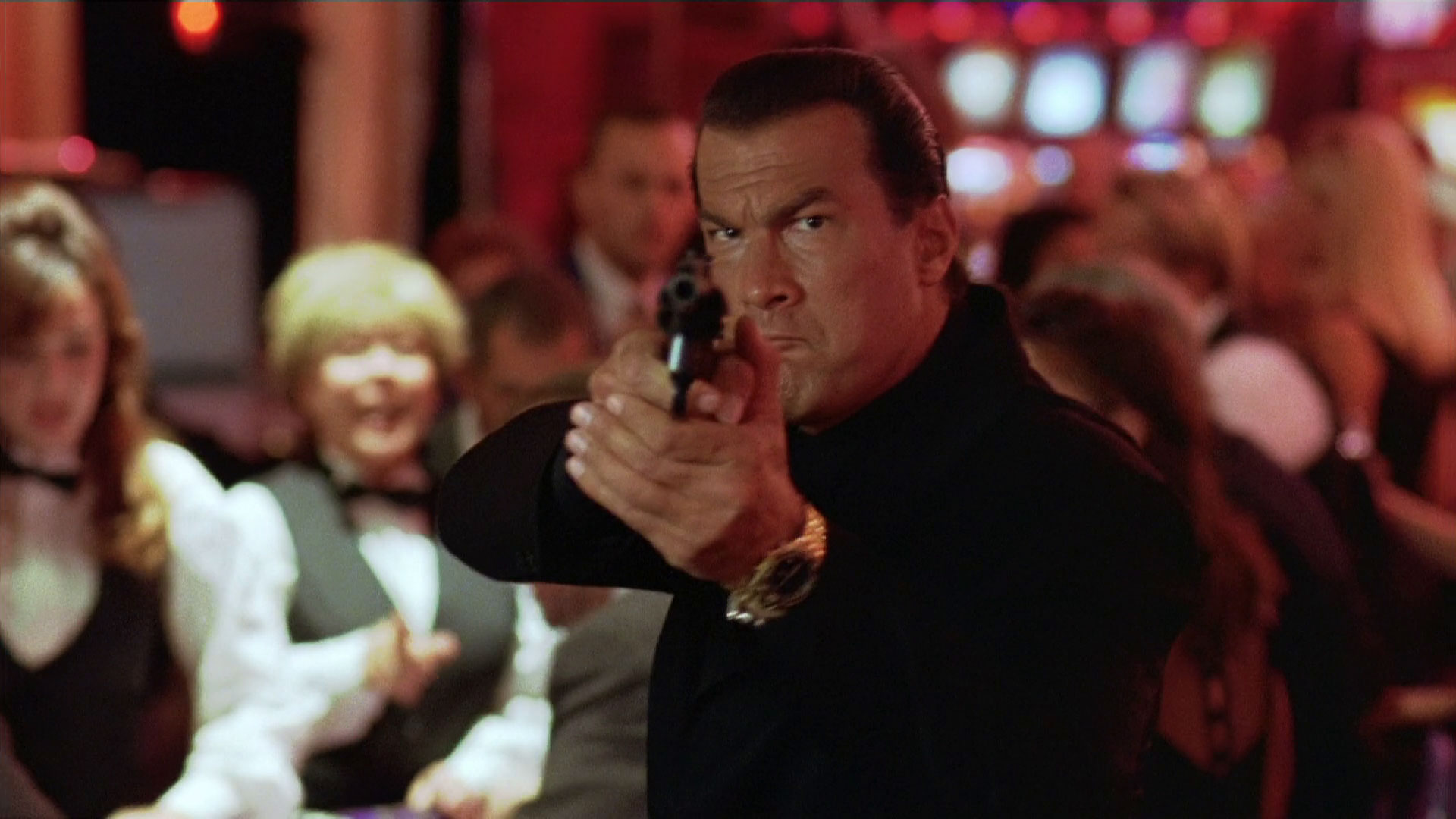 A good supporting cast helps to further elevate the quality level, among them the late Harry Dean Stanton, Stephen Lang, and apparently half a dozen famous country musicians. Marg Helgenberger plays Taggert's troubled love interest, and never has Seagal been more courteous to a woman on-screen than to her! Kris Kristofferson gives a great bad guy show as ruthless entrepreneur who likes to humiliate his poor son that is running the waste dump operation The sleaze level of his character is further enhanced by nice touches such as having a bedroom next to his office for his "secretary".

All is not well in Kentucky, and Jack Taggert is keen to clean up all the chemical waste and the human scumbags. There are some signs of Seagal enjoying the good life a bit too much, as he moves a tad slower than in his previous films, and his wide jackets maybe hide the onset of some love handles. He's still got it, though, and no squad of goons is a match for Seagal's Taggert, who aikidos everyone into the ground who gets in his way. It's all a bit less graphic than in classics such as Out for Justice but we still get out fair share of broken wrists, cracked noses, and shattered kneecaps. And watch out for the physics-defying move where he takes out three baddies with a single kick to their groins! 
"I will show you a new meaning to the word violation"
Apart from the numerous fights, there's a nice variety of other action-packed scenes. Production values are excellent, and part of the sizable budget was reserved for pyrotechnics. The two largest set pieces, a shootout in a cave in the midst of fluorescent toxic waste and a car chase, are actually the weakest parts of the film. Both of them are somewhat sloppily filmed even though their destructive conclusions are ultimately satisfying.

Fire Down Below stands out from Seagal's filmography with lots of firsts (and lasts). A laid-back vibe, an ecological message, the beautiful landscape of Kentucky and country music are mixed with a big chunk of kick-ass action, and it all works like a charm! It's a fun flick from beginning to end, and unfortunately was Seagal's last truly awesome film before he started his descent into the realm of DTV actioners.