Meet the Schwarzeneggers, the first family of ultimate action!
Cover image via Youtube.
The Austrian Oak, Arnold Schwarzenegger, is one the biggest action stars in the history of cinema. Since his humble beginnings in Hercules in New York he's always been a part of the public consciousness.
He isn't just a Hollywood cash cow; he's also a father. Despite their divorce, he has four children with Maria Shriver: Katherine, Christina, Patrick and Christopher. Another child, Joseph, came from his affair with his then housekeeper.
Who are Arnold's Kids?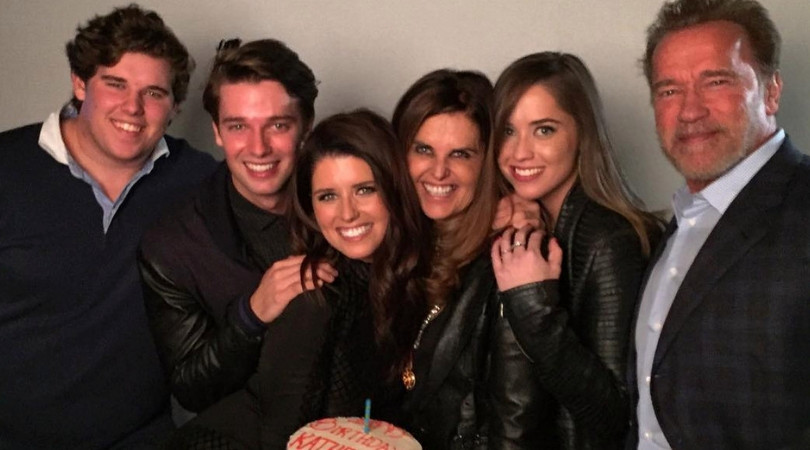 Image via Patrick Schwarzenegger Instagram. 
Katherine (born 1989) is an author with a bibliography that includes books about positive self-image, forgiveness and a survival guide for recent college grads. She is also an animal lover. She is an Ambassador for the American Society for the Prevention of the Cruelty to Animals. In 2019 she married actor Chris Pratt. They are expecting their first child this year.
Schwarzenegger's son, Patrick (born 1993), has followed his father's footsteps more closely than his sister.  Patrick has been acting since 2006 when he appeared in "Benchwarmers." He's gone to feature in films like "Scouts Guide to the Zombie Apocalypse" and "Daniel Isn't Real." He's also a business mogul opening multiple Blaze Pizza locations and starting a clothing line.
Arnold Schwarzenegger's Cinematic Children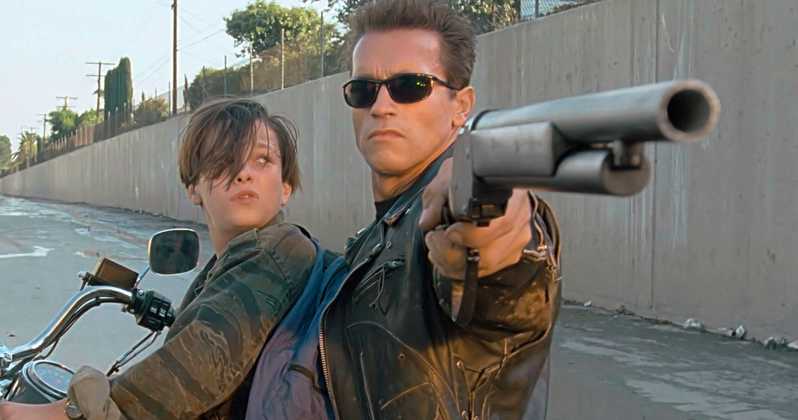 These aren't his only children though. Throughout the years, Schwarzenegger has been a surrogate father to many of his cinematic children. One of his earliest children was Jenny Matrix (Alyssa Milano) from the film Commando. As John Matrix, Schwarzenegger was wonderful father. He helped Jenny commune with nature by feeding deer and risked an international incident to save her from kidnappers. He even killed his one-time friend in order to ensure her survival.
He was surrogate father to John Conner during their time together in Terminator 2. He was more of a father to John than anyone else had ever been. He bonded with him over catch phrases like "Hasta la vista baby," and their affinity for heavy weaponry. He was also willing to learn from his pseudo-son, a sign that the Terminator respected John enough to listen. That is a rare trait in a father.
Last Action Hero is another example of Arnold's terrific sense of fatherhood. As Jack Slater, Schwarzenegger protects Danny Madigan from every kind of threat and even introduces him to all his friends and co-workers. Slater isn't perfect though. He brings Madigan to Benedict's (Charles Dance) doorstep. Slater has some learning to do in the father department.
Kindergarten Cop sees Schwarzenegger as Detective John Kimble. He goes undercover as a kindergarten teacher in order to track down a dangerous criminal. He grows to love his class and especially, Dominic, the son of the criminal he's hunting. Kimble is able to equally share his love, wisdom and disciplinary skills with his entire class. He may not be their dad but he's pretty damn close.
Watch: Sylvester Stallone Deep Fake Added Into 'Terminator 2'
Arnold's After-School All-Stars
Image via Muscle and Fitness.
He also works closely with young people through his charity work. In 1995, he created the Inner City Games Foundation, which offers cultural, educational, and community programs for local youth. He is also very involved with After-School All-Stars and founded the Los Angeles branch in 2002. The organization serves as an after-school program aimed to educate youth about health and fitness.
Throughout the years, Schwarzenegger has been father to many children both on screen and off.