A look at the best (and most ultimate) looking action titles at this year's Fantastic Fest!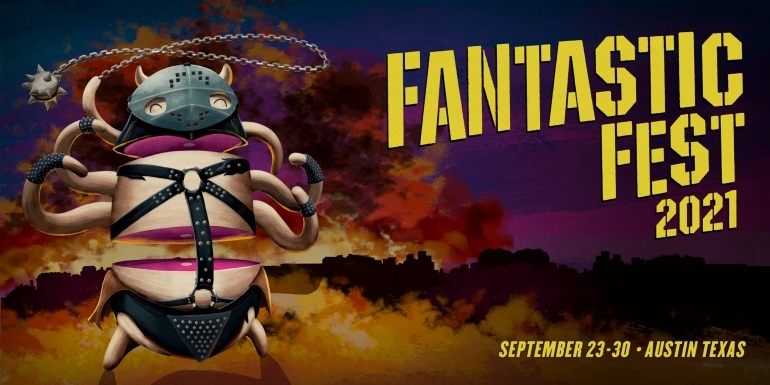 Fantastic Fest is back baby! OK, maybe it's going to be a little different than the last time the fest happened in-person in 2019. But after an online-only year in 2020, it'll be nice to see a few films in theatre.
Fantastic Fest 2021 is also going to be open to anyone online this year with its own virtual badge offering which comes in at a very reasonable price point. You can check it out here!
For anyone interested in looking at any of the upcoming ACTION movies at this year's fest, we have you covered as well. Here are some of our top UAMC-selections for the most ultimate looking actioners at this year's fest!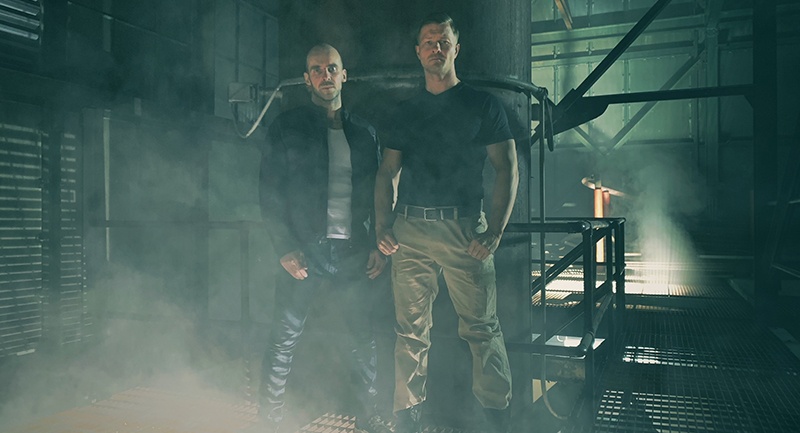 2021, DIR. HANNES THÓR HALLDÓRSSON, 98 MIN., ICELAND
BRIEF SUMMARY
Bussi is the best and most reckless cop in the Reykjavik police force. When, after thwarting a bank heist, he's paired up with Hördur, the best and sexiest cop in Gardabaer, sparks start to fly. Professionally and personally.
FULL DESCRIPTION
Bussi is a Supercop in Reykjavik. Although his methods go against all the rules, his arrest count is the highest in town. His superior officer looks the other way and always finds excuses for his actions. But Bussi quickly finds a competitor in Hördur: a multi-millionaire, multilingual ex-model genius-turned-cop who's the best in the county of Gardabaer. After they join forces to thwart a bank heist in Reykjavik, a round of drinking at the local bar leads them to have a wild night together. With no clues about what the robbers were after at the bank, Bussi and Hördur are paired up to solve the case.
If Michael Bay directed a gay comedic version of LETHAL WEAPON, COP SECRET would be the result. Never taking itself seriously, its violence and action sequences are offset by strong dramatic moments. Both Bussi and Hördur are believably flawed characters that evoke empathy supported by a solid backbone of a plot, crafting a film where the drama, comedy, and action are perfectly balanced.
Believe it or not, director Hannes Thór Halldórsson is actually a professional Icelandic football player. And not just any footballer: He's the goalkeeper named "man of the match" in the 2018 World Cup game against Argentina for saving a penalty kick and ending the match in a draw. COP SECRET is his directorial debut and should the football family ever forsake him, his film family will be more than happy to welcome him on a full-time basis. (ANNICK MAHNERT)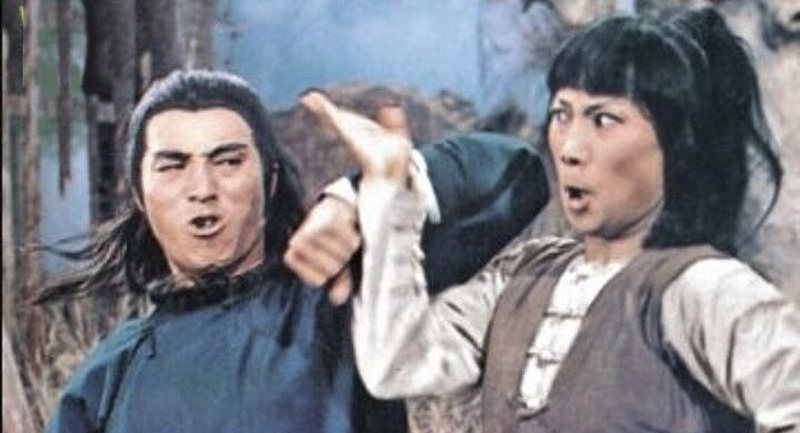 1976, DIR. CHI-HWA CHEN, 90 MIN., TAIWAN, PROVINCE OF CHINA, HONG KONG
BRIEF SUMMARY
At the nexus point where Jackie Chan's star began to rise and Angela Mao's (ENTER THE DRAGON) was waning, they collaborated on this wild, rarely seen gem. Channeling Chan's own acrobatic style, Mao avenges the defeat of her teachers using a powerful "dancing girl" kung fu style inspired by the gyrations of brothel attendants.
FULL DESCRIPTION
Though she's best known today for playing Bruce Lee's doomed sister in ENTER THE DRAGON, Angela Mao was also a movie star in the early 70s with her own string of hits from Golden Harvest Films. Among the top-level talent she worked with on films like HAPKIDO and THE HIMALAYAN was a young up-and-coming actor and stunt performer by the name of Jackie Chan. In the latter half of the decade, as Chan's career began its ascension and Mao's went into decline, the two wound up working together on an wacky kung fu comedy called DANCE OF DEATH in which Chan handled the direction of the fight scenes and let Mao take the lead in a part you'll swear was intended for Chan.
In fact, it's Chan's imaginative fight choreography and the stunt casting of Mao as a very Jackie-like leading man (?!) that make DANCE OF DEATH ripe for rediscovery. After her/his teachers and schoolmates are wiped out by a white-haired "crazy horse"-style practitioner, goofball student Fei Fei (Mao) encounters two wacky old kung fu masters who teach her/him several strange new fighting techniques for revenge, including one they refer to as "dancing girl" that is based on a performance they witnessed in a brothel. The humor rarely rises above the level of crossed eyes, flatulence and cartoonish sound effects, but for Mao fans it's a delight to watch her working so closely with Chan (to the point of mimicry) and proving herself as adept at broad comedy and slapstick as she is at martial arts. (GRADY HENDRIX)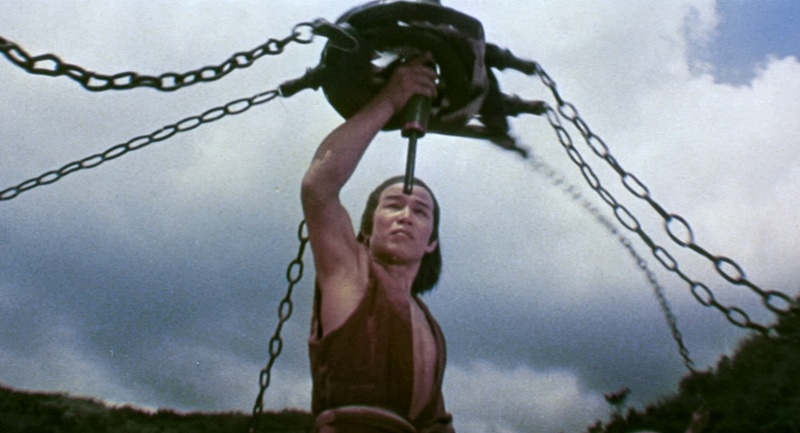 1977, DIR. CHANG MEI-CHUNG, 92 MIN., TAIWAN, PROVINCE OF CHINA, HONG KONG
BRIEF SUMMARY
Now! DYNASTY! On the surface it looks like just another indie kung fu flick from Taiwan, but within minutes this crazy train has picked up a full head of steam and is on its way to a Never Never Land of wild weapons, mass mutilation, and major mayhem … all in 3-D!!!
FULL DESCRIPTION
Now! DYNASTY! On the surface it looks like just another indie kung fu flick from Taiwan, but within minutes this crazy train has picked up a full head of steam and is on its way to a Never Never Land of wild weapons, mass mutilation, and major mayhem…all in 3-D!!! Superkicker Dorian Tan Tao-liang would go on to train an army of talent, like leg fighter John Liu as well as Jonathan Ke Quan who would play Short Round in INDIANA JONES AND THE TEMPLE OF DOOM and Data in THE GOONIES. Here he plays the emperor's son who flees a rebellion staged by a super-evil general (Chin Kang, who played the sinister blind monk in MASTER OF THE FLYING GUILLOTINE the previous year).
This basic setup is all the framework the movie needs to unleash a series of rollicking fight scenes staged by Han Ying-chieh who choreographed a bunch of early Bruce Lee and Jackie Chan movies, so you know he's going to bring the pain. Studded with bizarro weapons, the action is spiced up by a super-sophisticated use of 3-D which plops every severed limb in the audience's lap and gives every running battle extra depth. Fun fact: the 3-D used here was the beta testing for Super Depth, a brand new portable system developed by American porn director, Michael Findlay. He was thrilled to see his new system put to such creative use and was on his way to the Cannes film festival six weeks after DYNASTY opened to introduce it to the world when a helicopter accident on the roof of New York's Pan Am building sent the chopper's 28-foot-rotor scything through the crowd of boarding passengers, killing Findlay instantly.
But Dynasty lives…forever! (GRADY HENDRIX)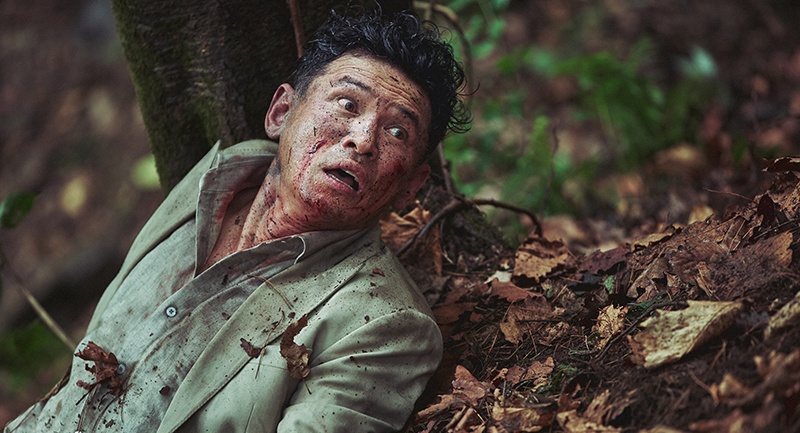 2021, DIR. GAM-SUNG PIL, 94 MIN., KOREA, REPUBLIC OF
BRIEF SUMMARY
Hwang Jung-min's action film credentials are put to the test in HOSTAGE: MISSING CELEBRITY, a no-holds-barred thriller in which the Korean star plays himself.
FULL DESCRIPTION
After selling over 100 million cinema tickets, winning every major award, and capturing the hearts of the nation time and again, what is there left to do for Hwang Jung-min? Getting kidnapped, of course. Korean superstar Hwang lends his star wattage to the punchy action-thriller HOSTAGE: MISSING CELEBRITY, in which he plays himself, a box office star who has to prove his action credentials in the real world when he's held for ransom by a gang of demented thugs.
From debut filmmaker Pil Gam-sung under the watchful tutelage of action maestro Ryoo Seung-wan, serving here as producer, HOSTAGE: MISSING CELEBRITY kicks off with Hwang attending a press event for his latest action film in which he shares the screen with his NEW WORLD co-star Park Sung-woong, also playing himself. Hwang returns home after the event but when he drops by a local convenience store, he's recognized by people on the street — but these are no ordinary fans. Before he knows it, he finds himself stuffed into a van and wakes up tied to a chair in a dank room in the countryside, sharing the room with another kidnapped young woman and an assortment of scraggly criminals.
This remake of the Chinese thriller SAVING MR. WU differs from the original by casting the lead as himself. Fans of Hwang and Korean cinema will delight in the many references to ace K-thrillers, not least because Pil's film stands shoulder-to-shoulder with them. The film sees a chained-up Hwang being put through the wringer and learning stunt work the hard way through a daring escape, but these are just a handful of highlights in a Korean summer discovery that also features breathtaking car chases, bone-cracking dust-ups, and explosive surprises. (PIERCE CONRAN)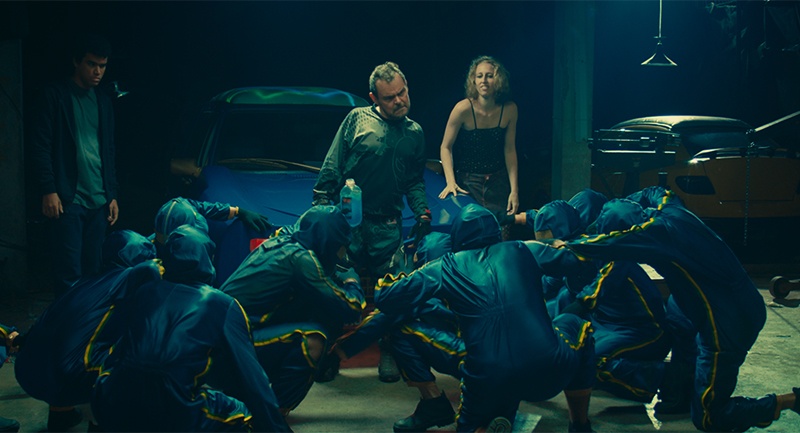 2021, DIR. RENATA PINHEIRO, 97 MIN., BRAZIL
BRIEF SUMMARY
A young man's ability to surreally "be one" with cars sparks a revolution that could save transport in his community. When his invention inadvertently accelerates the underlying problems, our hero's quest must grow bigger than his own personal ambitions.
FULL DESCRIPTION
Ninho is that everyteen whose personal dreams and goals clash with his stern father's own unwritten rule that he will follow in the family taxi business footsteps. You'd think a career with cars would be Ninho's divine purpose since he can talk to cars, even making friends with the car that saved him from an accident as a child. But Ninho's heart is drawn to Brazil's ecological preservation, working to save the land and help the community living there. Since losing his mother at a young age, Ninho has been considering what his legacy will be, and driving a taxi and fixing cars just isn't enough to satiate his ambition.
When his eccentric Uncle Zé Macaco (Matheus Nachtergaele) figures out how to upgrade old cars, circumventing the law that bans cars over fifteen years old from the roads, Ninho's two worlds meet: sustainability and his community's survival. But the unintended costs echo imagery you've surely seen in works such as HALLOWEEN III: SEASON OF THE WITCH.
KING CAR is a bit off the beaten path in regards to sci-fi as it leans much more into magical realism. Its genre-blending journey has an endearing energy that doubles as a glimpse into how local policies can ultimately suppress and embolden a community's working class. It is an engaging political sci-fi thriller with appeal for a variety of palettes. (ASHLEE BLACKWELL)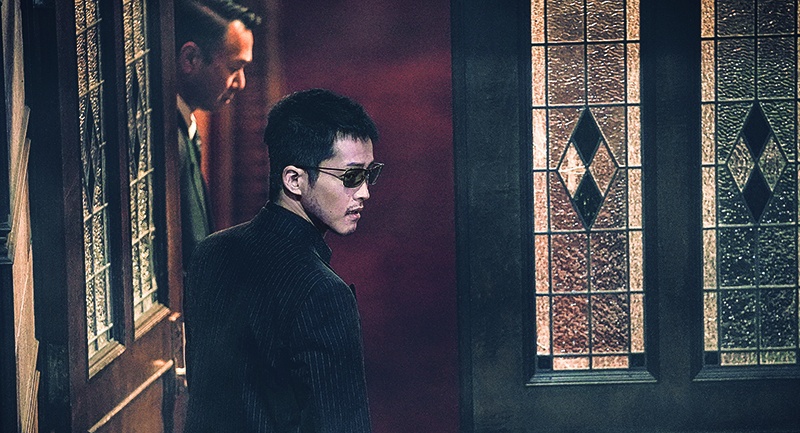 2021, DIR. KAZUYA SHIRAISHI, 139 MIN., JAPAN
BRIEF SUMMARY
A hard-won truce between rival yakuza gangs threatens to erupt into bloody violence when a psychopathic hoodlum is released from prison and vows to avenge the death of his boss.
FULL DESCRIPTION
Set three years after the events of THE BLOOD OF WOLVES (2018), and the death of corrupt cop Shōgo Ōgami (Koji Yakusho), we find his fresh-faced subordinate Shuichi Hioka (Tori Matsuzaka) now equally embroiled in Hiroshima's seedy underworld of organized crime. From his unique vantage point, Hioka has succeeded in implementing Ōgami's plan: a tentative truce between the city's rival yakuza gangs. This fragile equilibrium is thrown into disarray by the release of Ryohei Suzuki's Japanese-Korean enforcer, a pathological hoodlum who bulldozes his way back into town, seizes control of his old gang, and carves a bloody path of wanton carnage through the immigrant neighborhood of his old stomping ground. Determined to avenge his boss's murder, this uncontrollable force of nature threatens to destabilize the entire city and trigger a renaissance of old-school yakuza violence.
Writer-director Kazuya Shiraishi brilliantly recaptures the swagger of Japan's crime thriller heyday, evoking the incendiary, socially-conscious style of filmmakers such as Kinji Fukasaku and Takashi Miike with his complex web of intertwining characters, betrayals, double crosses, and underhanded power plays. Tori Matsuzaka's transformation from buttoned-down rookie to amoral wheeler dealer propels us through this fast-paced labyrinthine thriller with the deadly precision of a whetted sashimi blade. Ryohei Suzuki, known to Fantastic Fest regulars as TOKYO TRIBE's bleach-blond gang-banger, is truly terrifying as the fly in Hioka's ointment, a drug-addled dervish of destruction who refuses to abide by the laws of the land or his yakuza elders. What Shiraishi has unleashed is both refreshing and reverent, a blast of fresh air that carries with it the textured, alluring scent of a rich cinematic legacy. (JAMES MARSH)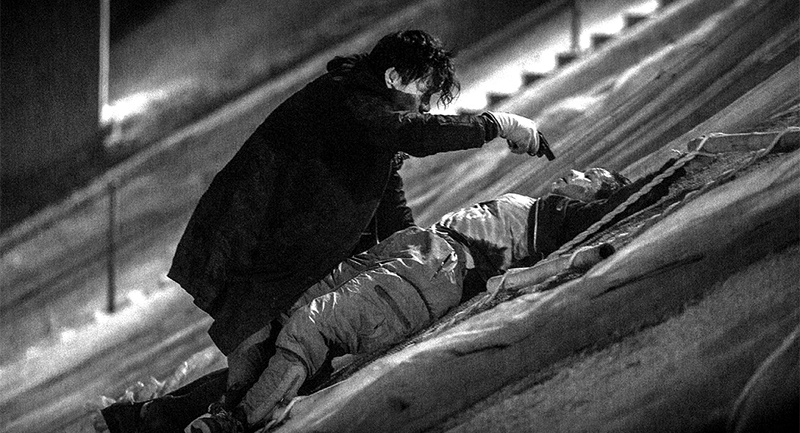 2021, DIR. SOI CHEANG, 118 MIN., HONG KONG
BRIEF SUMMARY
A burnt-out cop and a by-the-book young detective team up to catch a vicious serial killer lurking in the garbage-filled alleys of Hong Kong in Soi Cheang's grimy monochrome masterpiece.
FULL DESCRIPTION
Following a trilogy of chart-topping, effects-heavy MONKEY KING blockbusters, Hong Kong director Soi Cheang returns to the squalid, trash-strewn underworld where he forged his career with doom-laden gutter greats like DOG BITE DOG and ACCIDENT. Away from the shimmering skyscrapers and aspirational affluence of the city centre lies a festering, grime-smeared underbelly. Amidst the choking stench of garbage and detritus, the severed hand of a young woman surfaces, wrapped in two-year-old newspaper, discarded like a half-eaten burrito. This grim discovery sets grieving city cop Cham Lau (Gordon Lam) on the trail of a particularly nasty killer, a mysterious figure who wanders Kowloon's labyrinthine back streets with a mutilated, drug-addled waif in tow.
But Cham will not be alone on his crusade. Freshly promoted detective Will Ren (Mason Lee, son of Oscar-winning director Ang Lee) is also assigned to the case, and is immediately skeptical of Cham's physical and mental well-being. These concerns are exacerbated further after he witnesses his partner's unrelenting violence towards a young woman, Wong To (Yase Liu in a performance of formidable physicality). But she owes Cham a debt that can never be repaid and when she volunteers for a potentially life-threatening assignment, the stage is set for a terrifying game of cat and mouse.
Filmed before the 2019 protests, which derailed Hong Kong's stability and provoked Beijing to inflict a wave of crippling restrictions effectively muzzling the city's right to free speech, LIMBO nevertheless presents a woefully nihilistic vision that renders Hong Kong almost unrecognizable even to those living there today. The result is an experience of unrelenting intensity, a cop procedural in existential freefall, a descent into the bowels of human existence where the hope of redemption is torturously untenable. (JAMES MARSH)
1975, DIR. JIMMY WANG YU, 93 MIN., TAIWAN, PROVINCE OF CHINA, HONG KONG
BRIEF SUMMARY
A blind assassin armed with a vicious flying guillotine is out to kill the legendary one-armed boxer (martial arts superstar Jimmy Wang Yu). 36 Cinema presents MASTER OF THE FLYING GUILLOTINE with live commentary by RZA!
FULL DESCRIPTION
36 Cinema presents MASTER OF THE FLYING GUILLOTINE with live commentary by RZA!
A blind assassin armed with a vicious flying guillotine is out to kill the legendary one-armed boxer (martial arts superstar Jimmy Wang Yu). Along the way, he interrupts a bizarre kung fu tournament and heads start to roll. It's now up to the one-armed boxer, with his skull shattering punch and his ability to walk on walls, to defeat the ferocious flying guillotine assassin. This is one of the greatest kung fu movies of all time, and truly must be seen to be believed. Live commentary by RZA (founder of the Wu Tang Clan) and Dan Halsted (film archivist, and programmer for 36 Cinema).
About 36 Cinema: 36 Cinema is a first-of-its-kind online experience that brings together film screening with live in-depth commentary with directors, actors, critics and super fans. The intent of 36 Cinema is to provide viewers with a deeper understanding and appreciation of the films that have inspired and influenced generations of cinephiles. 36 Cinema is distinguished from the VOD/streaming market in that the screenings are live events.
Previous guests of 36 Cinema screenings include RZA (founder of the Wu Tang Clan), director Jim Jarmusch (GHOST DOG, COFFEE AND CIGARETTES), director Alex Cox (REPO MAN), director Charlie Ahearn (WILD STYLE), and stunt actress Shaina West, among others. The platform has also partnered with key cultural institutions such as the Smithsonian's National Museum of Asian Art in DC and the Museum of the Moving Image in Queens.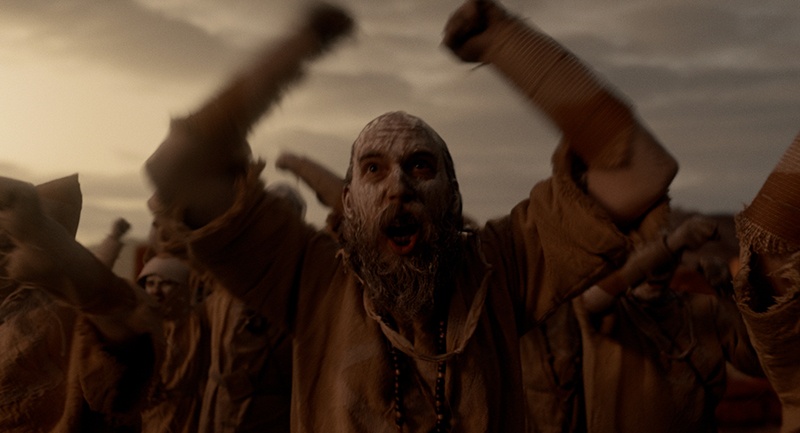 2021, DIR. SCOTT PETERS, 10 MIN., UNITED STATES
BRIEF SUMMARY
A man is spirited away to another world where he encounters a strange cult of super sentai worshipers.
Those are just some of our top selections though, you can check out the full Fantastic Fest 2021 lineup here!