A preview of the most ultimate looking action flicks at this year's Fantastic Fest.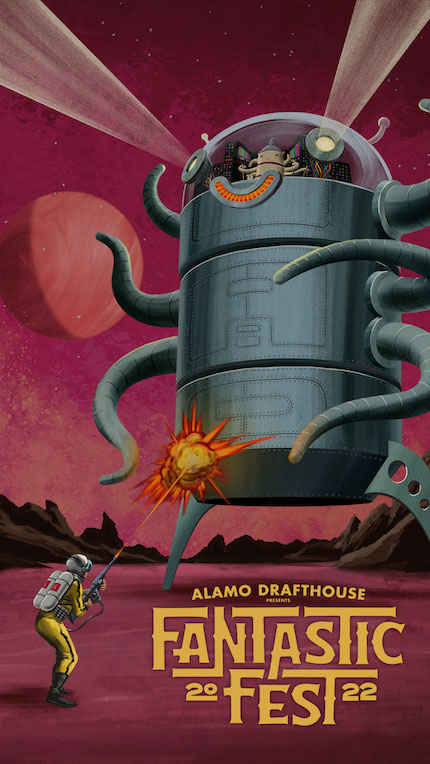 Howdy y'all! It's that most wonderful time of the year again here in Austin, Texas as we're on the precipice of another Fantastic Fest. Back in full swing and in-person at the Alamo Drafthouse on South Lamar in Austin, we're excited to dive into the usual diverse mix of genre horror, sci-fi and action which Fantastic Fest is known for.
Speaking of action though, this year's lineup looks to be quite explosive (or at least powder keggy) indeed. Let's take a look at some of the choice nugs which we'll be checking out this year!
PROJECT WOLF HUNTING

121 minutes | South Korea | 2022
A passel of Korea's most heinous criminals have been under lock and key in the Philippines, but the time has come for them to be extradited back home. The last time such a transfer took place, pandemonium broke out when a man out for revenge turned a public arrivals hall into a scene of carnage. Rather than make the headlines for all the wrong reasons again, this time they will be transported via cargo ship under heavily armed guard. But it's a long way between Manila and Busan.
A few minutes into PROJECT WOLF HUNTING, the phrase "Korean CON AIR on a boat" may come to mind, but while it hits some of the same pleasing notes early on, this unhinged slice of genre mayhem quickly turns into a very different beast. The narrative economy allows the knives and guns to come out early, and once the bodies start dropping, they never stop.
A midnight delight with more than a few giddily deranged aces stuffed up its bleeding sleeves, this action-packed at-sea gorefest is here to entertain. And entertain it does, as grimacing and bloodthirsty characters, each as colorful as the ship's many containers, tear each other apart in the labyrinthine belly of a floating hellscape from which there is no escape. (PIERCE CONRAN)
BAD CITY

118 minutes | Japan | 2022
Fans of Japan's bountiful direct-to-video V-Cinema industry will be no strangers to the grizzled features and ultra-cool charisma of Hitoshi Ozawa. A regular fixture in the films of Takashi Miike, Ozawa just turned 60, but has lost none of his speed, agility, or skill for taking out swathes of yakuza goons with a single bloodied fist.
Writer and star of BAD CITY, Ozawa tears through the underworld of Kaiko City, as disgraced Detective Torada, wrongfully imprisoned for murder but now given temporary parole to lead a special off-the-books unit. Pulling together an elite squad of trustworthy cops, Torada goes after Lily Franky's slippery businessman, Gojo, who announces his intentions to run for mayor. Gojo's underworld associations with both the yakuza and the Korean mafia trigger a bloody turf war that descends into a series of deadly street brawls, with Torada and his team slap band in the middle.
Helmed by veteran stunt coordinator Kensuke Sonomura, who has choreographed action for John Woo, Donnie Yen, Mamoru Oshii, and Yudai Yamaguchi, to name just a few, BAD CITY opens as a swaggering gangster saga bristling with high-level corruption, but soon escalates into an endless series of breathless fistfights that rank with the very best the genre has to offer. Eagle-eyed viewers will spy Fantastic Fest veteran Tak Sakiguchi (VERSUS, YAKUZA WEAPON) as a silent but deadly assassin, but the true star of the show is undeniably Ozawa, who even now, as a bus pass wielding senior citizen, explodes off the screen like a junkyard pit bull of untethered ferocity. (JAMES MARSH)
H4Z4RD

86 minutes | Belgium | 2022
Noah Hazard has the dopest ride in all of Antwerp. His prized gold Lexus is dipped, detailed, and immaculate. The custom vanity plates — H4Z4RD — announce the self-proclaimed "driver" as a professional who will safely get you wherever you want to go.
When Noah accepts a job from his wayward cousin, Carlos, who casually drops that they are picking up an old buddy from jail, he isn't expecting to be drawn into a murderous drug war. The greasy fingerprints that Carlos' cellmate wipes on the pristine leather seats are the least of Noah's worries as he and Carlos frantically speed through the streets of Antwerp, trying to hunt down a mystery drug that the bumbling ex-cons foolishly swiped from a mysterious sharpshooter. Things go from bad to worse as the cousins face run-ins with grenade-toting teenage hoodlums, determined mall cops, an urban werewolf, and a security guard with sexual hang-ups straight out of TITANE.
H4Z4RD is full of hilariously memorable surprises and will have audiences talking long after the credits roll. Anchored by the chemistry between straight man Noah (Dimitri Thivaios) and scene stealer Carlos (Jeroen Perceval), it's a perfect midnight buddy movie with a distinctly European flair. (LORI DONNELLY)
Paired with short CRUISE Dir. Sam Rudykoff
HUNT
125 minutes | South Korea | 2022
Against the tense Korean backdrop of the 1980s, when passionate student protests threatened to topple an oppressive political regime, two rival intelligence agents have been tasked with the same mission — to ferret out a North Korean mole within the Korean Central Intelligence Agency (KCIA).
Bursting onto the global scene last fall, Lee Jung-jae became a household name as contestant #456 in the global Netflix smash SQUID GAME. However, back in Korea, he's been a huge star since the 1990s. This year, his storied screen career entered a new chapter as he marched up the red carpet at the Cannes Film Festival with the explosive and endlessly twisty period spy yarn HUNT, his debut film as a director.
Lee does double duty here as he also plays Pyong-ho, the head of the foreign intelligence unit who faces off against the domestic intelligence chief Jung-do, played by fellow superstar and Lee's real-life bestie Jung Woo-sung (ASURA: THE CITY OF MADNESS). The action comes thick and fast in this slick and densely plotted thriller that teems with double-crosses and crackling crossfire. The film proves to be a confident transition to the director's chair for Lee, who gives his all both in front of and behind the camera. (PIERCE CONRAN)
KIDS VS. ALIENS

75 minutes | USA | 2022
As local authorities busy themselves with the disappearance of three fishermen on the same night that an unexplained fiery object appears in the sky, Gary and his best buds busy themselves with finishing their latest kickass movie about a group of dino-sorcerers vying for world domination and staying clear of neighborhood toughs led by head bully Billy.
Much to his chagrin, his older sister, Samantha, finds herself charmed by Billy and agrees to host a Halloween party while their parents are out of town. Angered by the intrusion, Gary seeks some adolescent payback at Billy's expense, and as the tension between the feuding groups comes to a head, a bright light heralds the arrival of a much more powerful and terrifying enemy. Now Samantha must battle these blood-seeking extraterrestrials to get Gary and his crew back while still dealing with all the baggage that only a two-timing teenage punk like Billy brings to the table.
Canuxploitation favorite Jason Eisener is back with his feature-length followup to the newly minted classic, HOBO WITH A SHOTGUN. Utilizing elements from Spielberg and Donner's templates, Eisener crafts a nostalgic homage to timeless childhood favorites like THE GOONIES and MONSTER SQUAD, but spices them up with foul-mouthed dialogue and gallons of gore. A thrill-ride that doesn't take itself too seriously, KIDS VS. ALIENS is a fun take on the STRANGER THINGS formula from our friends in the north. (LORI DONNELLY)
Paired with short KICKSTART MY HEART Dir Kelsey Bollig
LEONOR WILL NEVER DIE

99 minutes | Philippines | 2022
Leonor hasn't directed a movie in a long while, not since a tragic incident on one of her sets, and now her family is struggling to make ends meet. After a newspaper ad prompts the director to start working on a new screenplay, Leonor dreams up a story where her deceased son is on the run from gangsters. When a falling television set sends Leonor into a coma, she finds herself in the middle of her new action movie full of fistfights and stunts.
LEONOR WILL NEVER DIE pays homage to Filipino action movies of the '70s and '80s and celebrates the contributions of women to the conventionally masculine genre. Leonor dodges gunfire and fights villains while crafting a new cinematic life for the son she's lost. Featuring wonderful stunts and visual effects, this movie examines an artist's relationship to genre and craft while simultaneously making a really fun action movie. A metatextual narrative shows an incredible effect or stunt, and then takes the time to show how a filmmaker pulls it off. Much of the wonder of this film comes from the way it reveals the process, impressing you with the skill practical effects require.
Consistently upending expectations, LEONOR WILL NEVER DIE is a showcase for an incredible lead performance from Sheila Francisco, who gets to be an action hero despite being a woman of a certain age. Francisco takes Leonor's fierceness and commitment to her craft as directives to fight a group of men intent on killing her while embracing her love of film. As real life and Leonor's movie weave together, the director and her family see how art can heal and help process grief, even in the face of a cheesy villain. (AUSTIN KING)
SHIN ULTRAMAN

113 minutes | Japan | 2022
There's never a dull day on Japan's newly established SSSP kaiju defense taskforce, led by Kimio Tamura, played by DRIVE MY CAR's Hidetoshi Nishijima. After a particularly challenging encounter, a giant silver robot descends from the sky to rescue the country. Dubbed Ultraman, this robot's identity and purpose are a mystery. SHIN ULTRAMAN is a delightful reimagining of one of Japan's classic superheroes, full of cosmic twists, campy villains, and giants of all species.
Hideaki Anno and Shinji Higuchi's Shin franchise began with Fantastic Fest favorite SHIN GODZILLA, which updated the lizard's nuclear metaphor for the 21st Century. Now their second film, SHIN ULTRAMAN, transports an episode of the original TV show into 2022 — complete with cheesy beam effects and villains who spell out their entire plan to the hero. Higuchi directs while Anno takes on the daunting task of writer, editor, and embodying Japan's large silver protector as Ultraman's motion capture performer. Be prepared for fast cuts, cool monsters, and more proper noun labels than a kaiju defense force government budget can successfully itemize.
As a big fan of kaiju movies, and SHIN GODZILLA specifically, I have been anticipating this film for years. I am delighted that, in addition to being a celebration of one of my favorite characters, SHIN ULTRAMAN explores how the optimistic retro-futurism of the '60s television show could inspire change and combat a slide into militarism and extremism in a modern age. There are plenty of city-destroying battles as well as discussions around the role of government protection and the moral obligation to defy higher authority. Even without all of this, SHIN ULTRAMAN still basks in the joy of seeing giants walk around Japan. (AUSTIN KING)
ULTRAMAN (4K EDITION)

101 minutes | Japan | 1966
In conjunction with the feature SHIN ULTRAMAN, we are presenting the brand new 4k restoration of four episodes of the original Ultraman television series.
SOLOMON KING

85 minutes | USA | 1974
When Solomon King's princess girlfriend is assassinated, it's up to him to solve the case. Trained by the CIA, Solomon King is ready to take on anything and anyone… and to do it in style. What follows is a dynamic, action-packed, and frequently humorous revenge tale, as Solomon King comes up against a variety of villains, from the henchmen of an oil kingpin to corrupt agents, always coming out on top.
Propelled by a fabulous funk soundtrack, SOLOMON KING is not only wildly entertaining but an important piece of Black film history. A time capsule of Oakland in the 1970s, SOLOMON KING showcases the hard work and dedication of Sal Watts, who not only directed the film, but also wrote, produced, and starred in it. Watts leveraged his pre-filmmaking success, shooting much of the film in businesses he owned and supplied a majority of the disco-ready wardrobe from his own clothing stores.
Fantastic Fest is proud to present the world premiere of this fascinating piece of lost film history. Our friends at Deaf Crocodile have done a phenomenal job restoring the film, working closely with Watts's widow, Belinda Burton-Watts, who not only appears in the film briefly, but also stored the original soundtrack elements in her closet for decades. Fans of innovative, independent filmmaking will be bowled over by the ingenuity, heart, and hard work that went into crafting SOLOMON KING. (LISA DREYER)