James Woods Gets Dirty in the Genre-Defining 'Cop' (1988)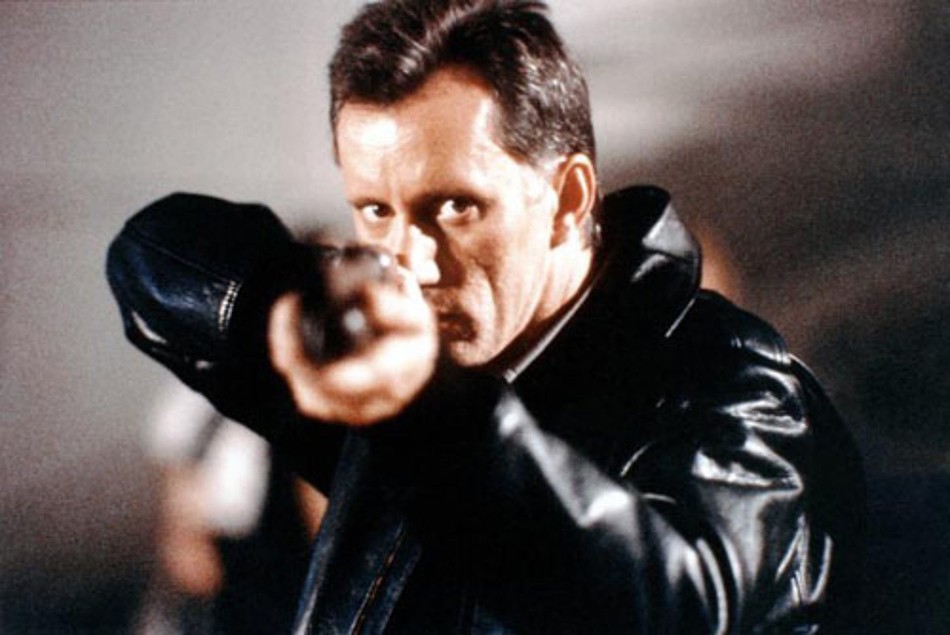 Back in 1997, the adaptation of pulp crime writer James Ellrory's novel L.A. Confidential hit the screen and was met with rapturous applause.
The performances, cinematography, score, writing, editing and direction were all praised and blessed with Oscar noms, and some awards. Hollywood said the makers of Confidential did what no one else had, or could do at the time, and that was make a successful movie from an Ellroy novel.
Let me tell you guys this: I love L.A. Confidential. It's brilliant and gripping. But there's NO WAY it is better than 1988's criminally forgotten drama Cop, starring the brilliant James Woods and directed, and written for the screen, by maverick filmmaker James B. Harris, based on Ellroy's novel Blood on the Moon.
From Drive In to VHS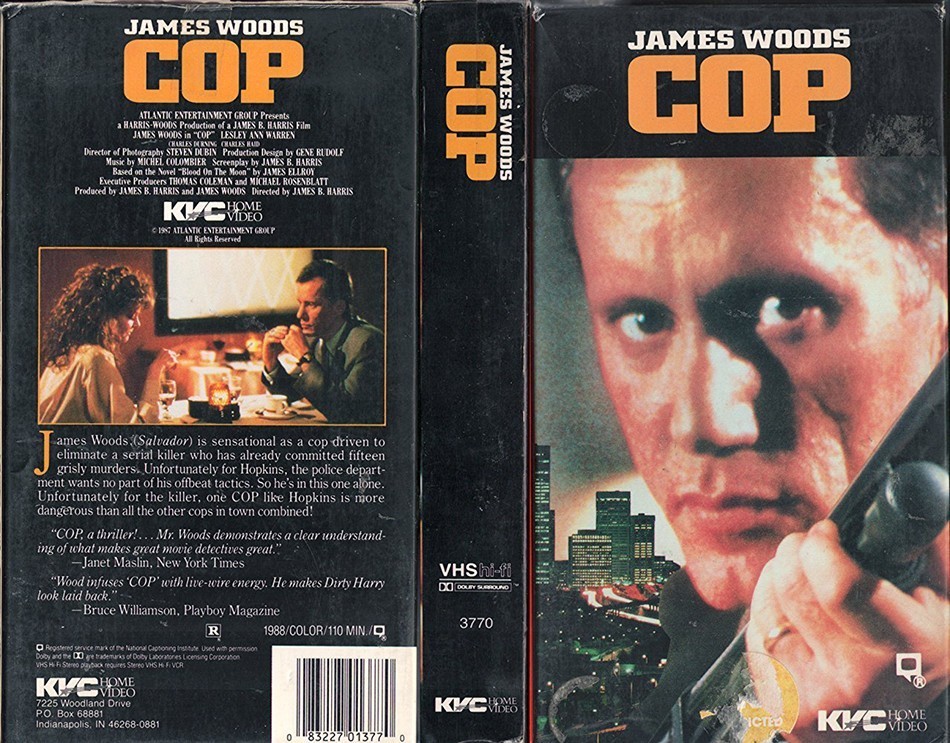 I first came across this movie back in 1988, at the ripe old age of 10! I was already a fan of Clint Eastwood and Chuck Norris and Charles Bronson, so movies were already in my blood.
I was going through the cinema listings in the paper and saw the black and white ad for the 1-sheet, and was drawn to the image of Woods with a .45. Then I read the tagline they used for it in Australia – "He threw away the rule book, then WROTE his own!" I knew I had to see this film. About a month later, my beloved Dad took me and my brother to a drive-in to see it.
It was doubled, oddly enough, with the limp John Cusack comedy Hot Pursuit. I didn't leave disappointed. In fact, over the coming months, all I could talk about was Cop and Woods, of course. When it came out on VHS shortly after, I begged my parents to buy it for me for Christmas. They did!
Noir Than Meets the Eye
The story is pretty standard noir stuff: A lone cop (Woods) is after a serial killer who is stalking the streets of 80's L.A. No one believes the cop, and his superior is a power mad, by-the-book-type who couldn't care less, and doesn't trust him. Of course our hero goes it alone, fighting bad guys and the system, and along the way, loses his marriage.
He has no character arc, and he's just as, if not more, grizzled and hardened by the end of the film as he was at the start. Pretty straight forward, right? Well, no. You see Cop isn't just a crime drama. It's an industrial-strength police-thriller-procedural that features one the best performance given by James Woods, who is perfect for this role.
James Woods at His Best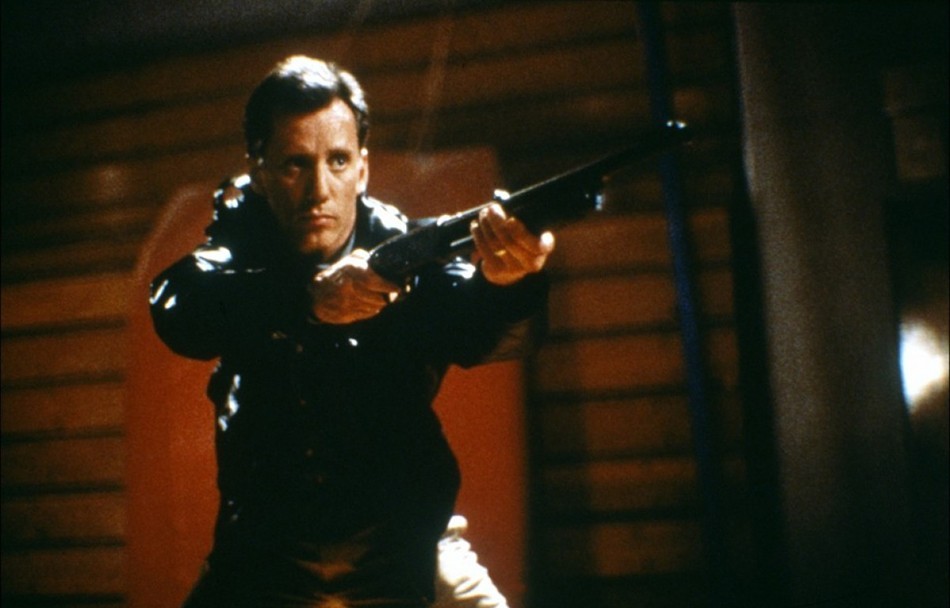 Woods infuses Hopkins, the cop, with a cynical, world-weary, beaten-down edge that makes him tough, and three dimensional. We can see it in his eyes and we can hear it in his snide comebacks. This guy has seen too much and it's starting to eat at his soul.
The term "anti-hero" is thrown around a lot these days, but Woods's Hopkins is the real deal, mixing hero and villain admirably. He's a loving father who has given his life to the force, but he's also a foul-mouthed womaniser who doesn't give a damn about procedure or rules, and he doesn't mind stepping over people to get what he wants.
He also has no compunction about banging beautiful witnesses straight after he's blown away their boyfriends. Of course, his cold, blind-to-the-world, wife doesn't stick around for long. Through writer/director Harris's eyes, and brought to life by Woods's masterful acting, Hopkins is more a cop from the crime thrillers of yesteryear than today's modern law enforcers.
The Rest of the Cast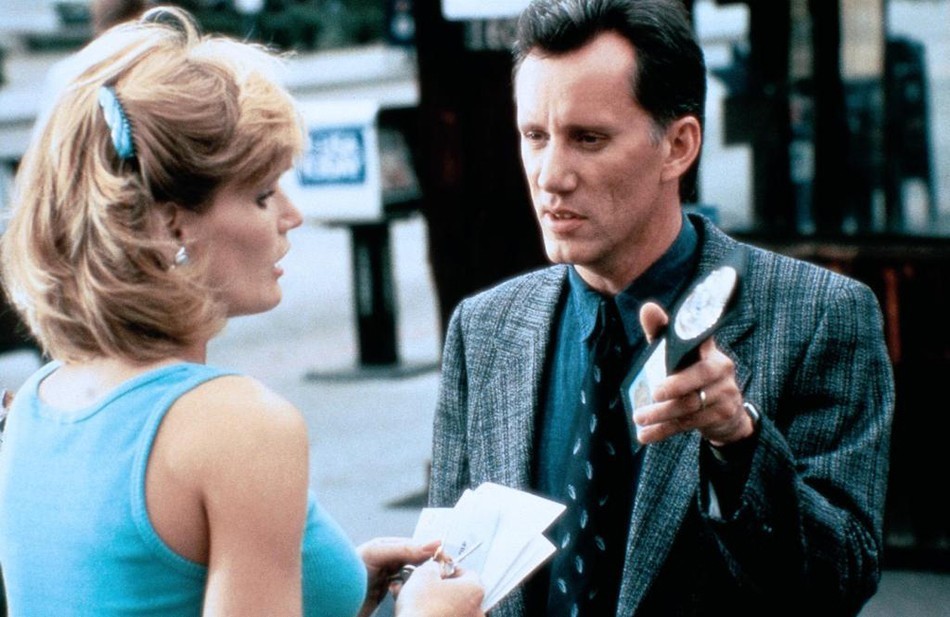 Woods is backed up by some familiar faces, with Charles Durning playing his long-suffering colleague/father-figure, Dutch, who admires his surrogate son, but is also scared of his antics and methods. The two actors amiably bounce off each other in their scenes, and the respect between them is clearly visible. And gives the movie some of its funniest scenes. Lesley Ann Warren plays a woman Hopkins comes in contact with during the course of his investigation, and although her part isn't the conventional leading-lady-type, she does have a presence as the misguided, but lonely and abused feminist who shares a deadly connection with the killer.
Character actor Charles Haid is suitably slimy as a bent cop Hopkins crosses paths with. The pair share two dramatic exchanges that are dynamite, and kick-start the mystery of the film. The interrogation scene between Hopkins and Haid's Hayes is well-written and brutal and shows what a mean bastard Hopkins can be if you mess with him. One of the film's best scenes in my opinion.
Other familiar faces turn up in smaller roles. Raymond J. Barry (Rapid Fire) is Hopkins's born-again captain who is more interested in statistics and paperwork than actually stopping crime, and he shares an intense scene where he and Woods go toe to toe over the case. It's a real masterclass in acting. Unlike other big screen cops, Hopkins doesn't take the abuse. He gives it back to his captain, not that it helps his cause much.
The sexy Randi Brooks (Tightrope) turns up as a hooker who takes more than passing interest in our hero, and she's a sight for sore eyes amongst the male-heavy cast. Brooks delivers a believable performance as the sexpot with a heart of gold who somehow understands our embittered cop. Of course she doesn't make it to the end credits, but her demise is the tipping point for Hopkins.
James B. Harris Directed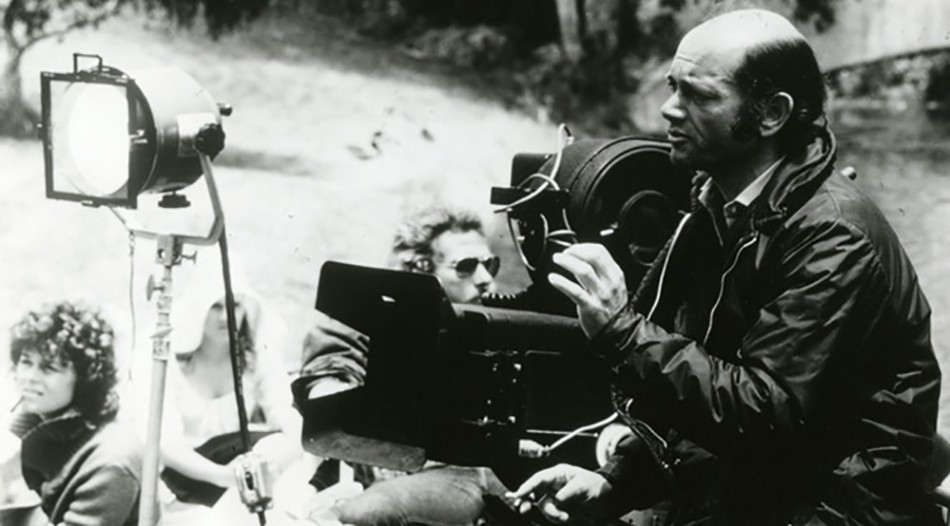 As I mentioned earlier, Cop was directed by the criminally underrated James B. Harris. Harris is no film making slouch. He kicked off his career producing Kubrick's critically lauded trio The Killing, Paths of Glory and Lolita. Inspired by his friend, Harris went into directing and, his first film was the gripping battleship thriller The Bedford Incident, which sinks films like Crimson Tide in the thrills department. He went on to make others pictures – the deeply personal Some Call It Loving, the prison drama Fast-Walking, which gave Woods his first leading man role, and the unjustly over-looked crime thriller Boiling Point, that starred Dennis Hopper as a lovable, but deadly conman, who was past his prime. The role was undeniably Hopper's best performance in a long time.
Like those films, Cop is the work of one man, from the casting, to the cinematography and the dark subject matter. And no one is ever black or white in a Harris film. They're flawed characters with a will to succeed. Whether or not they do is the drama of their stories. Although his films have been marketed as thrillers, or action movies, Harris always makes them intimate and memorable – due to his casting ability. He's also excellent at intricate plots and pay offs.
The novel this movie is based on, Blood on the Moon, is a sprawling epic that takes place over many years, and features dozens of characters and subplots. Somehow, Harris managed rip out the best elements of the book, combine them into one story and turn them into a tense, gritty, real-world thriller, with dramatic beats. He's also creates a mean, unforgiving, and sleazy picture of Los Angeles. Although it's all sun and glamour for most, Harris paints L.A. as a place of broken dreams and degrading sex, and murder. It's a bleak world-view to be sure, but it's the perfect tone for this movie.
The Punch to the Gut Ending
Harris also changed the villain from the book and fixed the problematic ending. The novel's closing pages were anti-climactic and dull, and left the reader feeling disappointed. Cop fixes that in the closing minutes with a punch-to-the-gut-ending! By the time the final reel is playing, audiences members will be fooled into thinking that the movie has played out its dramatic hand. Hopkins probably figures he's facing off against a crazed Norman Bates-wannabe when he agrees to a showdown, but instead he comes face to face with a deathly-skilled ninja-like adversary who is just as good with an Uzi as he is with a knife. The final scene of Cop is shocking and stunning. In lesser hands, we might have got a more conventional Hollywood ending, but thanks to Harris, we get the ultimate closing. Deeply satisfying and much talked about.
The Cop Who Has it All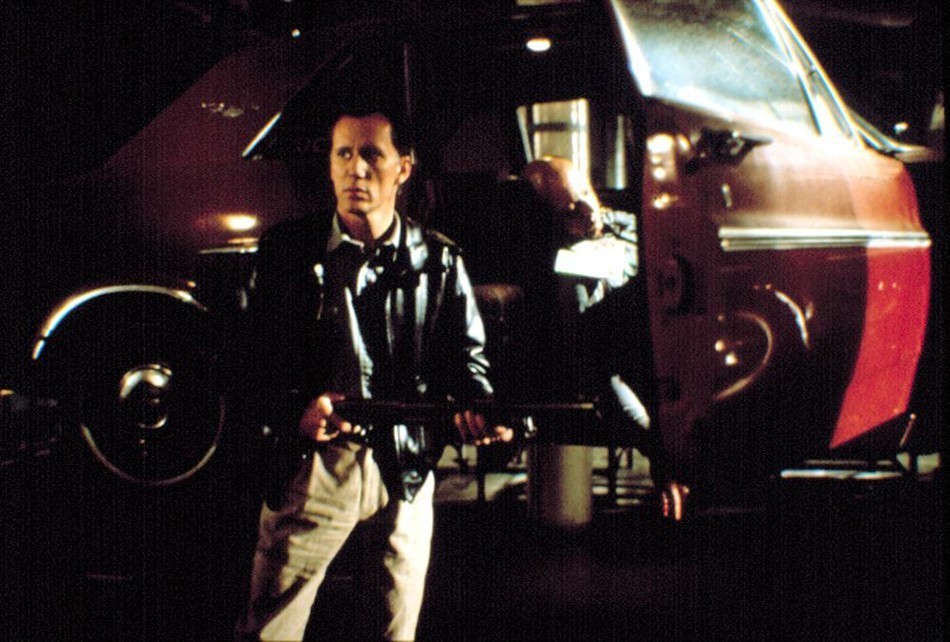 If you haven't seen this lost gem, I urge you to go out and buy the Bluray release, complete with Harris commentary. You will not be disappointed. This movie has everything you'd want from an evening's viewing: brutal violence, cursing, sex, James Woods chewing scenery, and giving his finest performance, and some steady, no-frills direction and excellent writing, that is filled with biting dialogue.
Cop has it all, and deserves a place up there with other classic crime thrillers like Dirty Harry and the aforementioned L.A. Confidential. I cannot recommend it highly enough.
---
From a small country town where not many films played, Kent Church grew up on a steady diet of Coca Cola, horror magazines and action movies on VHS. If the movie didn't have Chuck Norris or Eastwood on the cover, he wasn't interested. His one core belief: Arnold Schwarzenneger must be President!! And James Woods vice –President…
Let us know what you think in the comments or on the Facebook page!