Don Niam chats with the UAMC about his iconic role as 'The Stingray'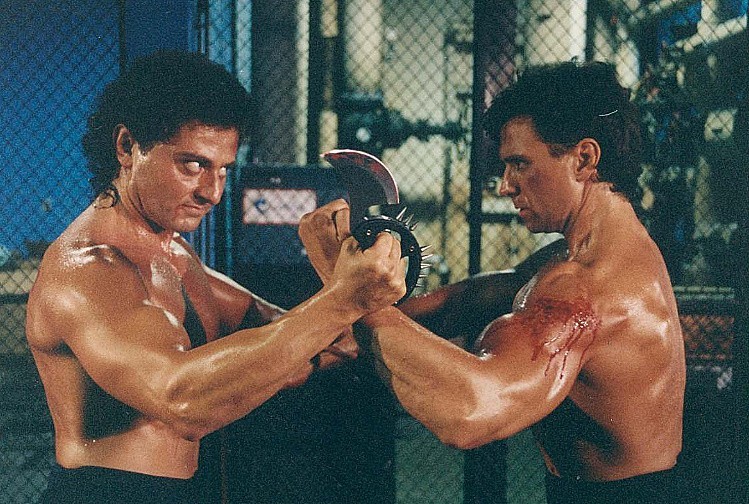 All images via Don Niam (donniam.com)
Simply put, we here at Ultimate Action Movie Club feel Don Niam is a legend. After reading this piece, I think you'll agree with us. In 1993, Godfrey Ho, the man who achieved fame for directing scores of cut-and-paste films remotely having anything to do with ninjas, would direct a movie that 25 years later still holds up remarkably well — Undefeatable — but we'll get to that later. First, a little background must be shed on the man who made it so memorable to audiences.
The Legendary Don Niam
Don Niam is both a martial artist and an actor, but after reading the content of his personal website (donniam.com), one can quickly ascertain he is so much more than that.
Born in Akron, Ohio, Don graduated from Akron University with a marketing degree. While attending college, he (at age 19) started training in Kung Fu and opened his first martial arts school at age 23. In 1989, he reached out to the NFL's Cleveland Browns and showed them what he had to offer professional football players to improve their speed, hand-eye coordination, and methods he could demonstrate to defensive lineman to avoid offensive lineman.
Shortly after training the Browns, the University of Akron football team's coach sought him out to train their entire team. Over the course of his training career, Don also trained Bob Golic, an All-Pro nose tackle in the NFL.
The Action Movie Bad Guy Hall of Fame
In 1990, Don decided to close his Kung Fu school and move to Los Angeles to get into acting. His role in 1993's Undefeatable where he portrayed "Stingray", a ruthless serial killer, would elevate him from a relatively unknown actor to the Action Movie Bad Guy Hall of Fame (a made-up place, but it should exist). If you've never heard of the movie, it's a truly underrated gem, with the following plot: Kristi Jones (played by incredibly accomplished martial artist Cynthia Rothrock of China O'Brien fame) avenges her sister's death at the hands of a crazed martial arts rapist (Stingray, played by Don Niam).
Presently, Don resides in Las Vegas and maintains his personal training business. He also teaches kickboxing, self-defense and martial arts. Through the power of Facebook, Don graciously afforded me the opportunity to talk about Undefeatable. (Yes, I am now Facebook friends with Stingray.)
UAMC Exclusive Interview
John Acquavita: You have the distinguished honor of being the first actor we've interviewed directly for this site. On behalf of all the site's writers and contributors, we thank you for this.
Don Niam: Hey, you're more than welcome.
JA: I've written a bit about your background. What was the impetus to decide to get into acting?
DN: It was just something I always wanted to do. When martial arts films started becoming popular, I decided to move to L.A. and give it a try.
The Origins of Undefeatable
JA: How did Undefeatable come about? Did you audition, were you hand-selected, etc.?
DN: My instructor Tai Yim had brought Godfrey Ho over to the U.S. and set up an interview/audition. That's how I ended up with the Stingray role.
JA: Cynthia Rothrock, who has earned black belts in seven different martial arts disciplines, got top billing in the movie. However, as Stingray, you were able to actually outshine her (and Rothrock's co-star, John Miller, who played Nick DiMarco) in terms of both acting and martial arts abilities. Congratulations on that rare accomplishment! It's not often a "bad guy" actually looks better on film than his opponent (in this case, opponents).
DN: Thanks! It turned out well for me.
JA: What was it like working with Ms. Rothrock? How was she toward you? Did you spar in between takes?
DN: It was OK. No, I don't think people spar in between takes on any movie set!
Introducing the Stingray
JA: The Stingray character is unforgettable. How much of that was on the script's pages, how much of it was Godfrey Ho, and how much of that was you?
DN: I just did what was being asked and played it off.
JA: How often do people on the street approach you about it? It's now literally a quarter-century after the movie was made, yet I can recall seeing it like it was yesterday because of your role.
DN: It still happens once in a while, even though it was 26 years ago. If someone brings up the movie in a group or gathering, most have seen the YouTube video. Obviously, as old as it is, most do not think of it until it is brought up. Most people find me on social media.
A Cult Following
JA: You mentioned on your website that there have been some folks who didn't like the movie (and went out of their way to bash it online), but there is a tremendous cult following for it: the DVD is selling for more than $100 on eBay; it's been pirated online onto YouTube; and even VHS copies of the film are priced high. What would you like to say about that?
DN: Most of the bad reviews are from a long time ago, but the reviews seem to be more positive now along with a growing fan base.
JA: I know I'm not the first person to contact you to discuss the movie and your Stingray character. What's the most common thing people tell you about it?
DN: They like the fight scenes, and I was one of the most intimidating martial arts villains they have ever seen.
The State of Ultimate Action Movies
JA: While action movies aren't nearly as prevalent in Hollywood as they once were (superhero movies seem to dominate the market), there still is a strong demand for them from its core audience. What do you think about the current state of the genre of action films?
DN: I think the fight scenes look too animated and they seem to film them moving very slowly and then do several edits, which takes away from the realism.
JA: Describe your dream Hollywood project.
DN: I don't think I have a dream role but would like to be cast in a big- budget action film. Something like an Expendables, Fast and Furious, or something along those lines.
Action Movies Forever
JA: Any final words you'd like to leave us with?
DN: The film business is a tough industry to crack, but if you have any experience with it, you become snake-bit and always want a piece of it.
JA: On behalf of everyone reading this, it has been an honor and a pleasure. I sincerely appreciate your time.
DN: No problem, thank you!
---
Let us know what you what you think in the comments or on our Facebook page!