Mickey Rourke and Don Johnson forever!
"Better to be dead and cool than alive and uncool" – Just one of the many classic lines that make Harley Davidson and the Marlboro Man one of the most underrated of the buddy/action/comedy genre.
The story follows longtime friends played by Mickey Rourke (Harley Davidson) and Don Johnson (Marlboro Man) who reunite after quite some time. They end up trying to save the foreclosure of a friend's bar by robbing a bank's armored car. Only to discover that its content is not money, but a new street drug.
A True Ultimate Classic
This movie has everything going for it, playing out like a modern western. The buddy chemistry between Rourke and Johnson is what fuels it, while seeing so many familiar faces along the way makes it so much fun.
The rest of the all-star cast includes Vanessa Williams, Tia Carrere, Chelsea Field, Giancarlo Esposito, Kelly Hu and Robert Ginty. The bad guys are played perfectly by Tom Sizemore and a kevlar trenchcoat wearing Daniel Baldwin.
Bar Fights and Motorcycle Chases
Whatever you are looking for in an action comedy, this movie has it. When I say comedy, it doesn't feel overdone or spoil the action that ensues. When you have bar fights with wrestling star Big John Studd and Branscombe Richmond in the first half hour, you know you're in the middle of the kind of classic style movie they just don't make anymore.
Motorcycle chases, falls from windows/rooftops onto cars AND pools, not to mention a particularly awesome shootout in an abandoned airfield are just a couple more highlights.
The Greatest Action Soundtrack Ever?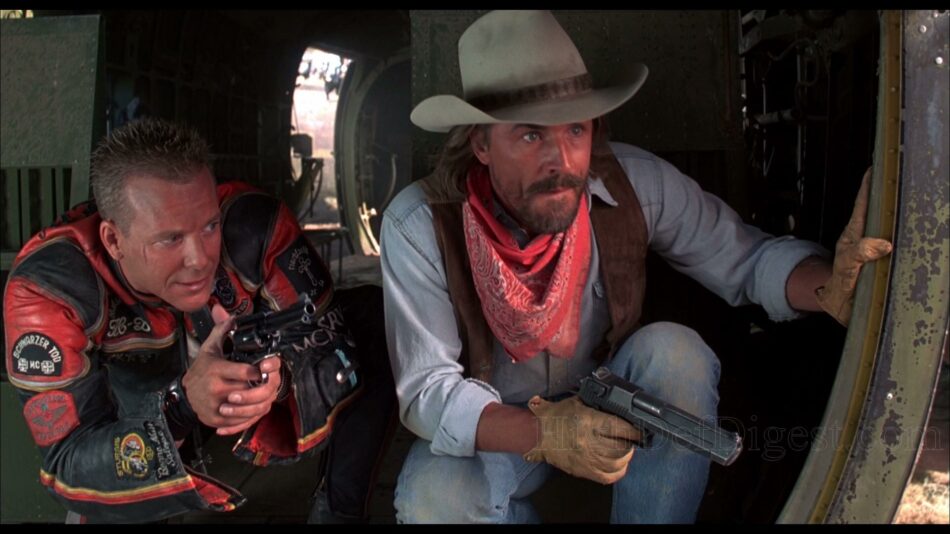 What seals the deal for me is the killer rock n roll soundtrack, provided by the likes of Bon Jovi, LA Guns, Steve Marriott/Peter Frampton, Blackeyed Susan, Roadhouse, Shooting Gallery and The Screaming Jets. Even Vanessa Williams and Waylon Jennings provide songs as well.
Definitely recommended if you like your movies and your ass kickin, old school.