The story behind Arnold Schwarzenegger's ultimate classic Commando (1985).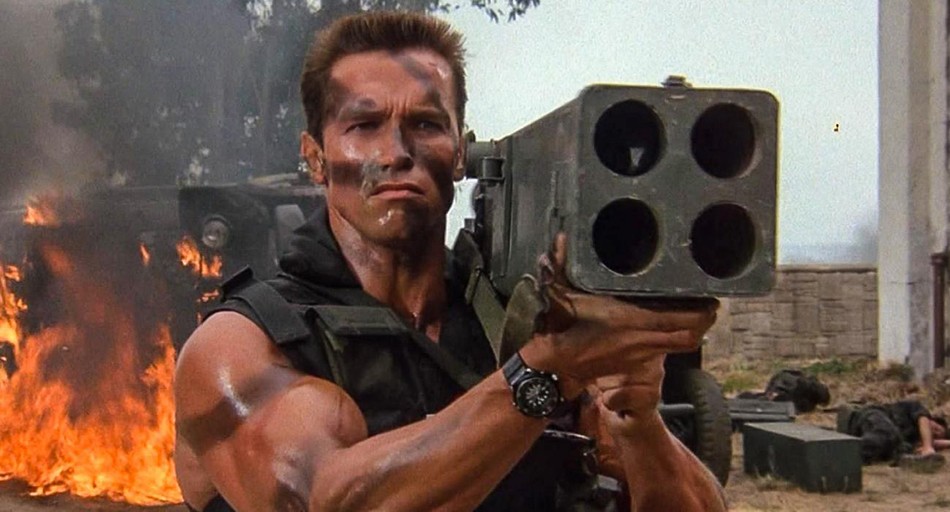 On October 4th, 1985, Arnold Schwarzenegger introduced US moviegoers to John Matrix. A retired Special Forces colonel, he was on a one-man mission to rescue his daughter from a band of mercenaries led by former subordinate and Freddie Mercury lookalike Bennett.
The film was Commando and it would prove to be the start of something very special for Schwarzenegger and action movie fans everywhere. Though it's not unusual for a film project to change and evolve considerably during the development process, Commando's journey is a little different than most.
Script by Jeff Loeb
It started out as a script co-written Jeff Loeb, a writer best known for comic books like Batman: The Long Night and Hush and was markedly different to the original.
"Our story was about an Israeli soldier who has turned his back on violence. Not the movie they made!" he told Empire. Loeb's and co-writer Matthew Weisman's draft centered on an Israeli soldier who had renounced violence but found himself thrust back into action after his daughter is kidnapped.
They initially considered the idea of shifting the plot to America and hiring someone like Nick Nolte or Kiss' Gene Simmons as John Matrix – but soon the decision was taken out of their hands.
The Rise of Schwarzenegger
Barry Diller had just been appointed the head of 20th Century Fox and was looking for projects that could be made for $12 million or less that they could attach Schwarzenegger to. Die Hard screenwriter Steven De Souza was hired to find a script that suited the Austrian Oak's talents. Seeing the potential in Loeb and Weisman's script, he set about punching it up to suit Schwarzenegger's distinctive screen talents.
"I revamped the story to suit Arnold's bigger-than-life persona. Then I drove to his house and acted it out for him," De Souza told Empire.
"Then he stood up and said, 'I like this part. I'm not a robot from the future or caveman from the past. I'm in clothes and having a family. It's a part John Wayne could play. I do this picture."
Commando Gets Ultimate
Out went the script's serious tone and in came the large-scale action set pieces, one-liners and huge body county – though Rambo II can be blamed for the latter of those three.
"During the shoot, Mark [Lester], the director, saw a sneak preview of Rambo [First Blood Part 2] and realised how many people get killed in that," De Souza said.
"He said, 'We've got to have a bigger dick than Rambo. We've got to slay more people.' And suddenly there were 150 extras getting killed. It got out of control."
Made within the required $12 million budget, Commando went on to make more than five times that figure, spending three weeks at the top of the US box office charts. Commando was almost a very different movie. Thankfully, it wasn't.

---
What's your favorite memory from Arnold's Commando? Let us know in the comments or on our Facebook page!