Linda Blair gets Savage on the Streets.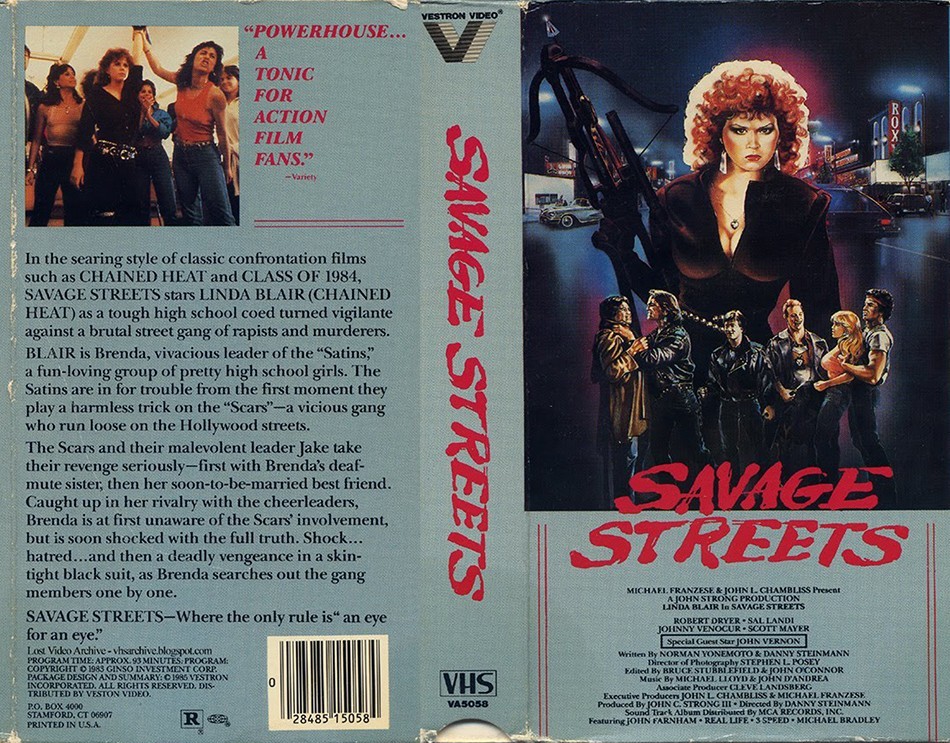 On a steamy night in 1984 Los Angeles, Brenda (Linda Blair), her deaf-mute younger sister, Heather (Linnea Quigley), and a few friends are walking the Savage Streets of Hollywood. After a brief confrontation with the Scars – an all-white street gang led by Jake (Robert Dryer), they hatch a plan to steal the gang's convertible for a joyride. After finding the car trashed, the gang goes after the girls – violently attacking Heather and murdering another friend. Armed with a switchblade, a crossbow and a lighter, Brenda sets out to avenge her friends by killing the Scars one-by-one.
Classic Teensplotation
Directed mostly by Danny Steinmann (writer/director of 1985's Friday the 13th: A New Beginning), Savage Streets is pure 1980s teensploitation – for better and for worse. As an action movie, the action really doesn't start until the 58-minute mark – which means you have to sit through a brutal rape scene interspliced with a naked brawl in high school girls locker room, classroom scenes about poetry and biology, the most unthreatening gang of street thugs in history, and a bunch of clunky dialogue about weddings, "getting out of this town," and "sorry your sister got raped, the police are doing everything they can."
Scream Queen Action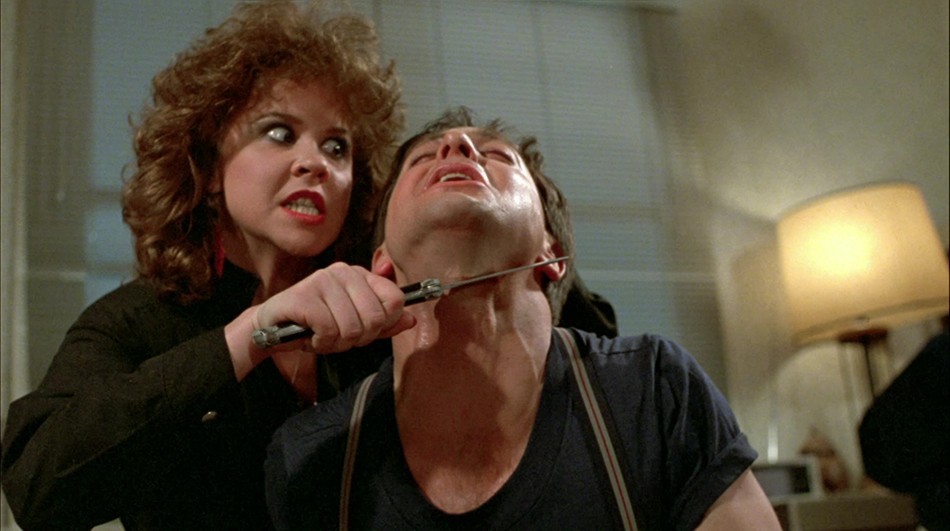 However, the movie finally picks up when Brenda enters rampage mode – the only part of the movie where Blair is believable in her role as a rebellious teen. Dressed in all black (after a smoke and a bath), Brenda goes thug hunting – using her sexuality to lure them into her web to kill them off one at a time. Anger is definitely her energy. As one of few non-horror movies starring scream queens Blair (Exorcist) and Quigley (Return of the Living Dead – and like every other horror movie ever made), Savage Streets isn't great, but it is worth seeking out. There are better revenge movies out there, but none of them are as 80s as this one is.
Savage Observations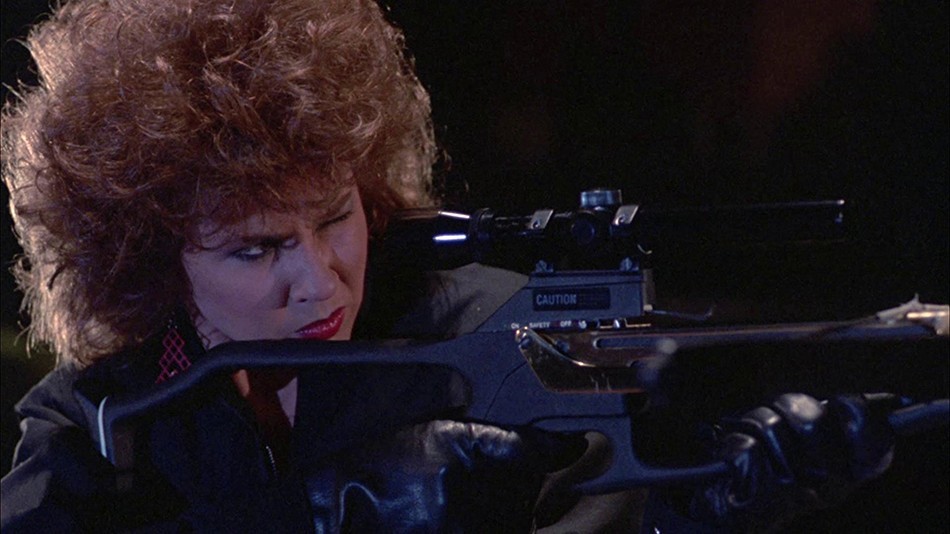 After being attacked, Heather is taken to "Doctors Hospital," which has to be laziest hospital name ever filmed.
Speaking of the hospital, the medical equipment in Heather's room is sitting on top of a Craftsman tool chest. Not your typical hospital, I guess.
Early in the film, Red (a thug played by Scott Mayer) is wearing a distinctive razor blade earring. A few scenes later, another gang member is wearing the same earring. Do men share earrings? I don't remember that being a thing.
For a movie with ongoing rape and murder investigations, there is a complete lack of police officers until the very end.
There's a character named Rachel (played by Debra Blee) who disappears without explanation halfway through the film.
Linda Blair received a Saturn Award nomination for Best Actress but didn't win. She did, however, win a Razzie for Worst Actress beating out Brigitte Nielsen in Red Sonja
Savage Streets is currently available to stream on Amazon Prime.
---
Article by Eric LaRose – a Wisconsin-based connoisseur of action, horror and sci-fi movies from the '80s and '90s. A former journalist and podcaster, Eric wrote the ending to the Toxic Avenger Part 4, but the only person who will back up that claim is his wife.
Let us know what you what you think in the comments!