Entertainment at its best, and certified ultimate!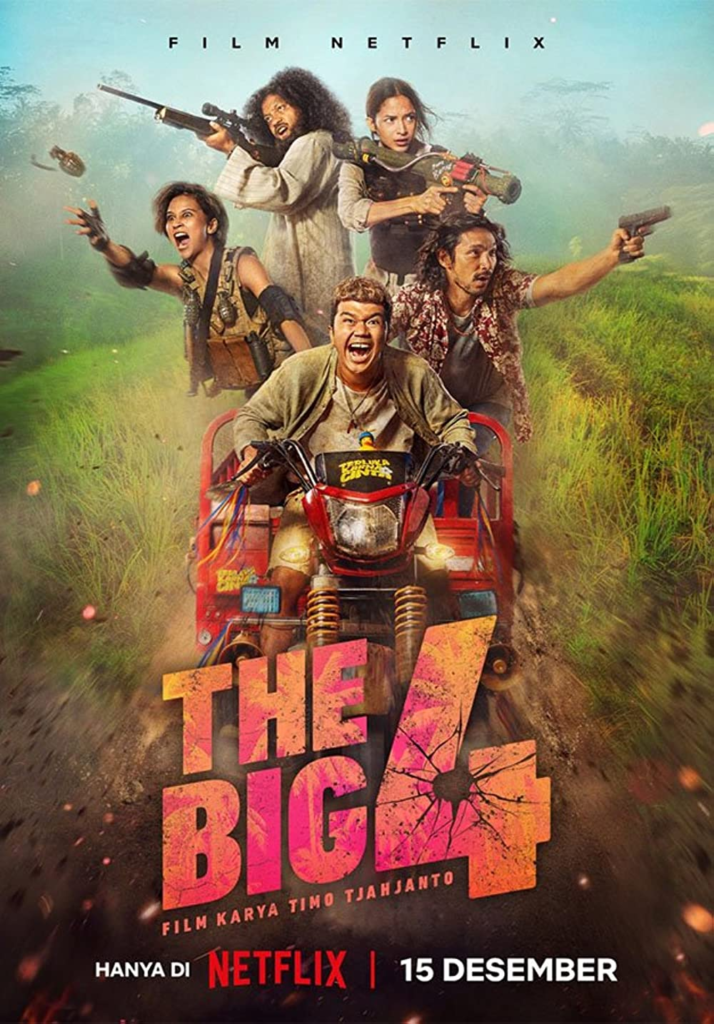 If you are a fan of Southeast Asian cinema, the name of Timo Tjahjanto might ring a bell: he has become one of Indonesia's most famous directors, and his latest film, The Big 4, is trending on Netflix across the globe. What sets Tjahjanto apart is his rather unique blend of action and horror. His films are blood-splattered, and never compromise on the combat scenes, as most make a reative use of Pencak silat – a group of Indonesian martial arts. The best examples are found in The Night Comes for Us (2018), which centres on a renegade Triad enforcer who dispatches his former comrades in a brutal way. While TNCFU is a relatively dark film, Timo Tjahjanto offers us a much more humorous and over-the-top flick this time around, and The Big 4 definitely verges on the side of comedy.
It follows the story of four assassins (Abimana Aryasatya, Arie Kriting, Lutesha, Kristo Immanuel), all orphans adopted by the same father, who raised them like siblings and trained them to take down enemies without batting an eye. The brutal death of their mentor leads the siblings to cross paths with his biological daughter (Putri Marino). She is an aspiring police officer determined to solve her estranged father's murder, and drags the four assassins out of retirement on her way to get revenge. What follows is two hours of pure unbridled chaos, to the great delight of action lovers!
Action from start to finish
As you might have guessed from the above summary, The Big 4 is unlikely to win next year's Oscar for best screenplay, but its plot does offer a perfect backdrop for some bloody, never ending fights. The film's greatest asset is definitely its pace: combat scenes never stop, and action is present from start to finish. This hectic rhythm makes the movie an enjoyable ride, especially as a wide variety of weapons are used throughout – from snipper rifles to bombs, going through an ungodly amount of bazookas. From a martial arts perspective, the fights are less impressive than in Tjahjanto's past movies – The Night Comes for Us and the much darker Headshot (2016). Yet The Big 4 makes up for this by featuring some large-scale bloodbaths and interesting wide shots.
If the movie's action scenes have to be described in one word, "generous" is definitely the best fit: Tjahjanto knows what audiences are here for, and delivers on the fights! The film barely lets you breathe in between two brawls, which sets it apart from a lot of blockbusters with "forced" quiet drama scenes. In The Big 4, characters are defined by their fighting styles and favourite weapons, and some fun nods to the world of video game reinforce the impression of a never-ending battle. Special shoutout to the lady killers, who continue a long tradition of powerful female figures in Tjahjanto's movies, and break fingers – among other limbs – in a particularly brutal fashion.
Violence and humour: the perfect mix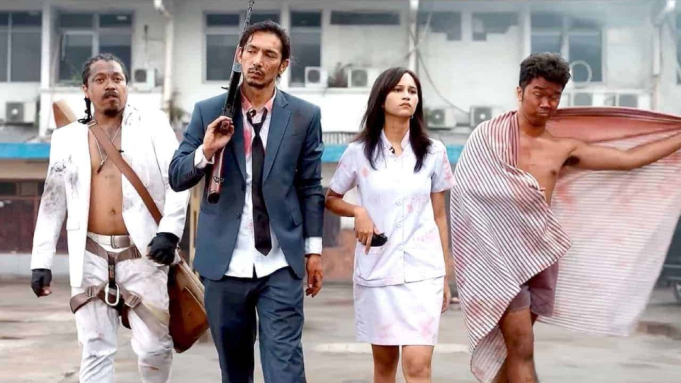 Compared to other Indonesian action movies, The Big 4 verges more on the comedic side. It is filled with dirty jokes – often involving blood, sex, or a mix of the two. Yet most of them land well, and the characters are funny to watch, with a special mention to Marthino Lio's salsa dancing villain (yes, you read that well). The bickering between the assassin siblings is equally hilarious. As for their teeth-clenched collaboration with their mentor's daughter, it delves into caricature, but definitely gets a few laughs.
Overall, it feels like the writers and actors had fun creating the most over-the-top protagonists possible – and this fun is infectious. Is the film full of below-the-belt jokes? Definitely. Will all of them land? Definitely not. But it doesn't matter: puns keep coming throughout the film, and you are pretty much guaranteed to smile at some point! Behind the silly facade, The Big 4 also has some genuinely inventive ideas to offer, such as Pelor's character – the man, played by Kristo Immanuel, is a professional "bait" and pays a hilarious homage to damsels in distress.
Also noteworthy is the flying high kick fiasco that parodies martial arts films' climaxes. Overall, The Big 4's over-the-top tone is reminiscing of 90s action flicks, and their influence is most visible in its many shootouts, where characters take an improbable cover behind planks or a flimsy table. The actors' performances have nothing to envy to the best overacting of the 20th century either, to the point where you might wonder if Jean-Claude Van Damme has become a drama teacher in Indonesia.
The ultimate wild ride?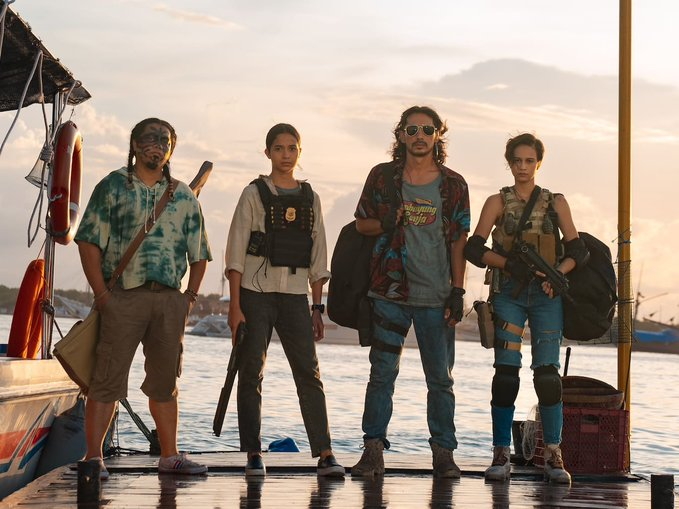 So, how ultimate is The Big 4? Well, the film does have its flaws: the non-stop, never-ending succession of fight scenes can get tiring, especially towards the middle of the movie, when the plot struggles to get anywhere. As might be expected in a film where there are no less than five protagonists, the characters are not the most developed either, and exist more as human killing machines.
In short, much like some 90s movies that make us nostalgic, The Big 4 will leave no one indifferent. Either the first scene and its insane raid on an illegal orphanage (where organs are harvested!) successfully drags you into its colourful universe, or you risk spending the next two hours thinking the jokes are as bad as the blows. For anyone who does get pulled in its crazy story, though, The Big 4 does just what an action film is meant to do: it allows you to feel like you can punch through a thousand bad guys by the time credits roll.
It might not be Tjahjanto's most impressive film, but the director's voice shines here more than ever, and the universe he created, with its hammy assassins and improbable injuries, revitalises the genre. Entertainment at its best, and certified ultimate!
Article by Josephine Aulnois: Josephine is a French action films enthusiast with a particular interest in women fighters, Indonesian cinema and the James Bond saga.