The Threat Level Has Never Been More Midnight for Michael Scarn!
Poster via Reddit (u/Slam123456).
Every once in a while, audiences come into contact with a film that changes the way we look at cinema forever. The Wizard of Oz. Psycho. Star Wars. Just to name a few. These landmark pieces of cinema have not only entertained us, but sometimes have given many of us new leases on life itself. Today, I'm going to talk about such a film. A film made by a mild mannered manager of Dunder Mifflin, a paper sales company out in Scranton, Pennsylvania. 
His name is Michael Scott. And his film is called… Threat Level Midnight.
Michael Scott in 'Threat Level Midnight'
Legendary Secret Agent Michael Scarn is called out of retirement by the President of the United States to stop his arch nemesis Goldenface from blowing up a major sporting event and killing several hostages.
My god, folks. This is just exquisite. Revolutionary. Simply stunning. Michael Scott has created a cinematic work of art not seen since Martin Scorsese's Kundun. This is truly a cinematic masterpiece in every sense of the word.
But first, let's talk about the cast. Aside from writing/directing duties, Scott also portrays Scarn, and he does so with a vast range of emotional content that borders on perfection. This is without a doubt one of the finest acting performances I have ever seen. James Halpert is also a revelation as the supervillain Goldenface. He conveys a lovably mischievous nature not seen since Alan Rickman in Die Hard. Truly one of cinema's newest all time great villains.
A Killer Cast of Situational Characters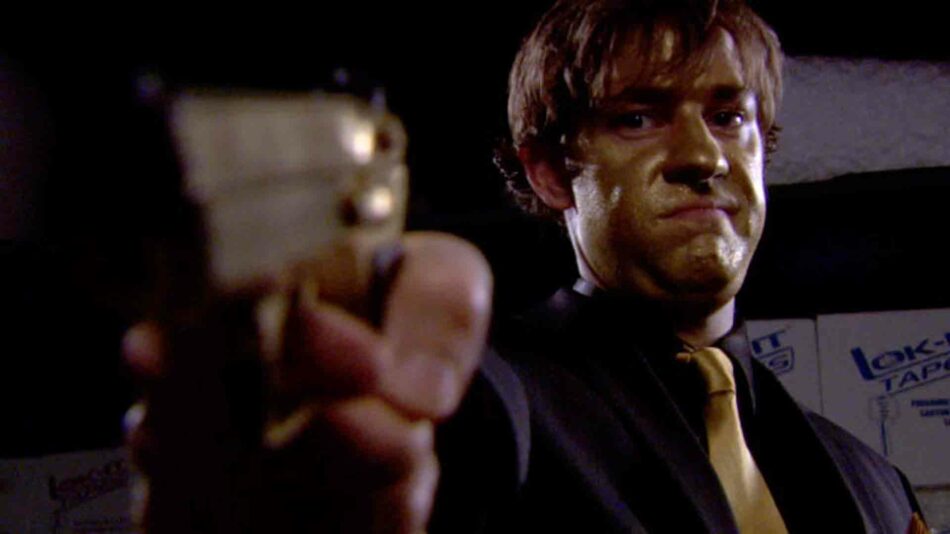 The supporting cast is equally strong. D.K. Schrute as Samuel, the robot butler/Assistant to Agent Scarn gives a truly heartfelt performance. Granted, he does seem to go a bit too far in places, but he is always on point when the film needs him to be. Darryl Philbin is also incredibly sturdy as President Jackson. From what I hear, he used to work as a warehouse foreman at Dunder Mifflin. That's incredible. He is truly going places. 
Pam Beesley is adorable as Sandra, one of Goldenface's hostages. She also exhibits great chemistry with Halpert in their scenes together. Much greater than in her scenes with Roy Anderson, a fellow hostage. And finally, Helene Beesly is unbearably sensual as the sexy nurse. And her scene with Scott is burning hot enough to start a fire. Hmm, that's funny. She and Pam share the same last name. I wonder if they're related. Maybe sisters, with Helene possibly the older one? Couldn't be her mother. If she was I'd be so embarrassed…
Michael Scarn Deserves an Entire Franchise!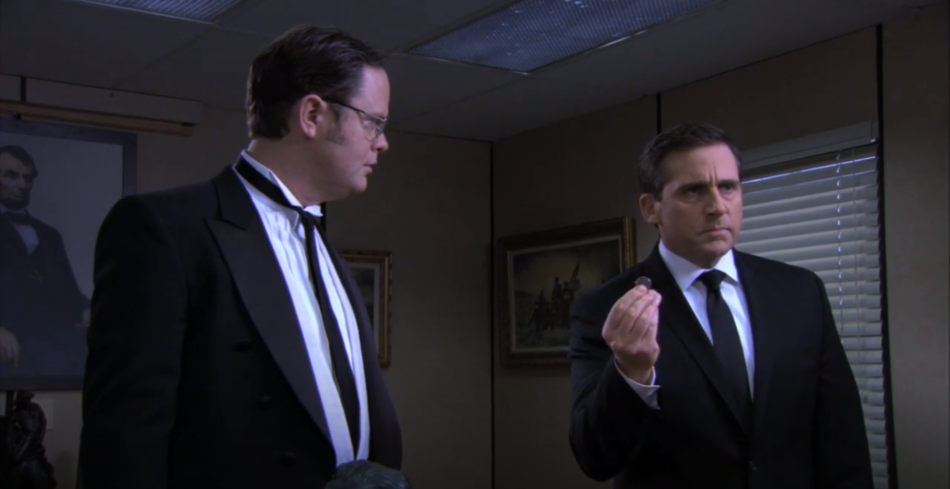 Anywho, let's get to the cream of the crop, and that's the action. And Scott absolutely delivers! The film literally opens with a bang, as Scarn has to defend himself against an assassination attempt. We also get a great chase/shootout on ice skates, a shootout in the oval office, and the climactic hockey game. Truly all timer stuff here. Scott proves throughout the film that he is not only a great actor, but also a great action performer. He makes Matt Damon look like an amateur by comparison. Screw The Bourne Identity, gives us The Scarn Identity! 
Bonus: the musical number toward the end of the film, The Scarn, is absolutely infectious! I was singing it in my head before the film's end credits started rolling! That's bound to be a big hit in the music scene for sure!
How Ultimate is 'Threat Level Midnight'?
Now, were there any issues? Just two, one of them almost fatal. The scenes which contained Toby Flenderson in any capacity were absolutely excruciating. The man is just the worst. SPOILERS: I was sooo happy when his character was killed off, because I could not stand to look at him any longer! Scarn says his character was a serial animal rapist anyway, and if you told me that about him in real life, I'd believe it. He looks like one. Either that or a serial strangler.
Also, Catherine Zeta-Jones makes an uncredited appearance through pictures as Scarn's wife, Catherine Zeta-Scarn, and I'm wondering if they deleted her scenes from the movie. It seems weird to hire someone as beautiful and talented as Zeta-Jones and only use her for photographs. Who knows?
But all in all, this is not only the best movie of the year, but one of the best movies ever made. When Scorsese spoke about what cinema truly is, he was talking about Threat Level Midnight. This is my choice to be the big winner at the oscars next year. Just pack it in, fellow nominees. Threat Level Midnight has got this in the bag.