Take a Peek into dark action thriller 'The Standoff at Sparrow Creek' in this EXCLUSIVE PHOTO.
It's a shame The Standoff at Sparrow Creek wasn't able to slip into release here at the tail end of 2018 as it most definitely would find itself on numerous Top 10 of the Year lists. Still, Sparrow Creek is a seedy powder keg of an action thriller that will definitely blow some tops here in 2019 (release date is Jan 18th, btw).
The Ultimate Action Movie Club first reviewed Sparrow Creek at Fantastic Fest in Austin, Texas last fall. We praised it for being one of the festival's best action offerings, but the film is really more than your standard modern action fare. It's definitely more of thriller. It's darker. It's more complex. And it's about emotions. Which may sound gooey, but they're badass emotions like trust, betrayal and fear.
Written and directed by Henry Dunham and starring an all-star ensemble of broody performances by Patrick Fischler, Brian Geraghty, Chris Mulkey, Happy Anderson, Robert Aramayo, Gene Jones and helmed by James Badge Dale, this look at Sparrow Creek comes to us from the team at Cinestate whose been hard at work recently keeping the ultimate action movie vibe alive with their features Brawl in Cell Block 99 (which you can read about here) and the upcoming Dragged Across Concrete (which you can read our excited review here).
An Exclusive Look at The Standoff at Sparrow Creek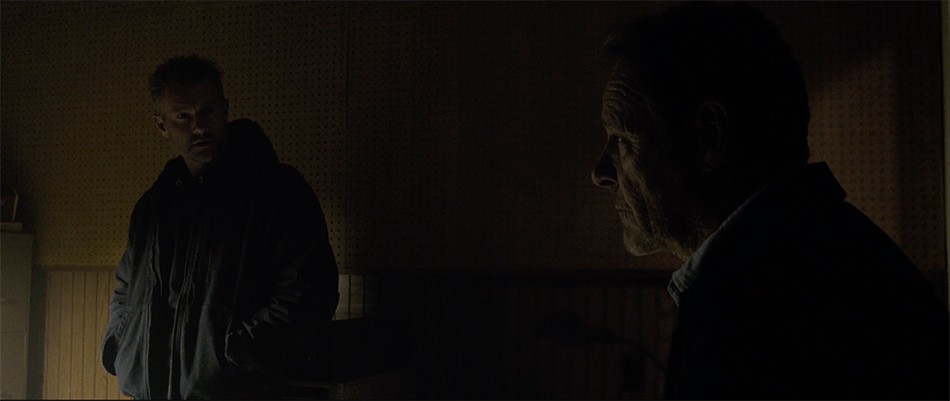 Well, here it is! As you can see above, in this UAMC EXCLUSIVE IMAGE, dark shadows forebode an ultimate showdown between suspicious militia members drawn together to find a rat. Kind of. You'll have to see it yourself. But in the scene above, James Badge Dale (Gannon, on the left) is working on his fellow militia member Chris Mulkey (Ford, on the right) in their late night rendezvous at militia HQ.
To keep it short, since diving anywhere into the boiler pot plot might give away some spoilers, the official synopsis from Cinestate of the film simply reads:
"A militia man attempts to find the gunman behind a horrific shooting at a police funeral."
What follows are some of the most intense 90-odd minutes of high tension character-driven suspense which leaves you white knuckled and suspicious of everyone. And while it's more on the thriller-side of our classic action bread and butter, it is an old school who-dun-it that's definitely a modern hybrid action-thriller for Ultimate Action Movie Club fans to check out.
Peep the trailer below:
---
What are your thoughts on how 'The Standoff at Sparrow Creek' looks? Let us know in the comments or on our Facebook page!