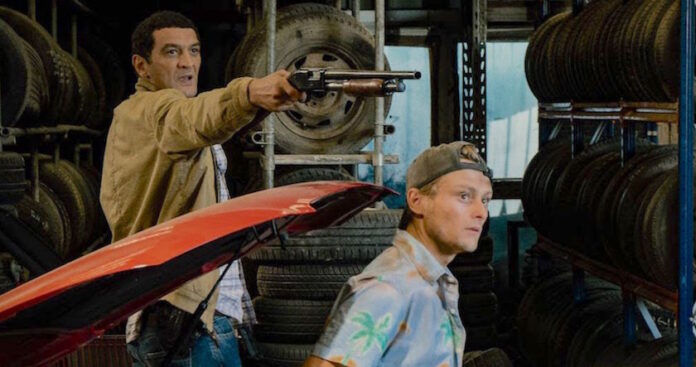 Birds of Prey
Suicide Squad was, in every definition, an absolute dud. The film was hugely anticipated and let down fans across the globe. However, there was one stand-out performance that made that movie just about watchable – Margot Robbie's interpretation of the Joker's deranged and tempestuous girlfriend, Harley Quinn. Birds of Prey sees Robbie return to the role (this time as the main character) and once again knock it out of the park. The film follows Quinn as she assembles a team of anti-heroes to take down a devilish crime lord, played to perfection by Star Wars alum, Ewan McGregor. Not only is this a great girl-power movie, but it's also full of action and intrigue and humor, making it a great pick for a first date night.
Time to Hunt
Korean cinema has seen a huge boost in popularity this year thanks to the success of the genius Parasite during awards season, so you should not be surprised to see Time to Hunt wind up on our list. Set in the near future, the movie takes place in a dystopian Korea, where the economy has collapsed. We follow a group of thieves, who, after a previous heist, realize their loot is now practically worthless. They come up with a new plan in a bid to steal valuable US dollars instead and escape their miserable existence. But they soon attract the attention of a vicious killer. There are plenty of twists and turns in this one, as well as plenty of food for thought. This makes Time to Hunt an intriguing yet enjoyable choice for any first date.
Bad Boys for Life
The Bad Boys franchise is one of the most beloved in the history of action movies. While original director Michael Bay may have vacated the hot seat this time around, the insanely charismatic duo of Will Smith and Martin Lawrence once again return to crack wise and bring down baddies with gusto. Bad Boys for Life sees detectives Mike Lowrey and Marcus Burnett team up with Miami Police Department's special division to take on yet another bad guy with a grand plan – this time, the antagonist aims to kill Mike, as instructed by his mother. With plenty of jokes and great set pieces, this film is more than capable of getting pulses racing on your next stay-at-home date.
Lost Bullet
They say French is the language of love. If Lost Bullet is anything to go by, it is also the language of awesome action movies for you and your date to enjoy on the couch. Described as the French Training Day, Lost Bullet follows a small-time crook turned mechanic for a special police task force, who finds himself trying to prove his innocence when dirty cops murder his mentor. If you like visceral movies that'll get the adrenaline coursing through your veins, this is definitely one to check out when it comes to your next date night.
Watch Films with Someone Special
Let's face it, 2020 has not been the best year to get into online dating and meeting new people. All the usual avenues for first dates are closed, which means you're going to have to get inventive if you want romance to blossom any time soon. Usually, the best course for a first date is dinner and a movie. But how do you do that in this year of all years?
During this time of mass self-isolation, with cinemas closing and films getting pushed back on the release calendar, there are plenty of films (especially in the action genre) finding new life on streaming platforms. So if you're preparing for a new date with a girl on AskMe4Date – you might want to check out one of these great flicks for a cozy night in.