Maria Conchita Alonso in Predator 2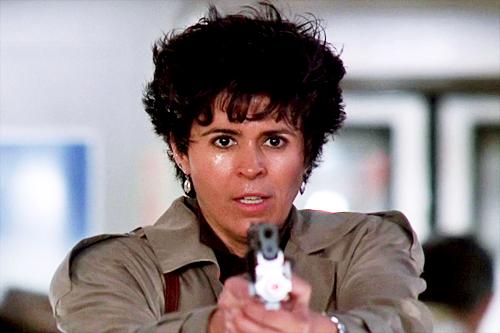 While the movie did not hit the critical or financial heights of its predecessor, Predator 2 was still a kick-ass sci-fi sequel and partly responsible for introducing the world to the feisty Maria Conchita Alonso. As Detective Leon Cantrell, she was part of a small team sent by the Los Angele Police Department to invest severe gang violence in the city. Through her work with the Alvarado Precinct, she crossed paths with the fearsome Predator alien, which was hunting the same gangs for fun. Was she scared by this terrifying beast? Was she hell!
Jennifer Lopez in Money Train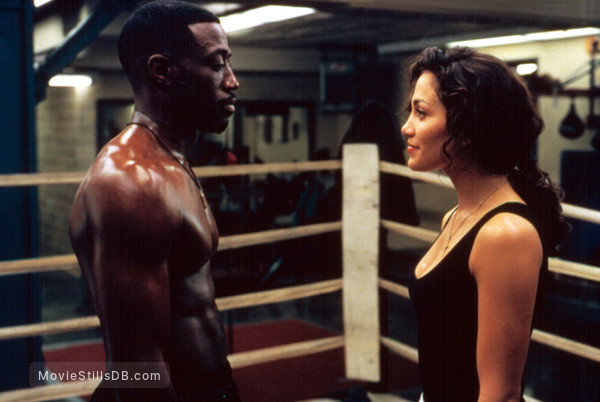 It takes a great actress to hold their own alongside the likes of Wesley Snipes, Woody Harrelson, Robert Blake, and Chris Cooper, but Jennifer Lopez did just that in the hit action-thriller Money Train. Lopes appears as Grace Santiago, a decoy transit officer in this awesome movie about a vengeful NYC cop who decides to steal a trainload of subway fares. He is aided by his foster brother – but things soon take a turn for the worse.
Eva Mendes in 2 Fast 2 Furious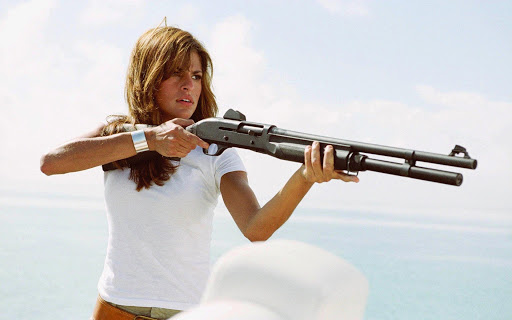 The Fast and Furious franchise has grown into one of the biggest movie series in the world, thanks to the likes of Vin Diesel and Dwayne Johnson. You may recognize Michelle Rodriguez as a beautiful and bad-ass Latina, but the second in the series also featured the stunning Eva Mendes. She plays Monica Fuentes, a U.S. Customs agent who is sent to work undercover as an assistant to the shady drug lord, Carter Verone.
Elizabeth Peña in Rush Hour
Rush Hour may have been the movie to launch Jackie Chan's career in the States, but it also featured the beautiful Elizabeth Peña in a stand-out role as Tania Johnson. She plays the partner of a reluctant Chris Tucker, proving that, in this series, it's not only men who get to kick butt – and she looks great doing it as well.
Elizabeth Peña sadly passed away in recent times, but she was an ever-feisty and formidable Latina actress in every role she took on.
Michelle Rodriguez in Resident Evil
Before the world fell in love with her in hit movies like Avatar, Fast and Furious, and Machete, Michelle Rodriguez was busy slaying zombies left, right, and center in the super-popular Resident Evil horror franchise. Based on the hit game series of the same name.  Starring as Rain, she appeared alongside Milla Jovovich's Alice as two members of an elite commando team who are tasked with destroying hordes of ravenous zombies who are being controlled by a malevolent supercomputer inside a high-tech genetic research facility. They don't get more kick-ass than this!
Latinas in Life and Cinema
If you have ever met a Latina girl in real life, you know just how feisty they can be. The Latin people are hot-blooded, beautiful, and definitely not the sort of chick you should cross in a hurry. Whether we are talking about reality or fiction, there's nothing quite like a bad-ass Latina. Thanks to actresses like Eva Mendes and Michelle Rodriguez, the rest of the world can finally see what it is that makes these women so formidable – not to mention, so damn attractive.
How to Find Your Michelle Rodriguez.
Many people ask us – where can we find our own Michelle Rodriguez? If she got your blood pumping in movies such as Avatar and Machete, you need to make sure you know some of the best Latino dating sites on the internet. However, it's not just Michelle Rodriguez, who sets tongues wagging with her action movie exploits. Check out some of the hottest Latina action stars working today above!