UAMC highly recommends this direct-to-video Speakman classic!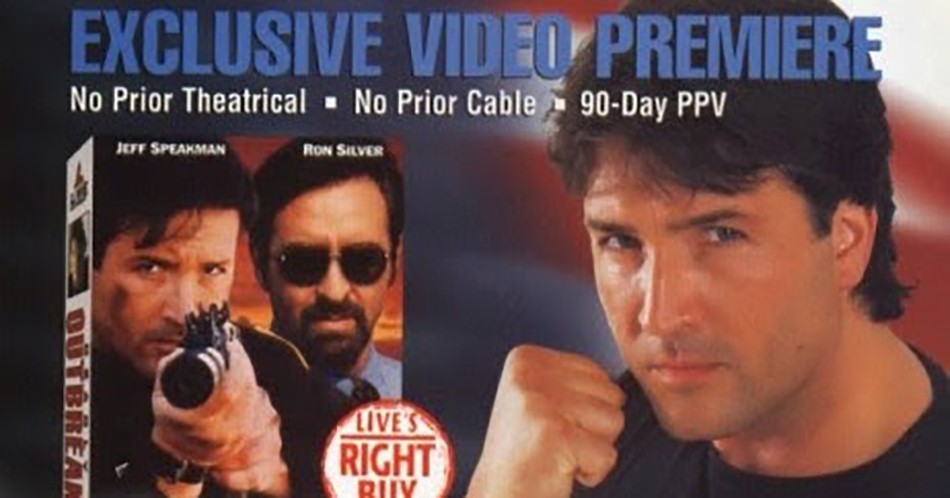 When I was younger, I was an action movie addict. I'm sure I rented out most of the Action section films from my local video store back in the day. Nowadays, with a wife, kids and a job, I have a lot fewer opportunities to sit down and watch offerings from the action genre. But when I do, I try to catch ones that check as many boxes as possible (more on that later).
In the 1980s, action movies were a dime a dozen; for better or for worse, it seemed that every actor in Hollywood tried their hand at making an action movie. But when the 90s rolled around, there was a cosmic shift in budgets, fashion, soundtrack music and leading men in action movies. Although they weren't quite at the same level as 80s action movies, 90s actioners — especially some lesser-known direct to video (DTV) fare — could still unquestionably hold their own in terms of quality. Studios just didn't have the marketing budgets to promote them. They literally had to rely on "word of mouth" recommendations from viewer to viewer.
Well, I'm here to continue that tradition from yesteryear and give my recommendation for you to catch Jeff Speakman starring in Deadly Outbreak.
Jeff Speakman is the Perfect Action Hero in The Perfect Weapon (1991)
UAMC Review: Deadly Outbreak (1995)
Getting back to quality: when it comes to quality, every reader on this site should join me in bowing down with reverence to the altar of Jeff Speakman's 1991 masterpiece, The Perfect Weapon. Having seen that (multiple times), 1993's Street Knight (infamously Cannon Films' final product before closing shop) and 2000's Running Red (with the incredibly stunning Angie Everhart), I'm convinced anything with Jeff Speakman's name attached is quality.
And that was the case once again with 1995's Deadly Outbreak. I'm positive you're familiar with the tried and true "Die Hard in a …" 90s trope — whether it be a battleship, submarine, train, high school, etc. — so I'm sure that you'll immediately recognize the setup with Deadly Outbreak (Die Hard in a chemical plant). Ron Silver is the poor man's Hans Gruber — a brilliant tactician; impeccably dressed (his goatee looked even resembled Gruber's facial hair style); remarkably cool, calm and collected, no matter what chaos surrounds him; and even throws in a slight accent that reminded me of the character. He and his squad of goons — complete with requisite mullets, steroid-induced frames, a small army's worth of artillery, and a computer hacker capable of cracking codes in seconds — take over a chemical plant in Israel.
'Street Knight' and the Rise of Jeff Speakman as an Action Movie Star
Jeff Speakman and Ron Silver
But what they fail to take into account is Speakman's Sgt. Dutton Elvis Hatfield, a former Marine just looking to get home so he could buy his son a birthday gift. When the terrorists overtake the chemical plant by storm (a really fantastic sequence of violence), Hatfield must use every trick in his arsenal. Unlike other DTV fare which rely on unlimited ammunition, Dutton actually has to reload, runs out of bullets, and has to pick up the weaponry of dead terrorists, adding a sense of reality. And, fans of Speakman's Kenpo skills need not fear, for Deadly Outbreak showcases multiple scenes of his marvelous hand-to-hand artistry.
But there are two elements of the movie (which I both admit I loved) that counter reality. 1) Dutton's gift of gab when it comes to one-liners that may make Schwarzenegger chuckle. 2) The DTV insistence on casting Playboy/Penthouse models as "fish out of water" damsels in distress.
Jeff Speakman is in Rare and Ultimate Form in 'Running Red' (1999)
Hitting the Ultimate Action Marks
We here at The Ultimate Action Movie Club know what it takes to make a great action movie — and I'm more than happy to report that Deadly Outbreak delivers it in spades:
Handsome action hero (check)

Hero acting alone for the most part (check)

Quippy one-liners (check)

Lots of explosions, some even unnecessarily (check)

A completely impossible romantic scenario with a woman who probably posed in a men's magazine at one point (check)
Deadly Outbreak is currently streaming for free on Prime, and I give it my highest recommendations. If you check your expectations at the door and are seeking an enjoyable popcorn flick, you could do a lot worse than this one.


---
What are your thoughts on this Jeff Speakman 90s action classic? Let us know in the comments!