The Dos and Don'ts of Creating The Perfect Action Hero.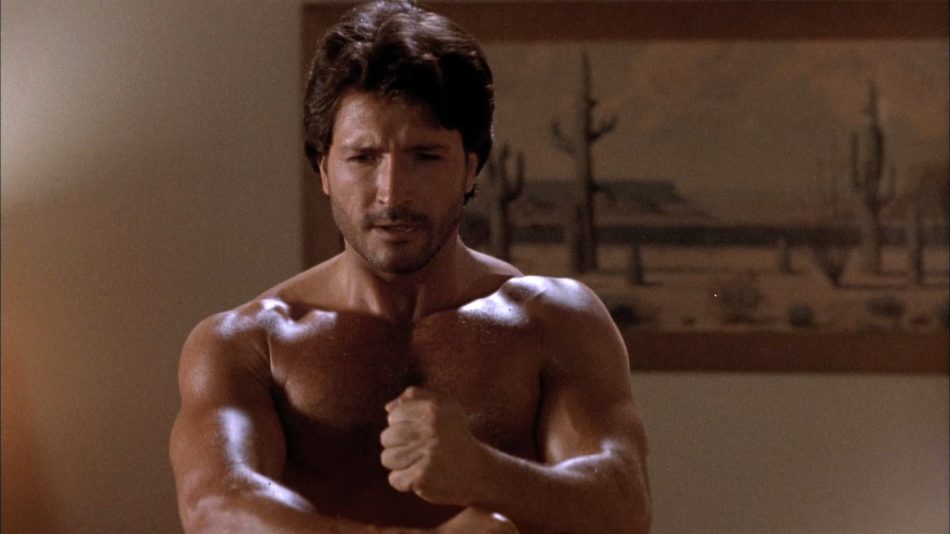 It was 1991, and Jeff Speakman was busy promoting his first action movie for Paramount Pictures – The Perfect Weapon. He had just signed a four-picture deal with Paramount and was looking forward to joining the cinematic ranks of Steven Seagal, Jean-Claude Van Damme, Sylvester Stallone, Chuck Norris and Arnold Schwarzenegger.
Speakman, who at the time was a 4th degree black belt in American Kenpo Karate under the late American Kenpo Karate Founder, Grandmaster Ed Parker, and a black belt in Japanese Goju-Ryu (he's now 7th degree in both), had few acting credits to his name when he signed with Paramount (his largest being a noir thriller Side Roads along with very minor roles as a café customer in 1988's Slaughterhouse Rock and a security guard in 1990's Lionheart starring JCVD).
Still, Speakman was conscious of the mistakes others had made before him. As evidenced in this video, he didn't want to be known as another action guy, he wanted to be known as an actor who could also do action. He had one movie in the can, and Paramount was already interested in a sequel and attaching Speakman to another actioner about a cop trying to foil a terrorist plot. More about that second movie later.
Unfortunately, Speakman's journey to the upper echelon of action stardom would be stopped dead in its tracks. The Perfect Weapon underperformed, earning $14 million on its $10 million budget, and Paramount went through big leadership changes, leaving Speakman in its wake. Speakman's next movie, Street Knight – the last movie produced by the floundering Cannon Films, barely saw a theatrical release, and Speakman's remaining movies were made-for-cable and direct-to-video releases.
Today, The Perfect Weapon serves as a great example of what to do, and what not to do, when producing a potential action star's introduction to audiences.
'Street Knight' and the Rise of Jeff Speakman as an Action Movie Star
Do This, Not That
Do: Show off fighting skills early on. Speakman is an impressive fighter, which director Mark DiSalle put on display in an early, shirtless training montage.
Don't: Have a lame cold open. Having the hero working on a brutally hot construction site and being told he can take a water break is not a great opening scene. Skip to the training.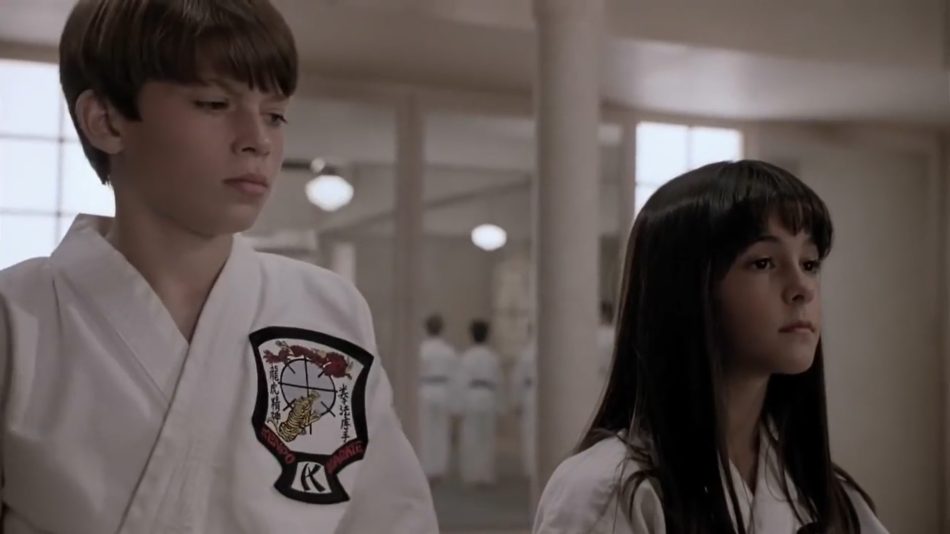 Do: Have an emotional backstory. Jeff Sanders had a rough childhood (yes, Jeff Speakman's character basically had the same name). It wasn't until he discovered Kenpo, through gentle prodding from a family friend, that he found some drive and purpose. Now, that friend needs his help.
Don't: Take 15 minutes to tell the backstory. One-sixth of the movie is backstory, delaying the first fight scene – a sequence that's only one minute!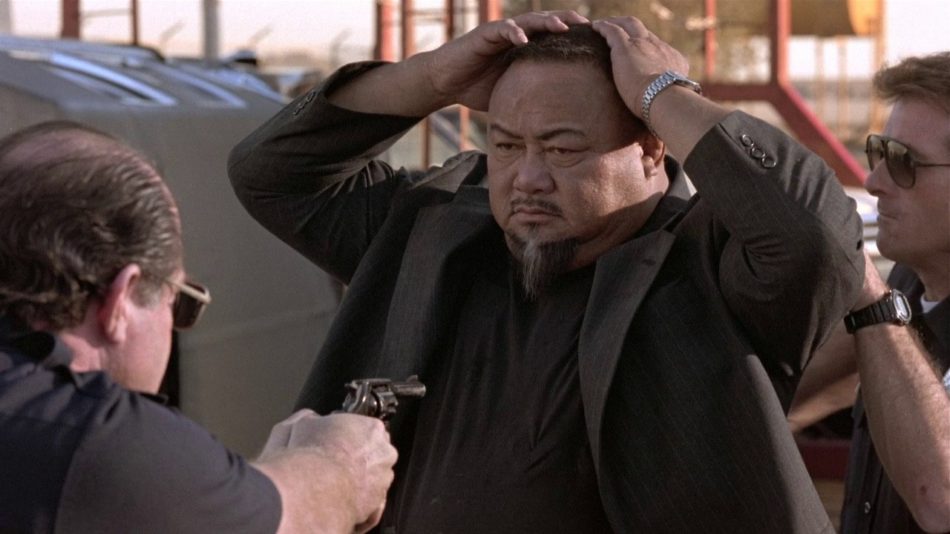 Do: Be respectful of the ethnic qualities of your setting. Most of the movie takes place in Koreatown. The characters are Korean, the food is Korean, Jeff's family friend, Kim, is Korean, and gives a great speech about the Korean experience in America. You get the picture.
Don't: Forget the difference between ethnicities. Kim, the man who gives that speech about emigrating from Korea, is played by Mako – who is Japanese. None of the main actors are Korean. James Hong – Chinese. Seth Sakai – Hawaiian. Cary-Hiroyuki Tagawa – Japanese. Dante Basco – Filipino American. And even Professor Toru Tanaka – Hawaiian (who you can read more about as one of the top 10 pro-wresters turned action movie stars here.)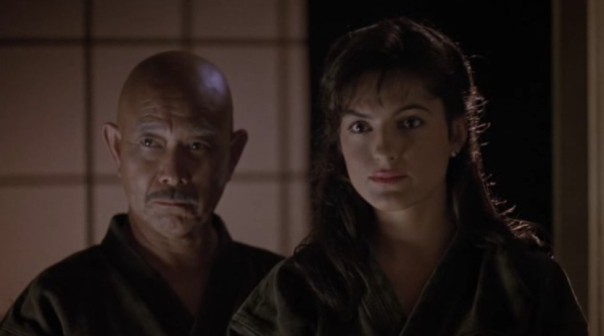 Do: Have a strong female lead. And you don't get much stronger than Mariska Hargitay, who would go on to play tough-talking Olivia Benson on Law & Order: SVU, for which she's one both a Golden Globe and an Emmy.
Don't: Keep her silent. Hargitay has no lines in this movie. She stares at the camera. Effective, but give the girl some lines. She had more lines in Ghoulies! GHOULIES! In fact, and I've watched this movie several times to verify this, there are zero lines delivered by women in this entire movie besides screams and mumbles. What?
Do: Have a major fight scene in a bar that could only be from the '90s. Neon lights. Loud dance music. Lots of leather. Glow-in-the-dark body paint. A confrontational or uncooperative customer. A live crocodile. Let the punching and neck snapping begin!
Don't: Have the lead get knocked out by a beer bottle after kicking the crap out of like 10 people. Ugh. Speakman fast-punches his way through a group of angry bar patrons, snapping necks, punching throats, breaking arms, and then a guy with a beer bottle takes him out. Speakman deserved better!
Jeff Speakman is in Rare and Ultimate Form in 'Running Red' (1999)
The Nearly Perfect Action Star
For what it's worth, The Perfect Weapon is worth the watch (and it is currently available to stream for Amazon Prime Members). Speakman's fight scenes were pretty damn solid, and he wasn't bad as an actor, either. He certainly didn't deserve to disappear from theaters after this outing.
Speakman, by the way, never stopped kicking ass – though less of it was in front of the camera. He's been inducted into the Black Belt Hall of Fame, the World Martial Arts Hall of Fame and the Masters Hall of Fame. According to his website, Jeff lives in Las Vegas, where he oversees the largest Kenpo Karate organization in the world, the American Kenpo Karate Systems, and operates the Jeff Speakman's Kenpo Karate 5.0 franchise schools now in 20 counties.
Fun Fact: That third movie Paramount was eyeing Speakman for? Well, Paramount lost out on the script and it went to 20th Century Fox. Now starring Keanu Reeves, Dennis Hopper and Sandra Bullock, Speed would become the eighth-highest-grossing movies of 1994 and one of the biggest action movies of all time earning $350 million worldwide.
---
Article by Eric LaRose – a Wisconsin-based connoisseur of action, horror and sci-fi movies from the '80s and '90s. A former journalist and podcaster, Eric wrote the ending to the Toxic Avenger Part 4, but the only person who will back up that claim is his wife.
Let us know what you what you think in the comments!