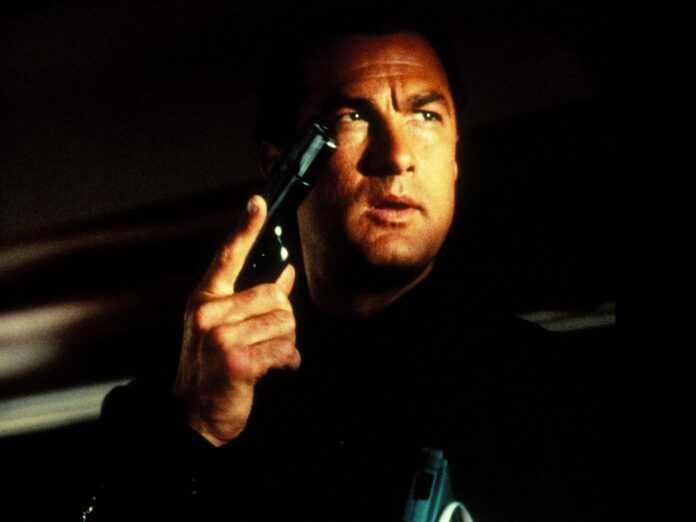 You can't talk about old school action heroes from the 80s and 90s without talking about Steven Seagal. Love him or hate him, he certainly left a big mark on the genre. Like many of you reading this right now, I grew up with Seagal films. I have been building my collection backup in recent years, and haven't delved back into his catalog as much as some others, until now. Thanks to my brother and fellow Seagal connoisseur, 'Bloodee Jacob' Babcock.
Re-watching the Under Siege films has reminded me of why I was a fan of his in the first place.
The first Under Siege is easily my favorite of the two overall, largely in part due to the over the top, memorable performances of both Tommy Lee Jones and Gary Busey, but the second one is very solid as well and definitely doesn't deserve the hate it has gotten over the years. Since UAMC has already brought you a review of the original, today, I am here to guide you into "Dark Territory".
Casey Ryback is Steven Seagal's Best Role
First off, I just gotta throw this out there… Casey F'n Ryback just might be the coolest action movie name since Mr. John McClain himself! In Under Siege 2: Dark Territory, he is back, still on cook duties. This time, he has his own restaurant, but not much time is spent on that. These Under Siege movies waste little time getting right down to it.
Ryback's brother was killed in an accident, so he ends up meeting with his niece, played by a young Katherine Heigl. They board a train from Colorado to California for vacation and it's full steam ahead from there. Pun intended.
The train is soon taken over by terrorists. Their mission is to hijack a top secret satellite and they use the train as their own mobile headquarters. Maybe if they would have went over the passenger list, they would have seen Casey F'n Ryback is on board!
Seagal Brings the Big Name Baddies
Sure, this time around, this cast of baddies can't top the unhinged coolness of Tommy Lee Jones in the first, but the roster is still very solid. Among them, we have Eric Bogosian (Talk Radio/Blade Trinity), Everett McGill (Silver Bullet/License to Kill), Peter Greene (The Mask/Pulp Fiction), Patrick Kilpatrick (Death Warrant/Riot) and Jonathan Banks (Breaking Bad/48 Hours).
The action sequences are very entertaining… sure most of the baddies don't put up a huge fight, like in most Seagal movies, but there is still something about seeing him blow through them all. Some cool, creative kills involving guns, knives and handmade explosives. Being the Aikido master he is, we of course get to see flurries of his quick hands, using various takedowns.
Many limbs broken in the process. Like I said, most of the films physical showdowns are short and sweet, but the end fight he has with McGill is pretty extended and ultimately satisfying. Maybe a favorite Seagal fight of mine, that ends with the great line, "Nobody beats me in my kitchen".
Great Characters, Great Actors, Great Action!
I also have to mention another familiar face that makes the film a whole lot of fun and that is none other than Morris Chesnut! He is very funny in it as a worker on the train, teaming up with Seagal in this one…years later he would be on the opposite side and take him on in Half Past Dead.
I already noted the main characters, but there are several other familiar faces along for this ride, including Brenda Bakke (Hot Shots! Part Deux), Nick Mancuso (Rapid Fire/Under Siege), and Red Forman himself, Kurtwood Smith (That 70s Show/Robocop).
Big action movie score still intact, but not the big budget they had for the first… Under Siege 2: Dark Territory still packs that one-two punch of fists and one liners that we all watch Seagal movies for!