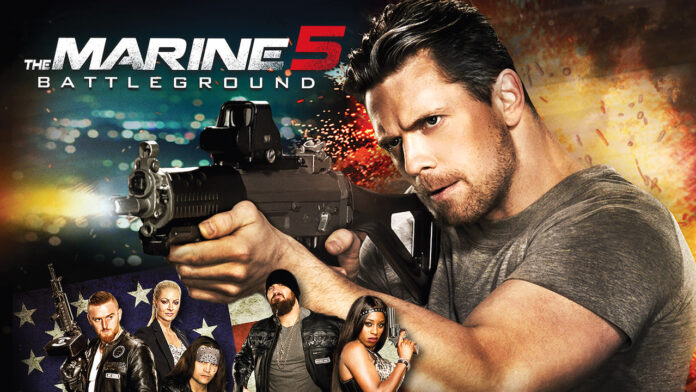 One of the surprising standouts of The Marine series…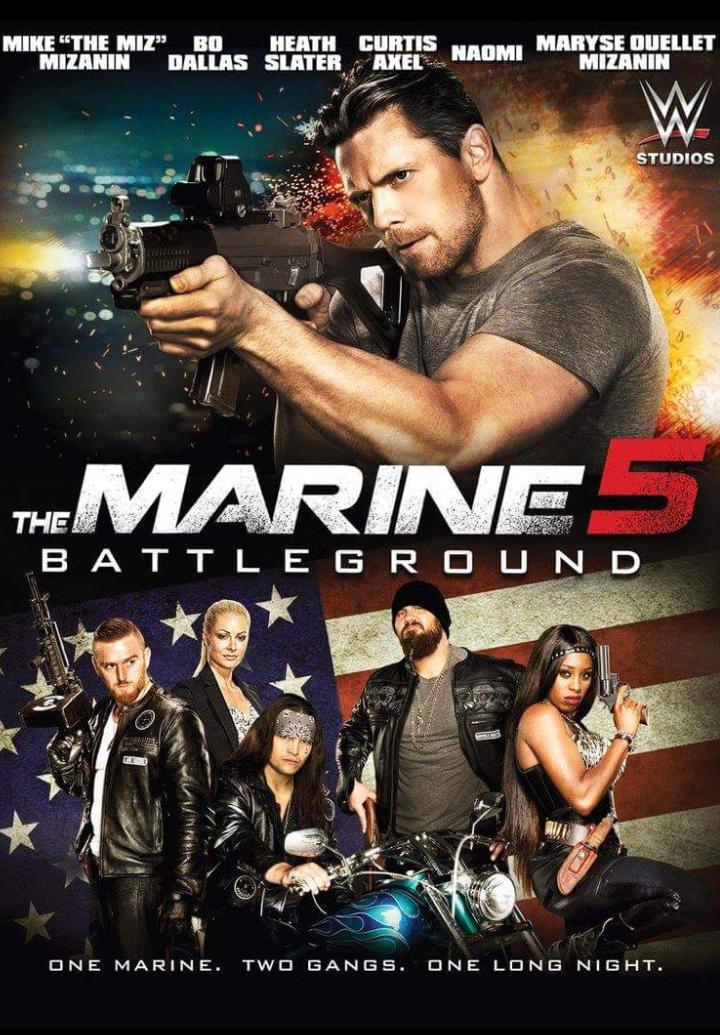 A fatal drive-by-shooting leaves the leader of a biker gang riddled with bullets. The assailants manage to escape, but not without retaliation from the rest of the gang. No one escaped unscathed, not even the driver. With all of this happening in the first ten minutes, it's clear that The Marine 5: Battleground won't waste your time. As director, James Nunn makes each minute better than the last. Ultimately, he makes one of the best films in the series.
The Miz Back at it as Jack Carter
To no surprise, Mike "The Miz" Mizanin is back as Jake Carter, but this time around he is working his first shift as an EMT. After unsuccessfully saving a wounded woman from a car wreck, things quickly go from bad to worse. He and his partner Zoe (Anna Van Hooft, Noelle) get caught between a deadly biker gang led by Alonzo (Bo Dallas) and wounded getaway driver Cole (Nathan Mitchell, The Boys). The groups find themselves in a vicious game of cat and mouse within a parking garage. With no escape in sight, Carter is once again thrown back into the fray with only his wit and undying will.
It's impossible to continue without mentioning how much Mizanin has grown as an actor. It might have been John Cena (Peacemaker) who began the franchise on the big screen, but his departure allowed Mizanin to prove himself as a believable dtv action hero. It's even clearer to see Mizanin's talent among the several WWE stars in the film. He's sharing the screen with Curtis Axel, Heath Slater, Naomi, and the aforementioned Bo Dallas. But, the degree of acting talent varies throughout the cast. But Mizanin clearly rises above the rest with his charisma and devotion to the role.
The Marine 2: An Ultimate Mix of Cheap Fireworks and Popcorn
Less Rambo More Die Hard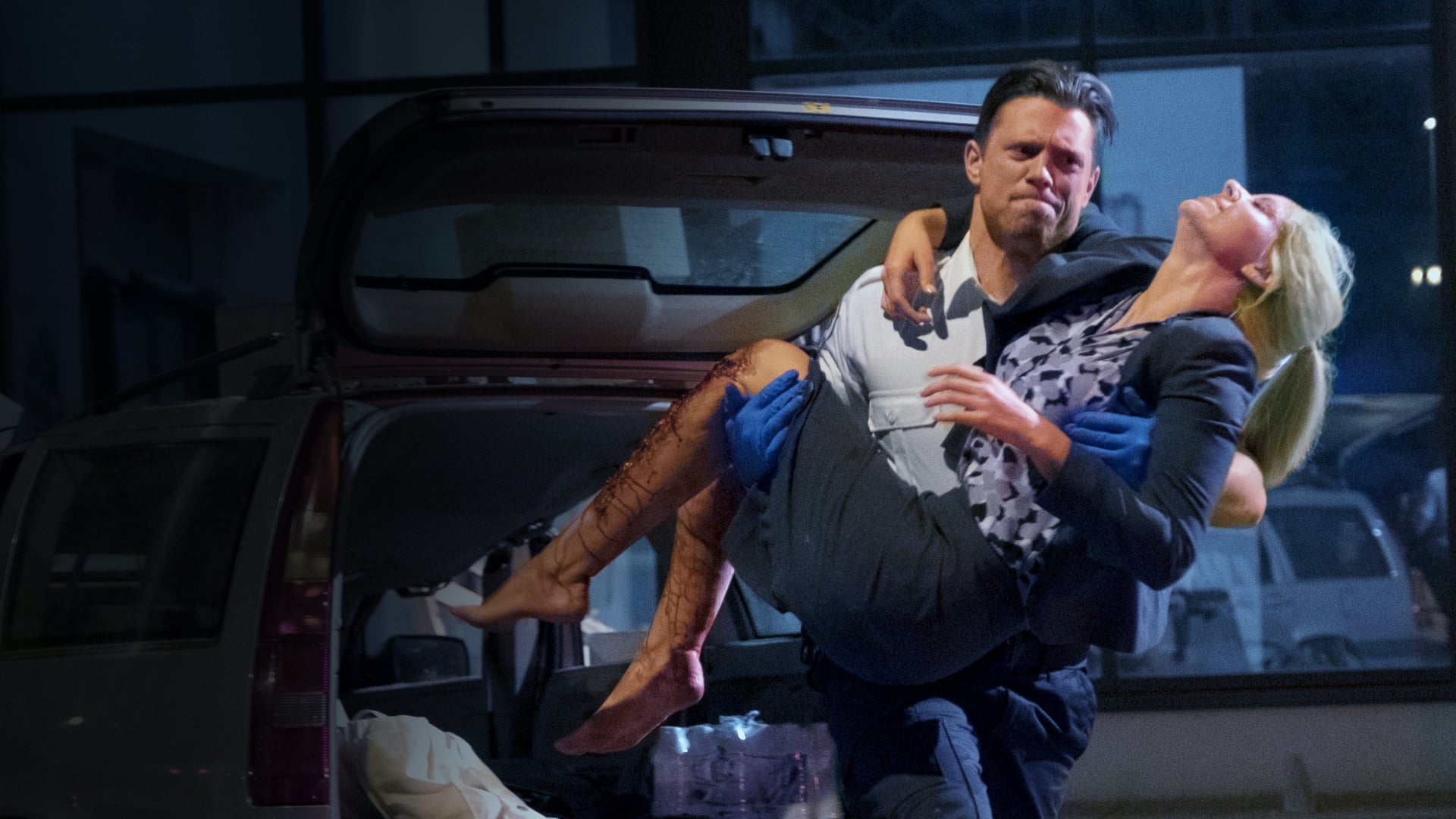 Marine 5 doesn't bring us the rambo-esque one-man army Jake Carter from the fourth film. It gives us more of the reluctant hero in the vein of Die Hard's John McClane. With that said, Bo Dallas' Alonzo is no Hans Gruber. However, what he lacks dramatically he makes up for in physical presence. When he is in his full costume for the character, he emanates a threatening aura.
Mizanin's bruising performance would be all for nothing if there wasn't a good director guiding everyone. Director James Nunn should be familiar to fans of action cinema. Last year, he garnered a lot of attention from his Scott Adkins led one-take-actioner One Shot. The film was a highlight of 2021 and was met with great reception from action lovers. It would be an understatement to say the man has a great understanding of action on screen. Comparatively, Marine 5 is a much smaller film, but that doesn't stop Nunn from pushing the budget to the fullest. Through Nunn's composition, the parking garage is an ever evolving trap. Each layer and space welcomes a new challenge for Carter and Cole to overcome, and it doesn't stop there. The parking garage siege morphs into a mad dash through an amusement park.
The Miz Shines in His Turn to Helm 'The Marine 3: Homefront' (2013)
But How Ultimate is it?
Nunn's action is clear and punishing. Fight choreographer Andrew Chin (Arrow, Deadpool 2) worked some wrestling techniques into the choreography and it pays off when the wrestlers fight on screen. There's a welcome variety to all the fight scenes, each one brings something different. When it comes to gunplay, Nunn might not deliver the highly tactical shootouts of the fourth film, but like his fights, he composes them with the same sense of excitement. It's difficult not to enjoy Carter running through an amusement park spraying a submachine gun as carousels and popcorn machines become vantage points and bullet sponges.
The Marine 5: Battleground delivers everything you would want from a dtv action film. Anchored by the durable Mike Mizanin, the film sprints to each set-piece. And each set-piece brings more reasons why Nunn is one of the best working direct-to-video directors out there. It's easy to state that Marine 5 is one of the best in the franchise because it pushes its restraints to the limit by always going that extra mile while providing over the top thrills. In the end, whether you watch it within the franchise or independently, it won't disappoint.
Article By: Cameron Levins is a filmmaker, comic book lover and fight scene enthusiast. Ever since his dad showed him Bruce Lee as a kid, he became obsessed with action films. In his free time he's either day dreaming about an action scene or researching fight choreographers. Follow Cameron on Twitter here.
The Marine 4: Moving Target — The Grittiest and Darkest Installment