Fred Durst's 'The Fanatic' might not be a critical hit, but it does feature John Travolta at his best!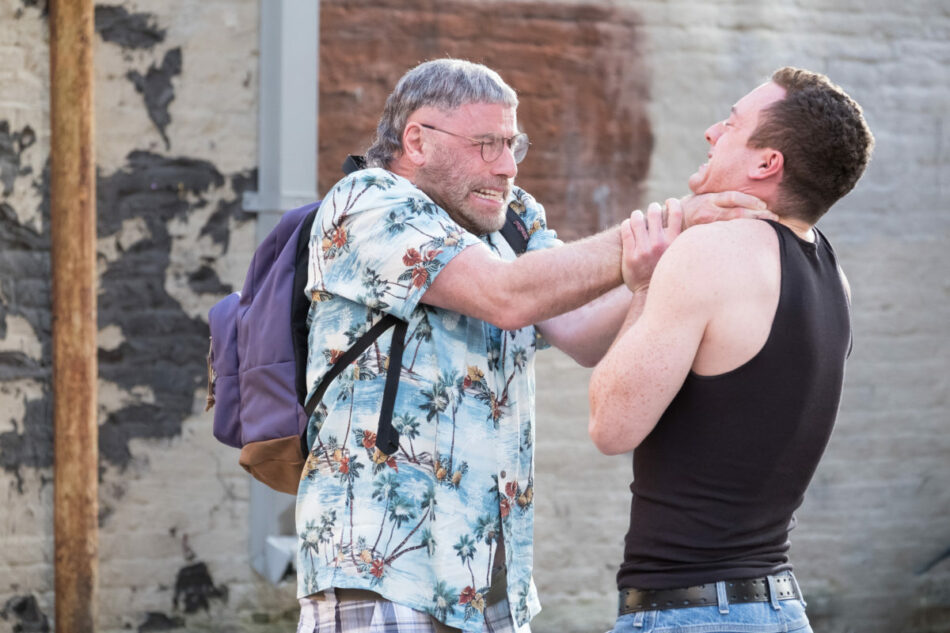 I may be the only person on the internet that is giving The Fanatic (now on VOD) a positive review. The end of this article may explain why I am so biased for it. It currently sits at 18% on Rotten Tomatoes and is being savaged by critics.
I'll say this about it. John Travolta acts his ass off in it and it's told with a visual flair by its director Fred Durst of Limp Bizkit fame, based on an incident from his life.
John Travolta as Moose
John Travolta stars as Moose, a man child on the autistic spectrum who loves movies and the people who star in them. He tools around Hollywood on a Vespa and dresses up as an English policeman to support himself and his hobby of collecting autographs and movie memorabilia. It turns out Moose's favorite actor of all time is one Hunter Dunbar (played by Devon Sawa) and he is coming to do a book signing.
So Moose spends all of his money on a vest worn in one of the movies in hopes of getting it signed and shows up at the appointed night to meet his hero. Turns out Mr. Dunbar is not having a particularly good night and cuts the signing short. After a nasty confrontation where neither man was at their best, Moose's obsession to have his prop signed is triggered as the true fan becomes a stalker.
A Familiar Story in Hollywood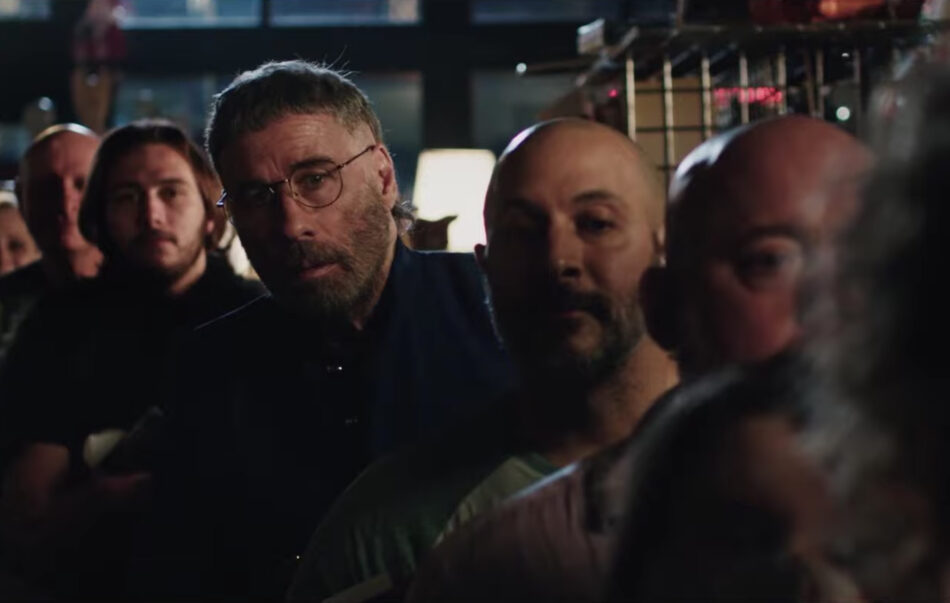 The story of a fan that becomes fanatical has been told numerous times. Check out our man Michael Behn in his first starring role in 1981s The Fan. Or Wesley Snipes and Robert DeNiro in 1996's The Fan. Or the gold standard of Kathy Bates in Steven King's Misery from 1990.
We the viewer have sympathy for both characters. We feel a little sorry for Moose and his existence in the seedier side of LA. When Dunbar reacts the way that he does to this obsessed fan, we understand his point of view. From merely wanting a picture and autograph, Moose shows up an Dunbar's home, trespassing inside of his house , accidentally kills the maid and the final act ends with Dunbar drugged and tied to a bed as Moose acts out scenes from his favorite movies.
Why the Harsh Reviews for 'The Fanatic'?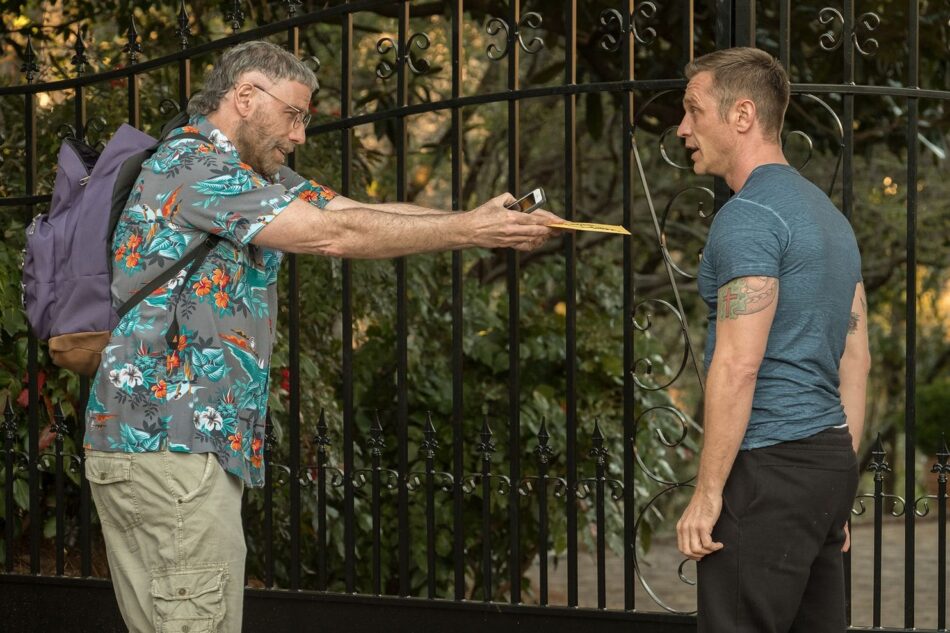 I think what is turning everybody off about this movie is it's brutal resolution to two characters we have come to care about. Moose is not evil but is a byproduct of the spectrum disorder he suffers from and truly doesn't understand his actions or the consequences of them. Dunbar is a father whose also a celebrity that is concerned about the safety of his son. Hence, the collision course that these two characters are on.
I also think that all this talk about this movie being another nail in the career of John Travolta is premature. Look at all the stars of the 1980s – Stallone, Schwarzenegger, Willis, Cage – their output has been widely uneven in recent years. But Travolta? This is the man who did Pulp Fiction, Broken Arrow, Face/Off, Swordfish, From Paris With Love, The Generals Daughter and that's just in the action genre.
If you still don't think he's got what it takes, check him out in the criminally under rated Killing Season from 2013 or the eminently watchable I Am Wraith from 2016. This man is due for another career resurgence and with his new badass shaved head look, I predict it will be in an action movie!
John Travolta is Great with Grandmas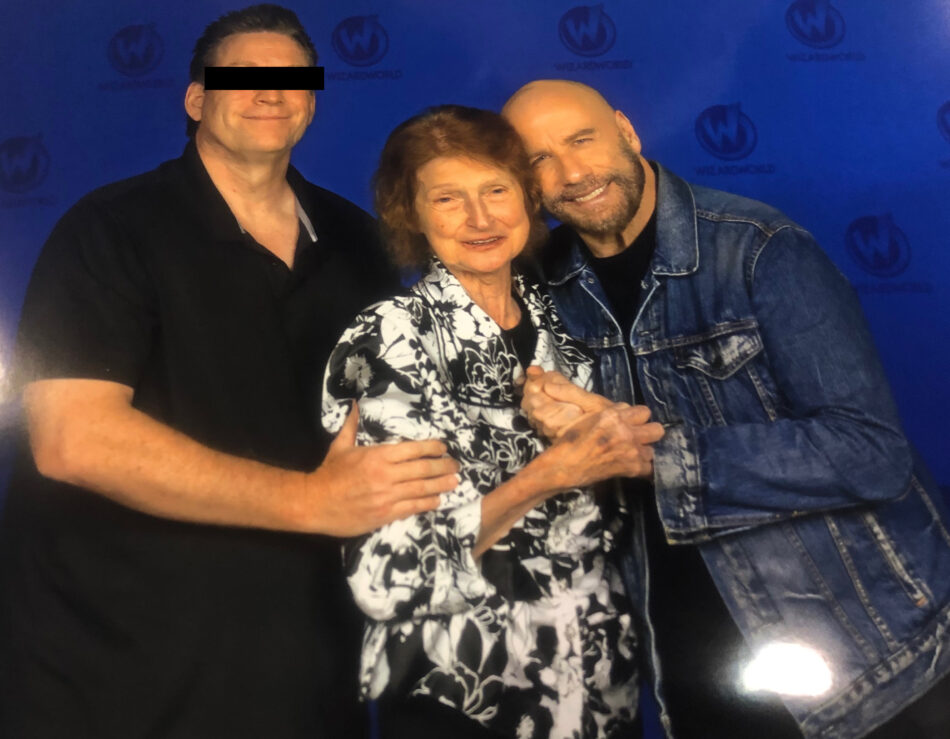 Now, onto why my review may be a little biased. I recently met Mr. Travolta at Wizard World Chicago this past month. I also took my 86 year old mother who recently had a stroke and is confined to a wheelchair along to meet him. He has been her favorite movie star since the days of Grease and Saturday Night Fever in the late 1970s. When Mr. Travolta set eyes on her, he lit up. He greeted my mother with "Hello Beautiful" and "Thank you for coming to see me".
He helped her out of her wheelchair and held her hand and supported her by the waist as he talked to her the entire time. My mom was so star struck she forgot she was having her picture taken. Mr. Travolta then helped her back into her chair and told her "I love you" as he waived goodby to us. Mr. Travolta graciousness made a lifetime memory for my mom.
John Travolta is a true movie star in my eyes and for that, I will always be a fan of The Fanatic!