Some box office failures are well-deserved, and others just seem hard to explain: when I saw The Nice Guys in 2016, my naive self believed that the film would get the attention it deserved. But life is sometimes unfair, and good action flicks like The Nice Guys can be ignored by the public.
On paper, this action comedy had everything needed to be successful: it is directed by Shane Black, has a 1970s Hollywood setting, a good dose of humour, positive reviews and of course, Ryan Gosling and Russell Crowe in the leading roles. Gosling here plays a clumsy private investigator and single father, Holland March, who is desperately trying to make ends meet. He gets hired by the aunt of deceased porn star Misty Mountain, who is certain that her niece is still alive! March's investigation leads him to cross paths with violent enforcer Jackson Healy (Russell Crowe).
The latter is looking for a woman called Amelia Kuttner (Margaret Qualley), who was working with Misty on an experimental film project. Yet Amelia soon goes missing, prompting the improbable duo of detectives to track her down through the hippie gatherings and porn sets of 1977 Los Angeles. Yes, The Nice Guys has a good plot, fun characters, a unique aesthetic, and it definitely deserves a retro review!
A fun and violent buddy movie
The Nice Guys is best defined as an action comedy: the film is fun from beginning to end, and from its protagonists – a duo of down-on-their-luck losers – to its snappy dialogues, everything is as over-the-top as possible. The movie also has what a lot of action blockbusters lack: it is consistently funny, and nearly all of its jokes land, because they perfectly match the general craziness. Everything here has been turned up to eleven, from the stupidity of some characters to the craziness of Hollywood stars.
The Nice Guys also strikes an excellent balance between humour and more touching moments – most of which include Angourie Rice as Gosling's witty daughter who endured her share of traumas. These emotional scenes are few and far between, but they ensure that we enjoy following March and Healy all the way, especially as both have satisfying character arcs. The lead actors themselves make The Nice Guys worth a watch: Crowe and Gosling are having the time of their life. They reportedly agreed to take part in the film in order to work together, and Russell Crowe even praised his partner during several interviews. He mentioned that Ryan Gosling helped him to elaborate crazy scenarios, which then made it into the final product. Their on screen chemistry is palpable throughout the movie, and it really cements The Nice Guys as a buddy comedy.
Yet the film also works because it doesn't verge too much into self-parody, instead offering action scenes which are both fun and fairly believable. Special mention to the short scene where the two protagonists run away from an enemy who is clearly too strong for them – which is hilarious and successfully subverts viewers' expectations. In between the crude jokes and chats inside a toilet cubicle, The Nice Guys manages to sneak in a creepy assassin in the person of John Boy (Matt Bomer).
The picture perfect hitman can list wearing leather gloves and firing rounds of bullets at any moving target among his favourite hobbies. John Boy isn't above harming kids, either, and his hilarious brutality makes his climatic fight against Healy a lot more tense and satisfying. Overall, the film does have some good brawls and even a few torture sequences, which help to make it more impactful.
Action and disco music – the perfect mix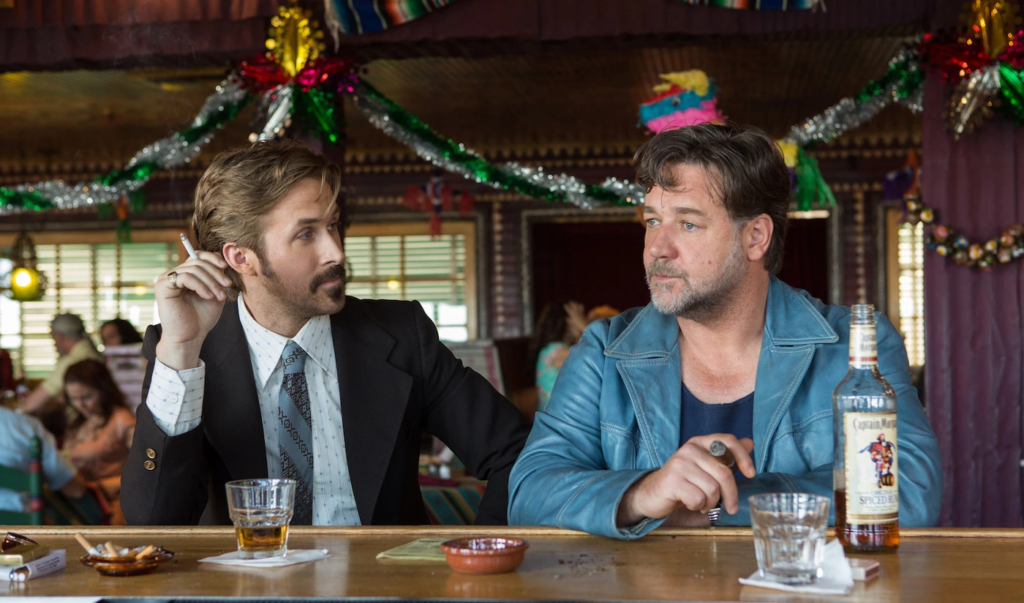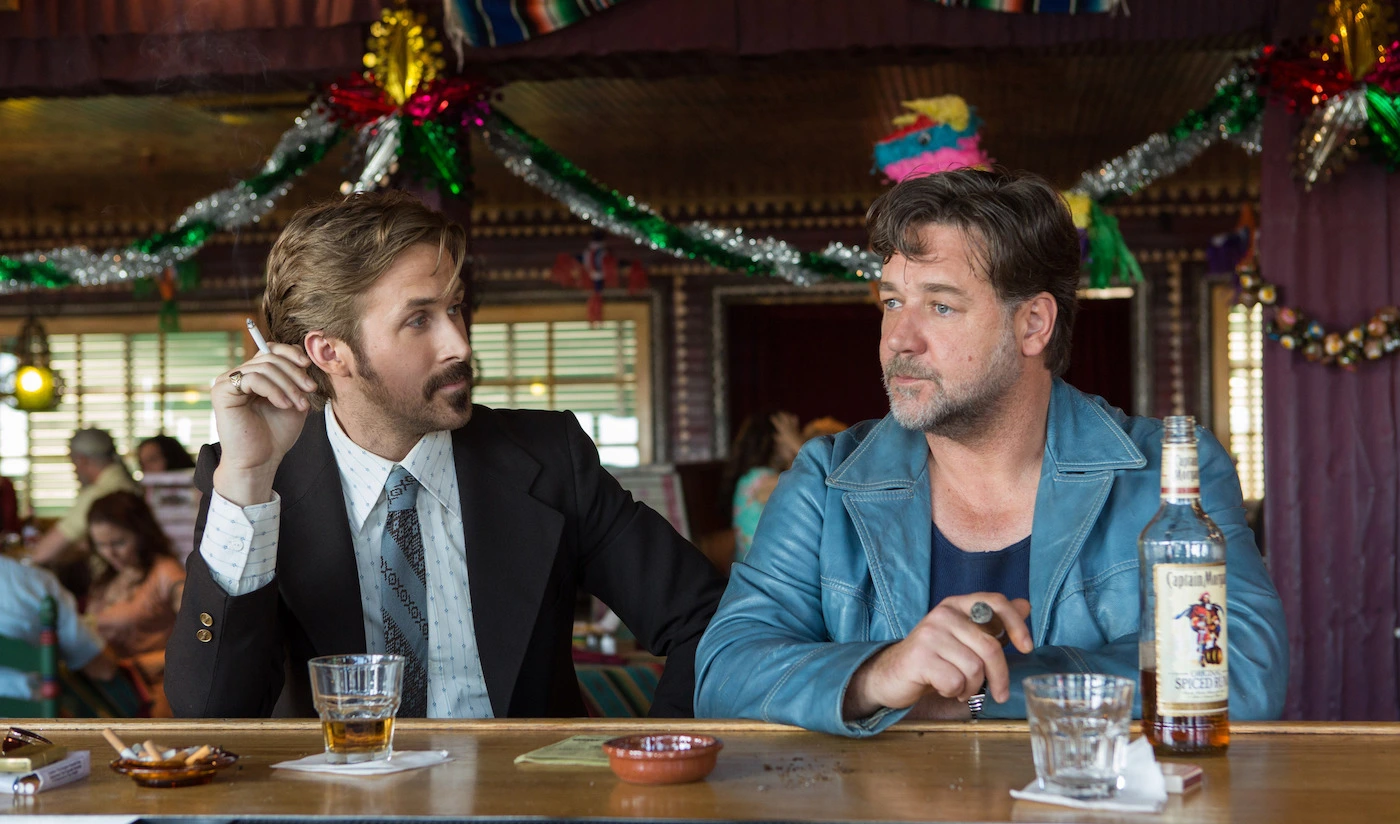 All of these elements already suffice to make The Nice Guys a solid action film, but it has even more to offer. The movie has a very unique setting (few recent action flicks take place in 1970s Hollywood, apart from the grittier Inherent Vice). The Nice Guys uses this to the fullest and develops its own universe: it features fun 70s costumes and an amazing set design, but of course, what really sticks with you after a viewing is its music. Throughout the movie, disco hits like Papa was a Rollin' Stone and Boogie Wonderland will get you dancing, and the soundtrack also offers some of its own compositions, including an excellent main theme.
Whether through music or scenery, The Nice Guys does a perfect job at depicting the madness of 1977 L.A., where lascivious stars meet loser detectives – making the latter both hilariously out-of-place and reliable. The film can also boast a strong screenplay, with plenty of twists and revelations. It is both a proper investigation and an action flick, as not everyone is who they seem to be in the city of angels. This makes March and Healy's journey a lot more entertaining, especially as despite their frequent screw-ups, the duo really does attempt to solve the case and find the missing women. 
This won't come as a surprise, but I was sorely disappointed to see that The Nice Guys didn't get the commercial success it deserved: the film is a great action flick, which mixes disco music with machine guns and will keep you on the edge of your seat for two hours. Fans were calling for a sequel, box-office results decided otherwise, but we can console ourselves with a rewatch of this groovy action film.