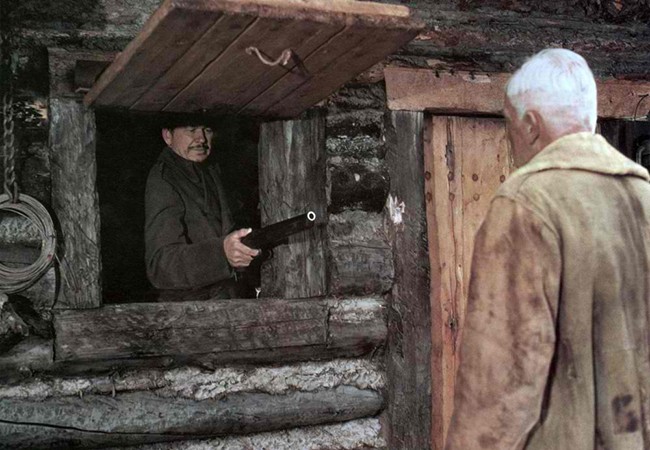 Lee Marvin and Carl Weathers against Charles 'The Mad Trapper' Bronson!
The proper way to watch any action movie screening is on a 16mm print strung up in the middle of a hot parking lot just at nightfall in Austin, Texas (thanks to hosts Vulcan Video and Bat City Cinema). It's a fact. Also, free beer must be provided and there should be a friendly dog sitting nearby waiting for you to drop it kernels of popcorn.
That's how I revisited the magnificent Charles Bronson actioner Death Hunt. Directed by Peter R. Hunt and featuring a grizzled cast of Lee Marvin, Carl Weathers, Maury Chaykin, and Ed Lauter in a Yukon period piece action classic.
I originally saw the film years ago in high school, with friends during the early non-digital days of the Ultimate Action Movie Club. But all I really remember from that screening was a scene where someone is taunted: "you're so dumb I could sell you dirt!" Which, apparently, back in the 1920s was about the meanest, most serious insults you could hurl at someone.
My only other memory of Death Hunt – which was quickly reaffirmed in this outdoor 16mm screening – was that it's just pretty much the story of John Rambo in First Blood.
And regardless of the fact that Death Hunt came out in 1981 and First Blood was released in 1982, it's hard not to at least compare the two. Not just for originality, but more so for ultimate-ness – and how Charles Bronson might have been robbed of a potential action movie Blockbuster franchise.
Death Hunt vs First Blood
So, I don't claim to know the exact details of how Death Hunt came to pass. I can research on Wikipedia about how the film was financed by Hong Kong's Golden Harvest as part of a six film set in 1979. I can also read up on the (amazing, but obviously exaggerated) true story of the real Albert Johnson – whom Bronson portrays.
First Blood on the other hand was based on a novel by author David Morrell which was published in 1972, and its film roots go back just as far with Steve McQueen even being originally considered for the role.
And I can simultaneously Wiki-confirm that First Blood director Ted Kotcheff had been approached to work on Sylvester Stallone's First Blood as early as 1976. Which would lead me to believe that both films were on similar production paths, but most probably not influential – or even much aware – of each other.
But that being said – the stories ARE quite similar. Man ostracized from society with checkered past and amble combat training is set upon by a manhunt which leaves only body bags in its wake. However, there are notable differences in style and tone at least.
Charles Bronson or Sylvester Stallone?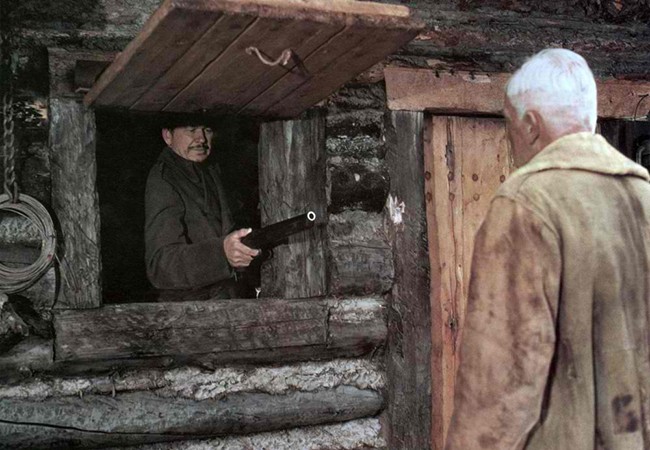 Bronson, as is the way with most of his roles, is quite reserved and seems to be quite secure with his fate, almost as if he knew this day was coming regardless. Whereas with Stallone's role, we really get to feel the torment and indignation that fuels Rambo's fight.
Both films feature amble killing, but the snowy landscape of Death Hunt is a little less bloody (mostly due to the huge parkas everyone is wearing when they're shot). Lee Marvin's role is also served to really make the audience like and honor Bronson even more as he chases Johnson like a forlorn Captain Ahab.
And generally speaking overall, the cast to Death Hunt is far superior to First Blood and gives what is a little tamer of the two films more depth and some great characters and scenes.
Lee Marvin and Carl Weathers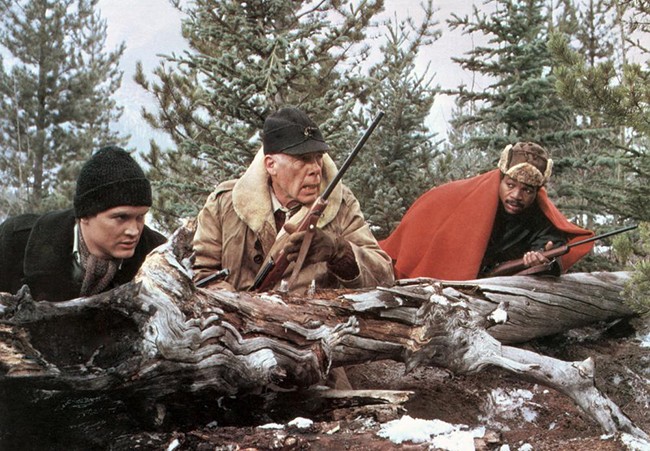 Perhaps one of the most unlikely duos in any action movie ever, it's a shame we didn't just get a whole movie of these two. Their third wheel side kick – Constable Alvin Adams (Andrew Stevens) – gives Marvin and Weathers plenty of space to demonstrate just how to be an ultimate action movie manly men badasses.
The whiskey chugging cabin scene with Weathers and a slow dancing Marvin stands out as what probably should be a 90-minute feature in itself. Plus once the men are on the hunt, it goes a little too quickly as the trappers are whittled down scene by scene.
Overall, any chance to visit Charles Bronson in a non-Cannon Films or Death Wish role is highly worth the viewing. And if you can't travel to Austin, Texas to watch the film on an original 16mm print with other action movie aficionados, then you should at least gather a group of friends on a cold winter night and watch it while sharing chugs of whiskey and in memory of the time old man Bronson out Rambo-ed a young Sly Stallone.

---
Have you seen Death Hunt? What are your thoughts? Let us know in the comments!