For the ultimate love of action, sports and speed racing!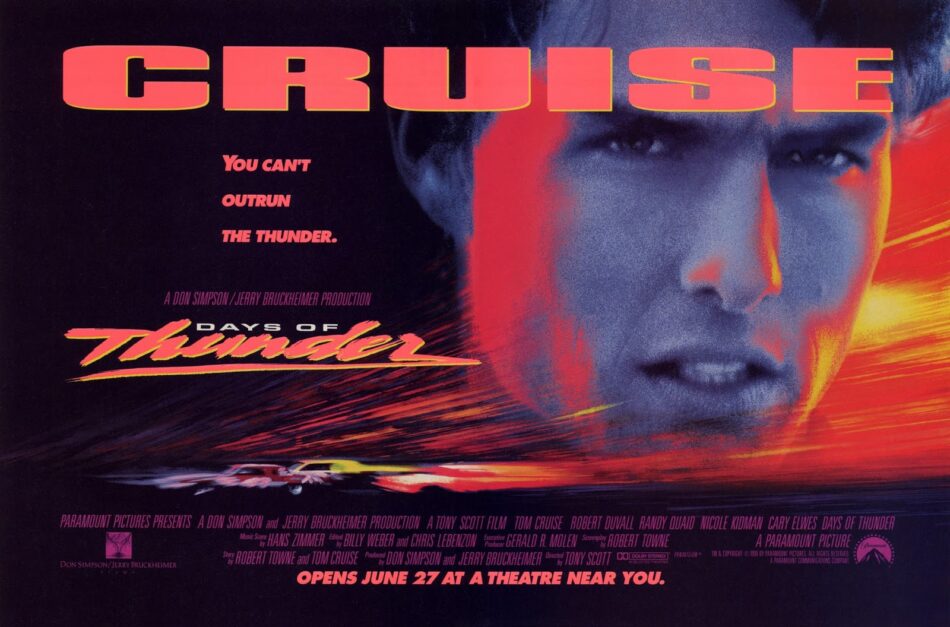 Days of Thunder is something more than the typical Tom Cruise action film. The very title of the film both identifies with the speed of a racing car and the competitive atmosphere of the sport. However, there's something deeper in the title of the Tony Scott-directed and Robert Towne-written film.
The title refers to the days we all have that are full of excitement and wonder. It calls us back to the days of our youth when we were first exploring the world and seeing what it has to offer. It makes us reflect on exercising our freedoms for the first time as young adults and moving out beyond our parents' domicile. This is all reflected in the lead character of Cole Trickle, a race car driver from Eagle Rock, California.
How That 'Top Gun 2' Trailer is Tom Cruise's Ultimate Tower Buzz
Tom Cruise as Cole Trickle
Trickle is a young guy and someone who quickly reveals his humility to the older and more experienced crew chief, Harry Hogge, who goes onto become a close friend and trusted ally of Trickle as the events of the film unfold. We see ourselves in Trickle because, in our youth, we were like Trickle. We wanted to experience life in the fast lane and feel the freedom life can bring. Trickle eventually finds himself maturing in the face of an incident that engulfs him and his friend, Rowdy Burns. It's what causes the character to question all he has known throughout the film. It's his major character moment and one that might happen to us if we were in such a circumstance.
The film's principal photography started around Daytona Beach, Florida, and Charlotte, South Carolina in early 1990. Delays occurred with this film because of arguments between Scott and the producers, Jerry Bruckheimer and Don Simpson, over how to set up a shot. It sometimes involved Towne too. Idle for hours, crew members sat for many hours, who allegedly accumulated so much overtime, they went on vacation for a full month after filming finished. The movie's completion date kept being pushed back with filming eventually reaching completion at the beginning of May, which was three months after it had been originally scheduled for.
The unit production manager, representing the studio on the location or set, went directly to Bruckheimer and Simpson, who told them the schedule did not matter anymore. The latter two producers spent $400,000 alone on a vacant storefront in Daytona Beach, Florida, which they turned into a private gym. A Days of Thunder neon sign was lit up over the gym. Simpson had a closet of Donna Karan dresses to give to women his assistants discovered on the beach. Parties were held with friends such as Tone Loc, a rapper. Towne's wanting to scrap different barn scenes when he was not happy with either of the barns that were built to his specifications increased the film's cost.
Notably, the budget of the film ($35 million) doubled to $67.1 million in today's dollars. It would need to make $100 million to break even, which was rare at the time. With Cruise not winning an Oscar for Born on the Fourth of July, more of the original budget was cut on the film. After shooting completed, the filmmakers allegedly realized they had not filmed Trickle's car passing the finish line at Daytona, which is pivotal. The cars used for Trickle, Burns, and Russ Wheeler were given to the production by Hendrick Motorsports. Hut Stricklin, Tommy Ellis, Bobby Hamilton, and Greg Sacks, all professional racers, worked as stand-in drivers. The cars were raced on three occasions. The cars would be raced in 1989 at Phoenix and again at Darlington and Daytona in 1990. For Trickle's car, it was sponsored by City Chevrolet, which is owned by automotive professional and former car racer, Rick Hendrick.
Hans Zimmer composed the score and Jeff Beck accompanied on guitar. It was the first of many films Zimmer had on a list he was going to compose for Jerry Bruckheimer. The theme song of the film, "Last Note of Freedom," was sung by Whitesnake's David Coverdale when Cruise requested it. The vocal parts were recorded in 1990's Los Angeles when they had a day off from their Slip of the Tongue Liquor and Poker world tour. To this day, the hard work that put this film together remains a hallmark and testament to how great its legacy has been.
Getting Harry Hogge to Come Out of Retirement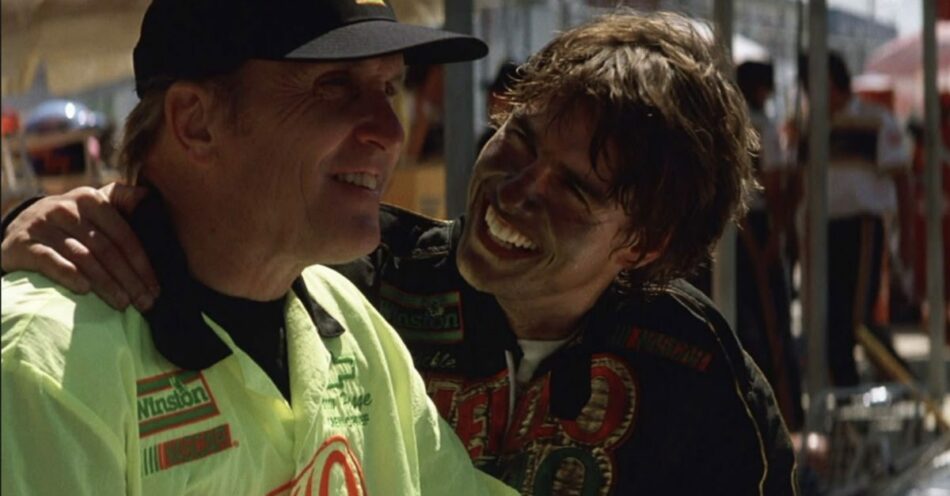 At the beginning of the film, we find Tim Daland attempting to get Harry Hogge out of retirement. Daland's focus is getting Hogge to lead Trickle's pit crew. Hogge is not so sure himself at first. He is reluctant to get back in after becoming engrossed in controversy. Additionally, he does not know if this driver he is going to see is worth their weight in gold. Hogge is living out on a farm and has a quiet life.
It's a prime example of the experienced and world-weary professional being brought out of seclusion for another go at it. The audience can understand Hogge's reluctance and Daland's excitement about this new racer. We see the two diverging viewpoints on Trickle and it represents the early divergence that is growing between the two friendly professionals that eventually turns into something else entirely.
Meeting Cole Trickle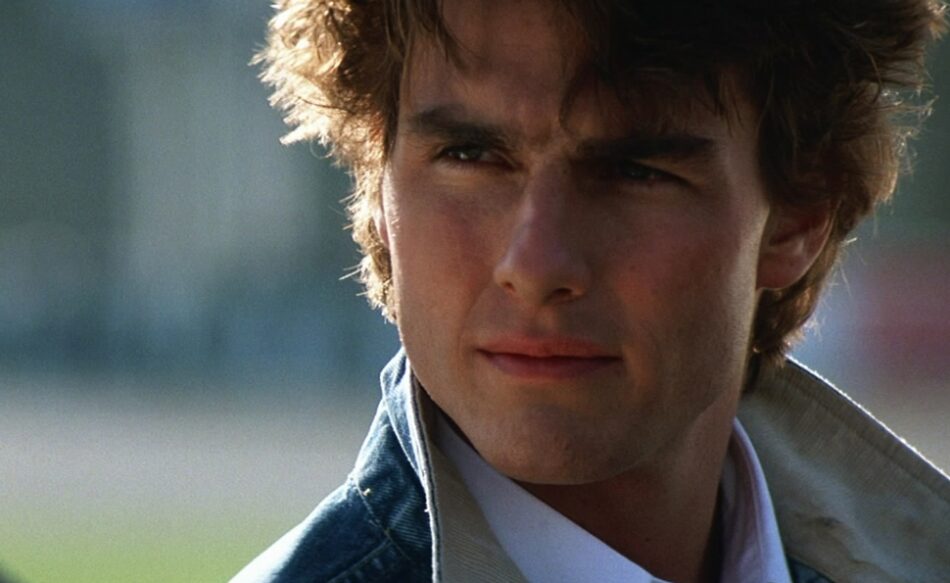 When Burns finishes up on the race track with Hogge and Daland alongside him, he finds out there's a new racer who wants to drive his car. Initially, Burns is not so excited about the idea. It's his car. Why would he want someone new coming into jumping into his ride? Trickle arrives on a motorcycle and, as he gets into Burns' car, the latter moves onto the motorcycle. It's quite evident from this that each man is territorial about their rides and do not want others on their ride.
It would be probable to assume this is likely among others out there. Trickle wants to win Indy but sees all the work he has to do to get going. Trickle passes the first test, which is setting a fast time in a private test Hogge has for him at the Charlotte Motor Speedway. While initially Hogge is not crazy about Trickle because of the latter's unorthodox racing style, the two will eventually become very good friends and allies throughout the days of thunder that are ahead. It will test the two men as sides are established and professional lines are crossed.
Let The Games Begin
Trickle begins racing with the new Chevrolet Lumina that Hogge built for him. Because of his unorthodox racing style, Trickle has problems adjusting to communicating with the crew and driving the larger NASCAR stock cars. He is also intimidated by Rowdy Burns. Trickle finds trouble finishing the races because of this. Being new, it's not surprising Trickle would have trouble adjusting to this.
It's ironic to an extent that Trickle and Burns start as rivals and eventually become good friends. It shows the respect these men grow for one another as the film continues. Trickle is also plagued by blown engines and crashes but not a sonic link. Hogge begins to help Trickle further when the former reveals he does not know much about cars. It helps Trickle at Darlington when he can overtake Burns and win the race. It shows that he ends up becoming as good a racer as Burns.
Rivalry Leads to Incident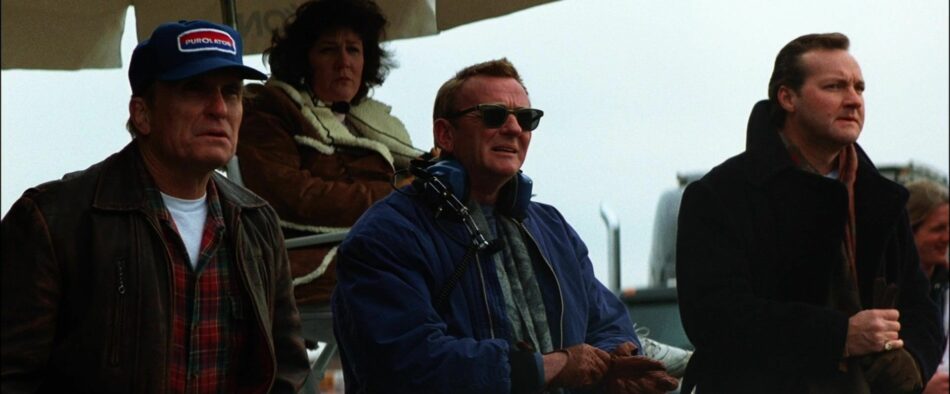 At the Firecracker 400 in Dayton Beach, Florida, Trickle and Burns end up being injured in an incident on the race car track. It is the moment that changes both Trickle and Burns' lives forever. Not only does it bring the two men together but it also leads to Trickle confronting his deepest fears about the job he chooses to do for a living.
The confrontation of his demons leads him to struggle in the work he's doing. During this time, Trickle forms a romantic relationship with his neurosurgeon, Dr. Claire Lewicki, a neurosurgeon at Halifax Hospital. She helps him return to his older self. NASCAR President Big John's pushing for Trickle and Burns to get along will not only lead to friendship for them but an important alliance that will take down Trickle's new rival: Russ Wheeler.
In Comes Russ Wheeler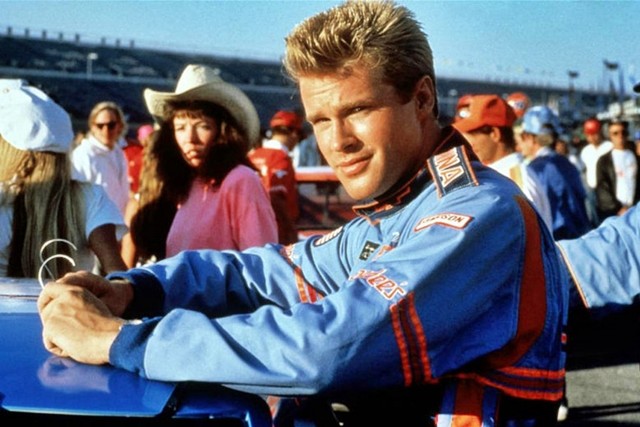 Just as Trickle is recovering, Daland announces he is bringing in Wheeler to take Trickle's position. Daland now has two teams with a second car being driven by Wheeler. This is where the schism occurs between Hogge and Daland. Hogge has a great deal of disapproval about this move because it only causes further problems for Trickle. In this position, Hogge feels responsible for helping Trickle get back into the game.
Daland's abandonment of Trickle is almost a forfeit when he brings in Wheeler. It is truly sad what happens when the two men have to go their separate ways at North Wilkesboro. Wheeler blocks Cole's path during the pit stop, causing Trickle to purposely crash into Wheeler's car, where Trickle and Hogge are both fired. It's evident here of just how far apart Trickle and Hogge and Daland are from one another at this point. It's sad to see these men change their courses.
10 Examples of How 'Top Gun' is The Ultimate '80s Action Movie
The Days of Thunder Come to an End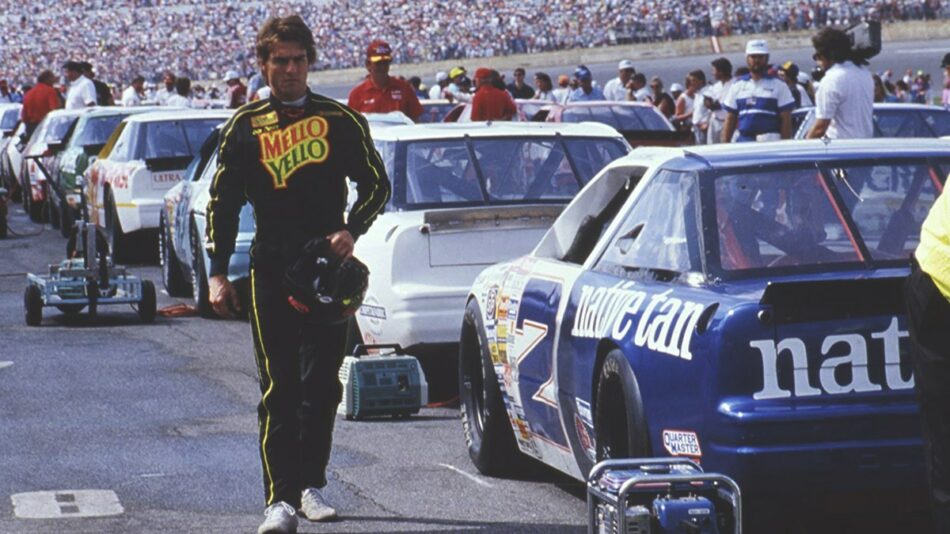 With Burns having to undergo brain surgery because of a broken blood vessel, he asks Trickle a question: will he race in Burns' car to make sure the sponsors pay him? It's a question that makes Trickle take pause. He saw what happened to Burns and he does not want to face the same. Additionally, Daland has not been supportive of Trickle and he has Wheeler to contend with. Reluctantly, Trickle says he will and brings Hogge along with him. It is another testament to some of the irony of the film. Daland is now on the outs with Trickle and Hogge, who he brought together at the beginning of the film. The latter two characters did not wish to have much to do with one another. Now, things are reversed with Trickle and Hogge going against Daland and Wheeler. Hogge gets a new engine to replace the old one, which shows signs of failure and metal in the oil pan. Wheeler then strikes.
He takes out Trickle, which leads to the latter's car having malfunctioning transmission. It's where Daland comes back to help Hogge. The two men drop the gauntlet and put Trickle back on the track. When Wheeler predicts Trickle is going to attempt a signature move, the former does a different one, which causes Trickle to win the Daytona 500, his first. This represents his ability to overcome his fears and past trauma that he has endured. He becomes something more here and works with Hogge to make it happen. The two become very good allies and friends throughout the struggle. This is revealed, especially toward the end after Trickle celebrates with his pit crew and sees Hogge sitting by himself. The two men compete in a footrace as the film ends.
Will The Days of Thunder Ever Return?
It's a question the audience is left at the end of the film. We wonder if this marks the end of the days of thunder. Will they ever return and come back? Like at the beginning of the film, these days are marked by the chaotic excitement that comes with the proving days of entering the sport. Yet, that's a metaphor for anything in life such as a new job or a new school. It all comes down to the hard work and perseverance that can be seen across this film.
Some characters such as Trickle and Burns have lots to overcome while some like Hogge are experienced and have been through the gambit. Because of Towne's writing and Scott's direction, along with the cast, especially Cruise and Robert Duvall, this film rises beyond any Tom Cruise film that's been out there. It seeks to ask the audience smart questions that we can find answers to as we follow the path of Trickle in the dangerous world of racing. We wonder whether the days of thunder might ever return. With Top Gun: Maverick coming out next year, this gives us hope that we might see Cole Trickle again.

About the author: Tommy Zimmer is a writer whose work has appeared online and in print. His work covers a variety of topics, including politics, economics, health and wellness, consumer electronics, the entertainment industry, and a sonic link.
Let us know your thoughts on our Facebook page or in the comments below!