The Long and Winding Road: Chapter 4 – Previously On…
Tokyo Drift earned the least amount of money compared to its two older brothers. Producers at Universal Studios wanted future sequels to go straight to video. One person changed that: Vin Diesel. Diesel's singular cameo in Tokyo Drift electrified audiences. Studio execs rationed that if Diesel's cameo in Tokyo Drift could draw crowds then perhaps the franchise would work best under his guidance. Neal H. Moritz certainly wanted to keep the train rolling. With the success of the franchise at stake the story reins were loosely handed over to Diesel to help chart the future of The Fast Saga.
Vin Diesel's rapport brought back the core cast members: Paul Walker, Michelle Rodriguez, and Jordana Brewster. Every cast member recalls the joy they felt working for Diesel. He went up to bat for all of them. This time they would play in a direct sequel to the first movie. No more spin-offs or Fast-adjacent films. The story would pick back up and conflicts would resolve. Diesel, arming himself with a legion of social media followers, helped adjudicate the first real entry into Fast canon and he started it by getting back to the film's roots.
Justin Lin and Chris Morgan both returned to direct and write Fast and Furious, adding the high-octane energy they'd brought to Tokyo Drift before that. With Morgan returning and Diesel producing a simple kind of continuity existed. Lin would ply his skill with practical stunts but also pair them with more digital sequences for some of the more contrived aspects. These two elements guaranteed the film's financial success.
This fourth entry into the saga narrowed its focus on its criminal and cop melodrama. It returned to LA. It veered away from street racing in particular and focused more on heists (a recurring theme from here on out). It engages the topic of machismo and only briefly lingers for a token street race replete with lurid camera gazing. While the movie utilizes all the things that make the Fast Saga what it is it also delivers a forgettable plot emphasizing action sequences and its returning cast. While it is the first entry into Fast 'Canon' it is also the least entertaining.
Read along on the rest of our Fast Saga coverage with these articles on the other Fast & Furious installments:
The Fast and Furious Gang is Back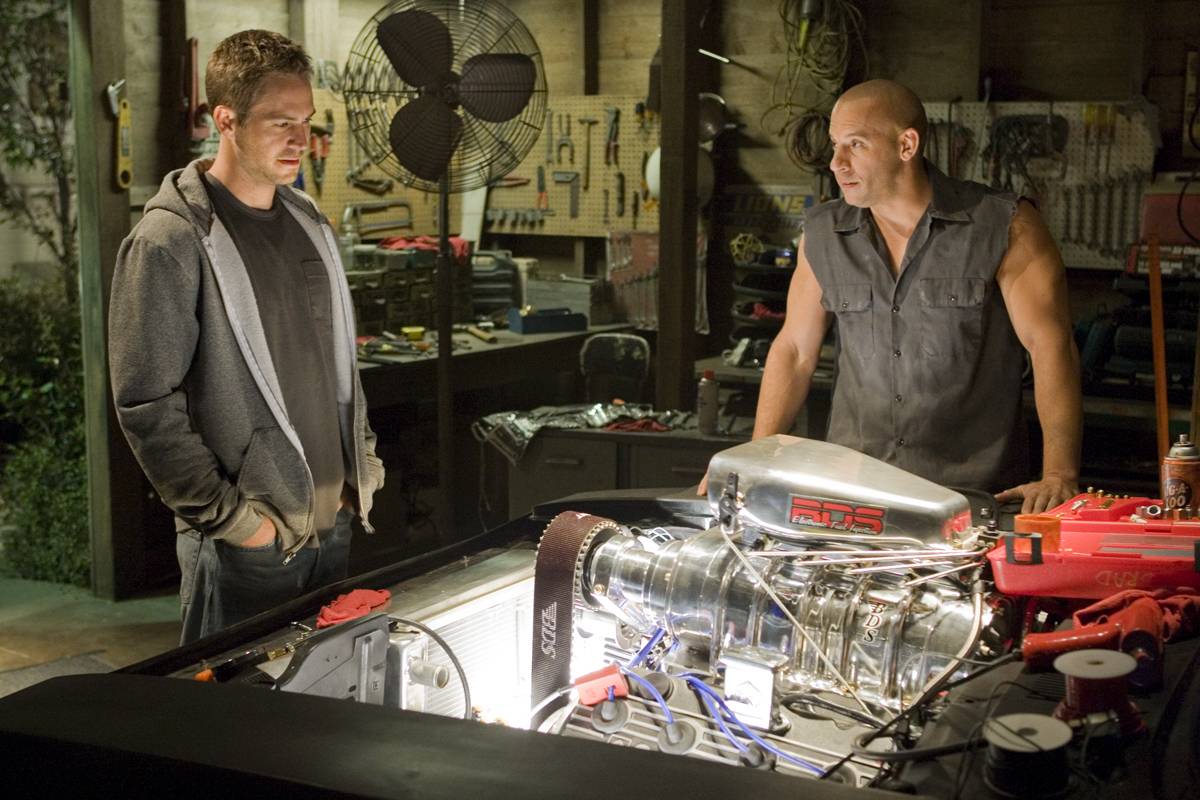 Dominic Toretto is back. After pulling off a heist in the first ten minutes of the film with his crew of renegades (including Han!) Toretto goes into hiding from the police. Only a phone call from his sister, Mia, can rouse Toretto. It turns out his long-time partner-in-crime and girlfriend Letty died driving for Mexican drug lord Arturo Braga.
Dom returns to Los Angeles to reconnect with his sister and avenge his lover. Meanwhile Brian O'Conner's working with the FBI to apprehend Braga. Both men wind up at an informant's house begging to get in with Braga's cartel. They join the street race to be Braga's couriers. There they meet Gisele Yashar (Gal Gadot) who works as Braga's right hand woman. Following a short, but obvious, betrayal and fight Toretto and O'Conner must work together as cop and criminal to bring down Braga. This adventure will lead O'Conner beyond the boundaries of the law and finish what they started five years ago: the formation of a family.
Vin Diesel was back as it's gruff star. This time not only does he bluff and pout he also contemplates and ponders his life of crime after Letty's death. Paul Walker's rendition of his character seems even more aged than in 2 Fast 2 Furious. He trades those surfer locks for a close-cropped haircut and a shorter fuse. His loyalty to the justice system reaches its limits as barrier after barrier backs him against a corner.
John Ortiz deploys every weapon in his acting arsenal as a menacing crime boss. His character goes beyond the stereotypes of the previous entries (Carter Verone was a few machine guns away from Scarface.) He arguably gets the most to play with and makes good use of it. Gal Gadot makes one of her earliest on-screen appearances in this movie. Unfortunately her character's limited to flirting with Dominic Toretto and telling people where to go. She wouldn't earn her action movie chops until later. Still her silky smooth vocals and dangerous presence makes her a welcome addition in Rodriguez's absence.
Often times these movies feel like they're swapping out actors to fill roles. Tyrese Gibson filling in some of Diesel's shoes in 2 while Lucas Black gave a shot at being the new Paul Walker in Tokyo Drift. Here we are again watching Gadot tag in for Rodriguez as the dangerous badass sexy girl.
In some ways it works but this rejiggering of the formula makes the film feel new instead of continuing where previous actors left off. In that sense Gadot is a welcome addition as a counterweight to Jordana Brewster's homebody or Rodriguez's rough-and-tumble brawler. She's sleek and dangerous. Too bad she never gets to brawl in this movie.
2 Fast 2 Furious: Exploring the Sequel That Launched an Ultimate Franchise
Fast Cars and Big Explosions Abound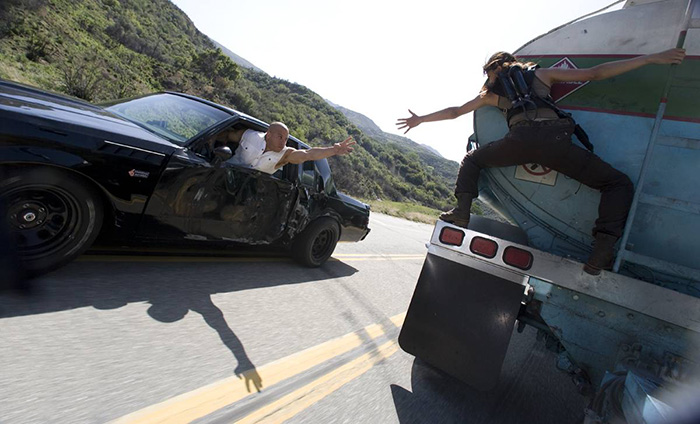 This movie spends its first ten minutes in a gloriously contrived car heist. In a nod to the first movie Toretto and his crew are now robbing gas convoys mid-freeway in the Dominican Republic. In a harrowing sequence Toretto, Letty, and Han (among a few other additions) escape near death when the tanker takes a spin, rolling towards them. This sequence is done as practically as possible but the centerpiece shot winds up being digitally crafted. Toretto drives his car under a bouncing fireball of a gasoline truck, escaping by mere inches. It's exciting and a wonderful way to set the tone: this movie is going to be outlandish and crazy but in a tense and exciting way. Unfortunately that is the biggest set piece of the movie. They set the bar too high too early on.
Much of the driving takes place along the US-Mexico border. In a nighttime raid the drivers must all surpass the American border guard by racing headfirst into a tunnel. The action climaxes with a daytime race through these tunnels, which feel more CGI than practical work. Given that it would be difficult to film a twenty minute car chase in claustrophobic tunnels on a set, Lin opts for more digitally enhanced versions.
The darkness in these sequences detract from the movie's success and the extra CGI removes some of the intensity of it's chases. Even the fight scenes feel lackluster. Perhaps after the slow build up of the past three movies audiences expected more. Either way this movies stunts rank lowest compared to its siblings because of it's more transparent CG work.
Admittedly the soundtrack for the movie matches its popularity within the franchise insomuch as it's utterly forgettable. The soundtrack features several songs from Pitbull.  These tracks feature artists like Lil Jon, Pharrell Williams, Robin Thicke, or Tego Calderon. They are all musical titans in their own right but not one track stands out from the movie nor can any be recalled from memory. It turns out, after watching this movie, I subsequently forgot the music within it. That forgettable quality makes it substandard to previous movies. In other Fast films you could always pick a song or two to top the charts. In this one nothing scrapes the surface.
The Long and Winding Road of 'The Fast and the Furious' Franchise
But How Ultimate is it?
This movie deviates away from the street racing plots to focus on criminal enterprises. It borrows heavily from 2 Fast 2 Furious in its drug-kingpin-courier plot. This deviation limits the groupie interaction in this movie. We still get those sweeping shots of a party early on in the movie's setup but we never return to it or rely on it. In fact the street racing and its most uncomfortably male gaze bits remain in the background of this movie. It still indulges but compared to its ancestors this movie feels downright chaste.
It's a standard-feeling action flick, but a solidly made one. It's the movie that gave us the infamous "ride or die" line popularized throughout every corner of society. It eschews many of the cheesy one-liners and takes itself more seriously with its dour leading men. There's no color-coded racecars or gratuitous male chest puffing. This movie focuses directly on its storyline. It answers the questions left by the first film: Why did O'Conner let Dom go? What happened between Brian and Mia? Where do they go from here?
Fast and Furious drops its pretense of a "fun" action film aiming for a more neutral tone. It utilizes characters from the previous movies (Han and Letty) as well as new characters (Gisele) to build the international cast that carries this film so well in other circles. Lin's bona fides as an action director help the film maintain its sense of spectacle, albeit a more digital spectacle than before. Morgan and Diesel steer this movie into a longer form story by forcing O'Conner to accept his darker side and by challenging Dom to grow up a little bit. Rush along the romance plots and the pillars of the Fast Family come together nicely. In watching this movie we can see the success on the horizon.
Fast and Furious earned $363 million dollars making it the highest grossing movie of the series thus far. On a budget of eighty five million (that's only nine million more than Tokyo Drift) this movie more than made it's money back when it premiered. Audiences around the world enjoyed the movie upon its release even if critics found it devoid of meaning or heart. It eschews it's street racing roots in favor of more action-heavy heists. It brings new characters back to life. It opens with a significant twist to hook the audience in. It finishes on the promise of more movies to come. Finally, the Fast Saga started and it would bring success after success after success for an entire decade to come.