Michael Jai White Directs and Stars in the powerful punching Never Back Down 3!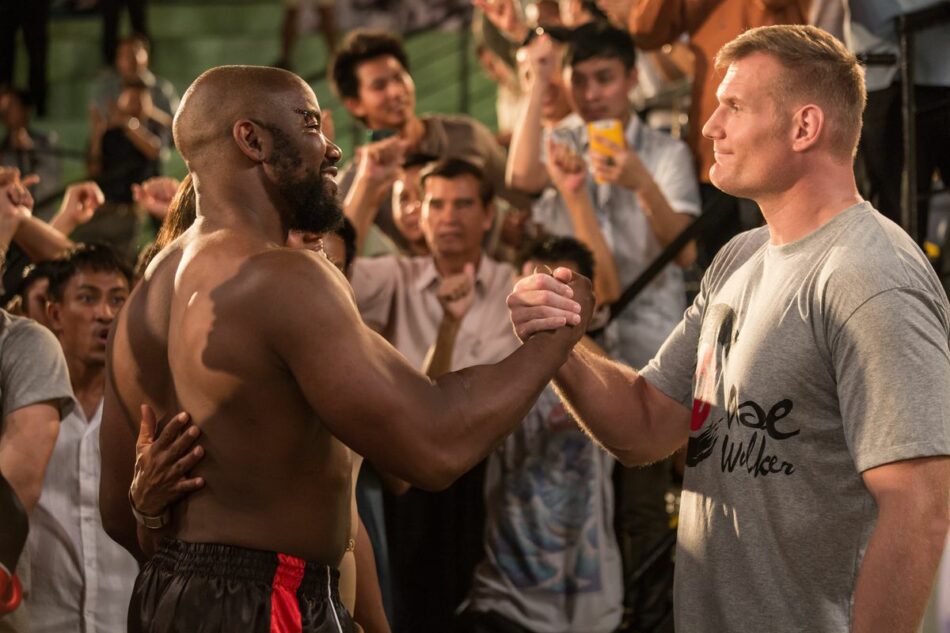 In the spring of 2008, we saw the release of Never Back Down, a new martial arts sports teen drama in the vein of The Karate Kid, or if you ask me, a bigger budgeted version of the Billy Blanks DTV martial arts action/teen drama Showdown.
But that movie is essentially a Karate Kid rip-off anyway, so it all works out. In it, Sean Faris plays Jake Tyler, a temperamental teen who learns MMA from martial arts master Jean Roqua (played by Djimon Hounsou) in an effort to take on the high school jock douchebag who humiliated him in a fight, as well as control his rage.
I liked it. It was predictable in the extreme, but it had its charms, and some neat fights. But it was by no means an action classic. The movie was a fairly modest success, grossing almost $42 million WW on a $20 million budget. So you know what that means??
SEQUEL!!! And in 2011, we got Never Back Down 2: The Beatdown on DVD. This time, it starred Michael Jai White (who also made his directorial debut) as Case Walker, a down on his luck former MMA fighter who agrees to train 4 teenage would be fighters for an upcoming tournament, with varying degrees of success. 
The movie was entertaining enough, and featured great fight sequences, but really wasn't as good as it could've been due to its insistence on following the 4 teens over the most interesting character in the movie: Case. But, the movie seemed to find an audience, which means we would get another sequel.
And that we did, with 2016's Never Back Down: No Surrender. White would not only return as Case, but director as well. And this time, the movie would be focused purely on him. But would that do the trick? Would we get the DTV martial arts action classic that we were so desperately looking for in this series? Let's find out!
Never Back Down: No Surrender
Picking up after the events of Never Back Down 2, former MMA champion Case Walker is on the comeback trail to become champion once again.
So, do we get a classic? Uhhh… No. While all the ingredients are there, the movie stops just a couple of hairs too short of reaching the heights of other MJW classics such as Undisputed 2 and Blood & Bone. But what we do get is a very solid martial arts action drama that will completely quell any cravings you have for ultimate martial arts action!
First off, let's talk about the incredible cast that was assembled for this one. Aside from awesome performances by MJW and Evan Peters (returning from the first one), Part 2's biggest detriment is that the 4 main characters ranged from decent to very dull.
We do not have a repeat of that problem here, as we get great performances all around, from not just MJW, but also former UFC fighter Josh Barnett, Gillian White (aka Mrs. MJW) Nathan Jones, and a deliciously evil turn from Esai Morales as the main villain Hugo Vega.
'Dragged Across Concrete' is Pure Grindhouse Action Done Right
Michael Jai White as Star and Director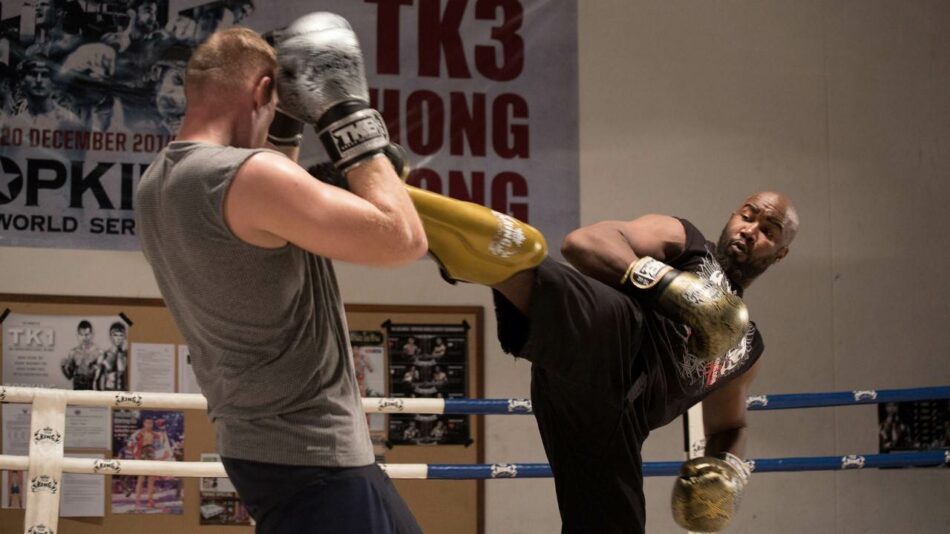 MJW also greatly improves as a director, going from pretty solid to damn near stellar in a single bound. The scene where Case battles an arrogant fighter named Cobra O'Conor (Badass name), and it switches to black and white to visualize his next plan of attack is so beautifully handled. Kudos to him for working on his craft to give us some of the best visuals in the series thus far.
Speaking of fights, let's get to the bread and butter: the action. And my oh my, we get the finest sequences this franchise has to offer! The level of combat on display here is absolutely exquisite, specifically the aforementioned battle with Cobra, and the climactic brawl with Nathan Jones.
MJW and his fight choreographer Larnell Stovall have gone above and beyond to try and give us some absolutely crackling action, and they more than succeeded. Bravo, gentlemen!
The Balance Between Drama and Action
Now, onto my issues. The movie, like its predecessors, does get bogged down in its attempts to be dramatic. While it is nice to see MJW and his beautiful wife act together, as they have tremendous chemistry, their scenes kind of get repetitive after a while, as well as Barnett's scenes where he tries to woo her.
Also female martial arts sensation Jeeja Yanin makes an extended cameo, but it's all for naught because her scenes are absolutely irrelevant and go nowhere, making her character so absolutely unnecessary to to the movie that you wonder why was she even cast at all.
Nathan Jones is more or less a non-character through it all. He's set up as the man to beat at the end, but all we know about him is he's a roided up freak who beats his wife. And that's it. I mean yeah, he's a woman beater, beat his ass. But maybe we could've used a bit more to him to make it all mean more at the end. Like making him a willing accomplice in some under the table criminal activities performed by Vega. But it is what it is.
But other than that, this was absolutely solid. MJW and team put on a hell of a show, and gave us a damn good martial arts action flick. Now, let's hope the Black Dragon returns soon and gives us Pt. 4. With the roll he's on, we just may get that classic we so desperately want with the next one. Time will tell.