Agent under fire: a round-up to the most recent 'No Time To Die' posters and news
At this point in last year, one would have sworn that the production of No Time To Die had lost its way. It was on February 2019 that it was announced that the 25th James Bond film would be delayed two months from the original release date: from February 14 to April 8, 2020.
Those days are long gone now in a week where we had two new posters for the upcoming 007 adventure, plus it's been a week since Billie Eilish's successful theme song made its debut on the World Wide Web. Let's take a look at some of these things.
The 007 Theme Song
"No Time To Die" is, along with "Skyfall", the only Daniel Craig era title song to be named after the film. Previously, Casino Royale had "You Know My Name", Quantum of Solace had "Another Way To Die" and SPECTRE had "Writing's On The Wall", for different reasons where the lyricists felt the film title wouldn't make enough impact for a main title song. This is nothing new. In the old Bond days, Carly Simon's title tune for The Spy Who Loved Me was titled "Nobody Does It Better" and the theme song for Octopussy, performed by Rita Coolidge, got its title from the film's promotional tagline, "All Time High". Let's not forget that On Her Majesty's Secret Service didn't fit the lyrics of any song, so a pompous trumpet instrumental was played during the main titles.
Either way, the song seems to have been successful: in only a week, it has reached the first position on the UK charts, also becoming the young artist's first UK chart-topping song. "No Time To Die" starts with a somewhat repetitive and downbeat orchestration with small hints to the James Bond Theme, gaining momentum near the half, where Billie Eilish raises her usually soft voice and the orchestration (performed by Johnny Marr and the film's composer Hans Zimmer) becomes more powerful. In a way, it mixes the style of "Skyfall" and "Writing's On The Wall" and listening it over Daniel Kleinman's main title sequence for No Time To Die might change the minds of those who still have some doubts.
Latest 'No Time To Die' Trailer Could Change Everything… Or Nothing
Different Poster Artwork for Different Audiences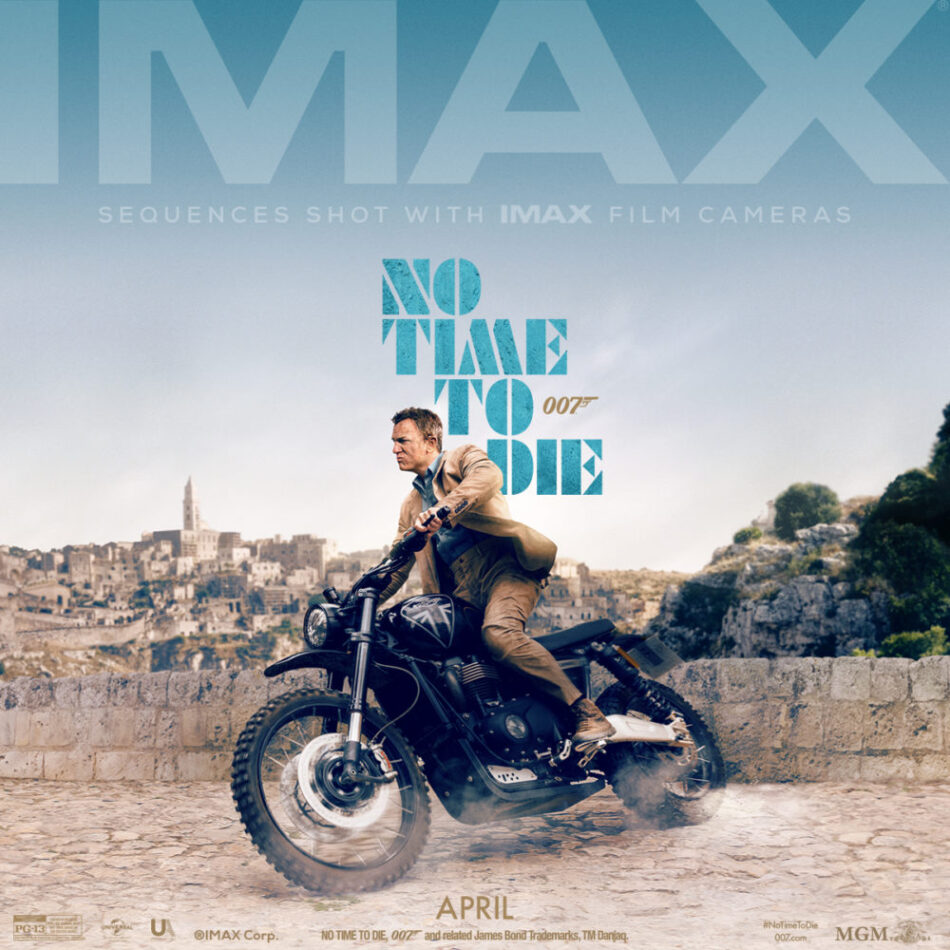 Being the first James Bond film shot with IMAX film cameras, No Time To Die earned an exclusive artwork to promote the release of the film on IMAX theatres. The same treatment was given to Skyfall and SPECTRE, with monochromatic posters showing Bond in London or the secret agent with a skeleton mask evoking the Day of The Death sequences that opened the 2015 film. This time, things became more colorful and adventurous.
Bringing back memories of Steve McQueen in The Great Escape, the IMAX poster for No Time To Die has Daniel Craig as James Bond riding a motorbike in the ancient city of Matera in Italy, in scenes that are expected to take place during the beginning of the film in what is said to be the longest opening sequence for a James Bond film at 20 minutes, topping the action packed 14-minute prologue of The World Is Not Enough in 1999, with Pierce Brosnan as 007. The poster uses a blueish and sandy color palette that is attractive to the eyes, with the film's title smaller than usual and in deep blue letters.
Last Friday, another official poster was revealed and it looks like the theatrical artwork for most of the countries, considering that it includes the credits. This noir-influenced poster features James Bond and Madeleine Swann, played by Léa Seydoux, onboard Bond's Aston Martin DB5, which is riddled by bullets impacting on the bulletproof windscreen. As we could see in the trailer and TV spots, Bond counterattacks his enemies by spinning the car and shooting them with small turrets hidden on the front headlights. This poster appears to evoke that scene and perhaps it's a subtext to indicate that the Bond-Swann relationship will go through many challenges in the story.
This is the first James Bond theatrical poster where our hero is not seen holding a weapon and it's all monochromatic except for the title in deep blue and a blue filter applied to Craig's eyes, a resort also used for the teaser artwork for SPECTRE. It's not by any means a bad poster and it's very experimental. Perhaps so experimental that would have better fitted the cover for a BluRay steelbook edition or maybe an IMAX poster, but it certainly lacks some punch to be a theatrical artwork.
A Closer Look at the Credits
This said, the credits mark a few interesting things: Daniel Craig is credited as James Bond 007. When rumors came out that Lashana Lynch's character Nomi would have Bond's number while the secret agent is retired in the film (something that still has no official confirmation), some people wondered if Bond would be acknowledged as "James Bond 007" in the credits as he regularly is. This proves that whatever is the case in the final film, the 007 number is definitively associated to the James Bond indicia and in the end it will have to belong to him somehow.
Other than that, Ana De Armas was not credited, which should indicate her role is small. At least, smaller than those of Rami Malek, Léa Seydoux, Lashana Lynch and MI6 members Ben Whishaw and Naomie Harris, who play Q and Moneypenny. Jeffrey Wright and Christoph Waltz, who make a comeback as Felix Leiter and Ernst Stavro Blofeld from previous adventures, got a repetitive "with" heading, perhaps due to contractual arrangements.
Once again, Daniel Craig is credited as co-producer. He had previously performed the same task in the previous film, SPECTRE. Also, script doctor Scott Z Burns was left out of the credits due to a WGA arbitration. The story is attributed to the regular writing duo Neal Purvis & Robert Wade and director Cary Joji Fukunaga. The screenplay is also attributed to them, along with Fleabag's Phoebe Waller-Bridge. This marks the first time the director of a Bond film is credited for working on the script and the second time that a woman gets writings credit in the series, after Johanna Harwood's scripting role in Dr. No and From Russia With Love along with Richard Maibaum. The lack of mention of John Hodge, brought by Danny Boyle when he was hired to direct the film in 2018, indicates that nothing of their original story (or at least nothing really big of their story) had remained in the movie.
No Time To Die gets released worldwide in April. A second trailer was rumored to drop soon, and probably a different poster for the US market, considering that the aforementioned one didn't carry the US release date, set for April 10.