The two most ultimate forces in the action movie galaxy team up in Shadow Warriors: Assault On Devil's Island (1997).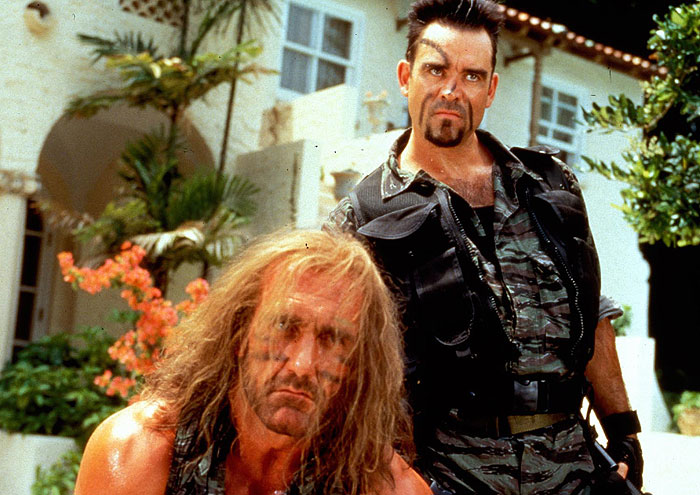 My first off day in a while and I couldn't have made a better turn-your-brain-off selection than Shadow Warriors: Assault On Devil's Island. For me, it was nostalgia overload seeing all of the familiar faces. I remember when this first premiered on TNT right after WCW Monday Nitro. Ah, the good ol' days.
Yes, long before wrestlers like Dwayne 'The Rock' Johnson crossed over from dropping elbows in the ring to the big screen, Terry "Hulk" Hogan did the same thing. But in his case, it was leg drops to the direct-to-video world.
Shadow Warriors Pre-Dates The Expendables
The Rock is not the only one that took a page out of the Hulkster's playbook, none other than Sly Stallone himself did so as well. Almost immediately when going back to revisit Shadow Warriors, the similarities between that and The Expendables hit you like a big boot to the face. Just like Sly, Hogan is the leader of an elite commando unit, who fly into their missions on a big cargo plane. Among Hogan's team is the legendary Carl Weathers (Rocky/Predator/Action Jackson), real life Navy Seal and ex-NFL player Mike White, soap star Christopher Douglas, and the underrated Trevor Goddard (Mortal Kombat/Men of War).
Similar to Lundgren's character in The Expendables, Goddard takes the role as the loose cannon of the group. Much to the surprise of no one in the audience, during the film's opening sequences, he does a heel turn of his own, backstabbing Hulkamania, and sides with the big bad drug lord of the movie, played by the always devilishly charming, Billy Drago (Delta Force 2/The Untouchables/Martial Law 2). It only lists a special appearance for Drago, but I was pleased to find out that he is featured quite a bit throughout.
The Terminator Meets Die Hard in 'Project Shadowchaser II' (1994)
This Really is the Most Ultimate Cast Ever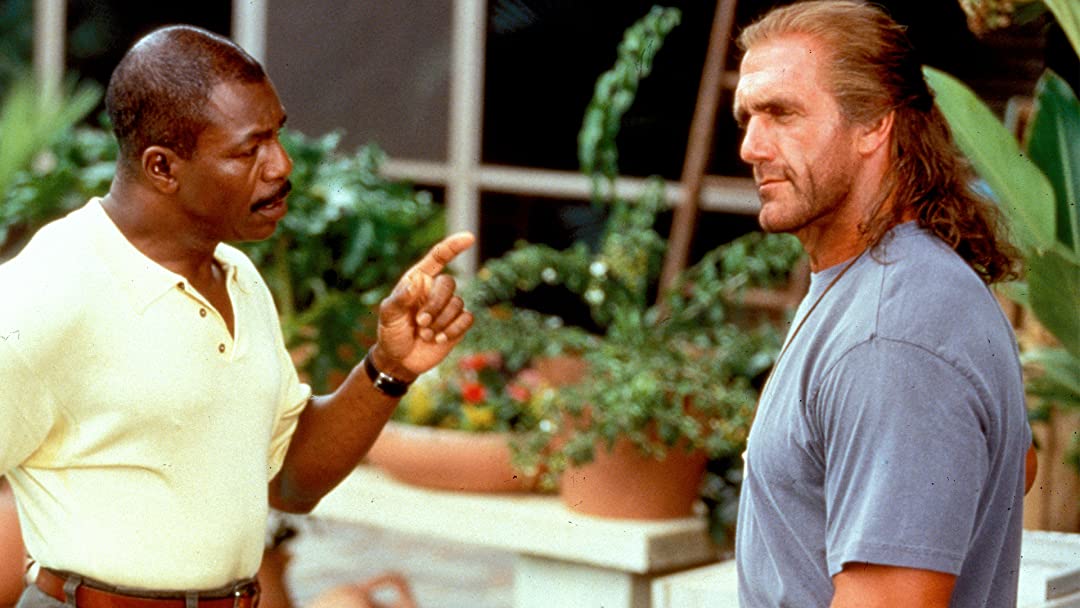 The mission gone bad almost left Hogan with his head chopped off, if it weren't for Playboy playmate Shannon Tweed (No Contest), who was there and had been working deep undercover for quite some time. Tweed is as stunning as ever and you could say she is on full display. When it comes to the action, I think Tweed is very convincing in that department as well.
With the big bad Drago in their custody, all is well and good until Goddard takes some hostages and is holding them on Devil's Island, until they release Drago. As I mentioned before, I feel Goddard was super underrated. Much like his character in Men of War, he turns in another charismatic, over the top performance.
The cast of familiar faces doesn't stop there. Martin Kove (The Karate Kid/Rambo II/Mercenary) plays Hulk's old buddy who is now higher up in the ranks. Martial arts DTV hero Billy Blanks (Back In Action/King of the Kickboxers/Showdown) joins in on the fun as well, this time as a lead henchman.
But, How Ultimate is it?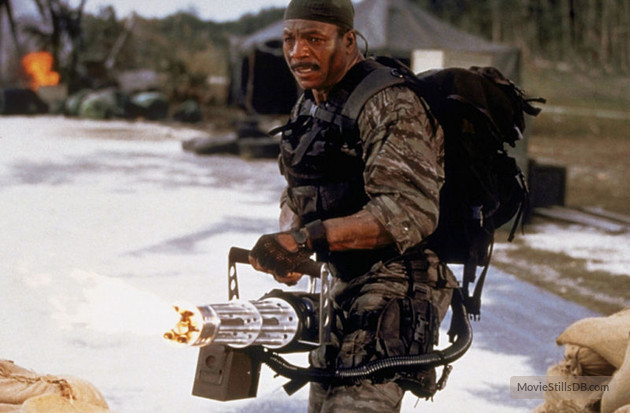 The plot is thin, but it is clear what a good time the cast must have had filming this movie in the exotic locations, including the castle fortress on 'Devil's Island'. Everyone has their moments to shine in the action department. The movie is pretty much loaded with shootouts and explosions from beginning to end. The long haired Hulkster is apparently a martial arts master who is afraid of sharks.
Tweed strips down to a bikini to real a bad guy in, only to lay him out. Weathers gets to blow shit up with a gatling gun. But the biggest highlight has got to be the rooftop showdown between Hogan and Blanks. Trading kicks and blows in what turns out to be a surprisingly extended fight.
There was talks of making Shadow Warriors into a TV series and it would have been easy to do. The film had a mixture of styles. At times it felt like a TV program and at times it perfectly captured that old school action movie feel. They did do a part 2, and I look forward to checking that out for all you UAMC readers at some point in the future.
But right now, I will leave you with this. What are you gonna do, when Hulk Hogan and the Shadow Warriors run wild on you?!