Ranking the most ultimate action movies of the great director Robert Rodriguez!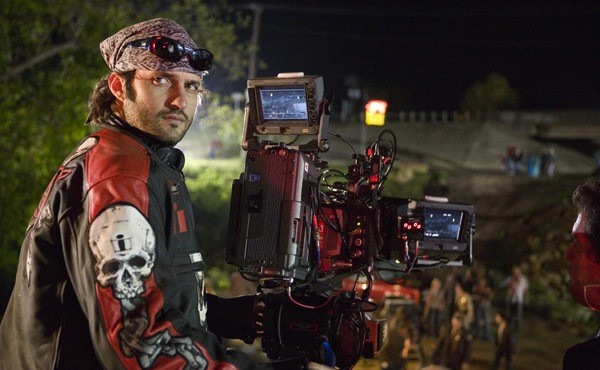 Robert Rodriguez is hands-down one of the masters of modern action movies, and it was about time we had a closer at his work that is spanning more than two decades by now. He entered the movie arena around the same time as his buddy and long-time collaborator Quentin Tarantino. And just like him, Rodriguez distilled the essence of classic B-movies and waltzed over them with his own vision for adrenaline-charged spectacle.
Massive shootouts and explosions, lightly clad women, and cool lines by the minute have become his trademarks. For almost all his productions he was in full creative control, which enabled him to create some of the most uncompromising films to ever come out of big studios in Hollywood. In this article we will discuss and rank his ultimate entries to the action genre.
Stallone and Robert Rodriguez Working Together on 'Cobra' Series
Alita: Battle Angel marks a strange outlier in Rodriguez' cinematography. It is completely devoid of his trademarks, and we can only speculate if he was allowed any say in the creative process, or had to concede to producer and writer James Cameron. The amnesiac android Alita is salvaged from a dump and repaired by the engineer Dyson. Alita realizes that she has incredible physical powers, and her fighting prowess does not go unnoticed by sinister forces, who try to capture her.
After almost 40 years of cyberpunk cinema, films like Alita: Battle Angel just don't make the cut anymore. Unless you're 12 years old, and watch a Sci-Fi movie for the first time in your life, then it will blow you away. The movie is a generic cyberpunk thriller with some teen drama elements, featuring a CGI-created main character, whose animation is everything but convincing. Sure, there's plenty of action, and everything looks pretty expensive. But that doesn't save Alita from being a bland and sterile affair, and I'll choose Albert Pyun's Nemesis anytime over it for a kick-ass flick about a cyborg with an identity crisis.
Robert Rodriguez returned to Sin City once more, and treated us with three other stories from the mind of Frank Miller about a daring gambler, a careless private detective, and a vengeful stripper. Rodriguez' applauded black and white imagery that brings Miller's stories to life is back, and it looks even better due to a special effects upgrade. Compared to the first part the characters and stories may be slightly less exciting, but it's all good enough to be worth a watch.
Mickey Rourke reprises his iconic role as bad-ass brawler Marv, and the movie also the last appearance the late and great Powers Boothe (Red Dawn, Sudden Death) on the big screen. Sin City: A Dame To Kill For stays completely true to the style and spirit of the original, and that's a really good thing in my book. It may not be the last iteration of the comic book on film, a TV series apparently is in the making, with Rodriguez and Miller in creative control.
Machete Don't text, Machete don't tweet, Machete Kills! Danny Trejo is back as legendary warrior Machete. While the first movie was already an explosion of action and slapstick humor, Machete Kills is in overdrive mode every minute. This time Rodriguez takes on cheesy spy movies from the past, and as usual he knows how to convert the template into something awesome. Machete is hired by the US president to find a terrorist aiming a nuclear missile at Washington. On his search, he faces trigger-happy prostitutes, a many-faced assassin, and a clone army of martial arts warriors.
Machete Kills bears all the trademarks of the first movie, but this time it seems Rodriguez didn't care to pull together a cohesive plot, and just wanted to have fun with crazy action. And there are indeed many glorious moments such as Machete hanging on a rotating helicopter blade while chopping off his enemies heads. Maybe the jokes and timing are a little less spot on than in the first part, but it's still Machete killing people in the most absurd and violent ways, and making love to every woman he comes across. Machete Kills is another blast from Rodriguez, and we're all looking out for Machete Kills Again – In Space!
El Mariachi returns for his third adventure, and for the sequel to Desperado, Rodriguez went big with everything. The action is more spectacular, the sets are more lavish, and the special effects are more crazy than in the original. El Mariachi is hired by the CIA to kill his arch enemy Mexican general Marquez, who himself pursues a murderous plot with the help of a drug lord and his buffoons. Antonio Banderas is great as always, Mickey Rourke impresses with his Chihuahua, but their performance takes a backseat to Johnny Depp as eccentric CIA agent with an incredibly wacky performance, or maybe he's just being himself.
El Mariachi's weaponized guitar also got an upgrade, this time it comes with a flamethrower and a remote-controlled exploding version. Once Upon A Time in Mexico is a bit chaotic and messy at times, but again full of explosive energy and impossible action scenes to make it another Rodriguez classic!
Check out Robert Rodriguez' "Virtual Reality Action Movie" in the first person
Zombies, strippers and toxic chemicals! Rodriguez' spoof of cheesy Sci-Fi horror movies from the past became another instant classic. A cloud of poison gas is released from a research facility, and turns the people of the neighboring town into zombies. The surviving villagers must not only fend off the zombies, but also a rogue squad of mutant soldiers. Planet Terror perfectly recreates the style of American and Italian low-budget horror flick (including fake reel wear), and is an all-out assault on your nerves with shootouts, explosions and Helicopter blades chopping up hordes of mutant soldiers.
Things are spiced up further with massive amounts of blood and goo that are poured over the protagonists. It's all good fun, though, as there's plenty of slapstick humor to take the edge off many disgusting scenes. I can almost guarantee that you will laugh out loud to even the most violent kills, that are usually accompanied by cheesy one liners ("I'm gonna eat your brains, and gain your knowledge."). Rodriguez again presents us some unforgettable characters, such as Bone Shack Diner owner J.T. (played by Jeff Fahey) on his search for the ultimate ingredient to his BBQ sauce (guess what it is?). Planet Terror is tasteless, absurd and sexy, a perfect movie!
Danny Trejo's role as Machete secured him everlasting cult status among action movie fans. The ultraviolent slapstick humor from Planet Terror continues in Machete, this time in an action movie template. Mexican Federal agent Machete is betrayed during an operation, and left for dead. Some years later, being an illegal immigrant to the US, he is hired to kill Texas State Senator John McLaughlin (Robert DeNiro). Things go terribly wrong, of course, and Machete needs to free himself from the web that his enemies are spinning around him.
Machete is a charming bad-ass that calmly eats a burrito while crushing an opponent in a fistfight, and is also pretty good at escaping through windows using his opponents intestines as a rope. He cuts everyone to pieces who gets in his way, and makes love to every woman he comes across. Despite its crazy escapades Machete has a fairly solid plot that centers around the well-known problems occurring at the US American/Mexican border, and does not shy away from taking sides. As an additional highlight, Rodriguez managed to cast Steven Seagal as a villain! Even in his role as a Mexican druglord (with a terrible Spanish accent) he sticks to his usual combination of stoicism and arrogance, but his weird performance only adds to the insanity of the film. Machete is a riot of a movie that is destined to become an ultimate classic!
Marvel and DC behold, this is how you do a comic book adaptation! Granted, Frank Miller's opus magnum is not exactly a family-friendly template, but Rodriguez and Miller's collaboration leaves every other comic book movie in the dust big time. Sin City features three intertwined stories from Miller's works, tales from the most hellish place on earth that show us an assembly of broken heroes, corrupt cops, and hookers armed to the teeth. A masterpiece of aesthetics and storytelling, the choice of re-enacting almost every image from the comic one by one into movie scenes is certainly eccentric, and in a way the most orthodox approach one can imagine, but it works incredibly well!
The crime/noir setting is visualized by Rodriguez in stunning high-contrast black-and-white images with occasional sprinkles of color. Bruce Willis, Mickey Rourke and Clive Owen all portray hard-boiled, disillusioned characters trying to do just one single good thing in a cruel and cynical world. The action is brutal and vicious with people being shot, stabbed and disemboweled countless times. Stylish, violent and ultracool, Sin City is a film for the ages.
"Everybody be cool! You, be cool!" If you really liked liked Pulp Fiction but thought it was too chatty and didn't have enough thrills, you have found your new favorite flick. The criminal Gecko brothers are trying to escape to Mexico and leave a trail of bodies in their wake. On their way, they take a preacher and his kids hostage. When the group stops at the Titty Twister bar just across the border they're in for a monstrous surprise. From Dusk Till Dawn set a new standard for insanity on celluloid that was copied countless times, and rarely matched. What one may think is a foul-mouthed and violent crime road movie turns into a hysterical splatter action comedy.
The movie breaks itself into two halves with a crazy twist, and literally all hell breaks loose when the longest and goriest bar fight in movie history starts. The term cult movie is overused, but this is one of them. From Dusk Till Dawn is pure genius, and cemented Rodriguez' status as specialist for outrageous action spectacles. He also created the pretty awesome TV series From Dusk Till Dawn that you should check out if you can't get enough of the Gecko brothers' escapades.
The movie that started it all. Almost, because the movie that really started it for Rodriguez was El Mariachi, a zero-budget flick that got Hollywood interested in his work. With its sequel Desperado, he created a template that he would adapt and refine in many of his later productions. The movie tells an archetypal Western story in a present-day Mexican town. El Mariachi seeks revenge for the death of his lover, and shoots everyone and everything to pieces in the process. The story is paper-thin, but Rodriguez tells it with a lot of pathos and characters one starts to care for despite all of them being cliched and one-dimensional. Antonio Banderas and Salma Hayek are an incredibly charismatic and energetic couple, and their performance in Desperado opened the doors for them in Hollywood.
What pushes the movie into ultimate greatness are its action sequences. They're not extremely bloody, but still some of the best-looking shootouts ever created, with a beautiful style that blends elements of Spaghetti Western showdowns and John Woo's Gun Fu. On top of that Rodriguez accomplishes them with razor-sharp editing, one of the best I've ever seen in a Hollywood movie. Desperado is as cool as a movie can get, a monument to Rodriguez' talent and one of the classics of modern action cinema.