Looking back at the classic one-liners, fight scenes and the gritty plot behind Seagal's ultimate action swan song…
The year is 2001, times are more simple and the action movie era is still in full swing, for now at least. Up steps Exit Wounds which is considered by many as Steven Seagal's last big film before his career took a noticeable nosedive. As Seagal was somewhat representative of action movies in general, you could even argue that after this film, the entire genre began to decline…but more on that later. Firstly I will discuss Exit Wounds and celebrate some of the finer parts of the movie.
To begin with, it was directed by Andrzej Bartkowiak. Arguably, this period of his directorial career was his peak as it was around this time that he had a string of successful action flicks. Bartkowiak released the likes of Romeo Must Die and Cradle 2 The Grave around this time, in between Exit Wounds. Like many of Bartkowiak's bigger films, Exit Wounds featured a combination of cool action sequences, gritty crime scenes, and martial arts. You could say, these components are quintessential in building a hit action movie. Whatever it was, Bartkowiak had found a winning formula and was on to something good.
In the case of Exit Wounds, Seagal's character was played along with his co-star, DMX. At the time the New York rapper had previously worked with Bartkowiak on Romeo Must Die, and again was arguably at the peak of his fame. Ironically, not only did his movie career dip after Exit Wounds but so did his acting career. Like Seagal, he featured in a number of depressing direct-to-video movies later on and actually reunited with Seagal in the 2019 movie, Beyond The Law.
A little Background on Exit Wounds
Anyway, the plot of Exit Wounds was simple and effective enough. Set in Detroit, Seagal played the rogue detective Orin Boyd and DMX was Latrell Walker. Walker was a drug dealer which led to the plot of Boyd finding $5 million worth of heroin. The rest of the story revolves around Boyd trying to uncover police corruption in his area with numerous officers acting against him. Overall, it's classic action-movie stuff and even 20 years later, it still holds up as a solid movie.
For lovers of the genre, Exit Wounds also went on to deliver some classic one-liners. Early on, Boyd is sent to Detroit as a punishment for effective, yet unethical policing tactics. Upon finding out his change in career, he is told "I'm not going to send you to Vietnam, Mr. Boyd. I'm going to send you the Fifteenth." to which he replies "Oh, that s**t hole." with the final reply being "You'll fit right in." Although some may see this as contrived and cheesy, it's light-hearted banter like this which is sadly missing in a lot of cinema today. You could claim that this line summed up the career of Seagal.
Moving away from the dialogue, the fight scenes in Exit Wounds are also on point. This is where Seagal comes into his own and his Aikido skills are on display in various fight scenes. One example of this takes place in a nightclub where Seagal manages to flip over the head of his aggressor and land on his feet. It's slick stuff and the sort of choreography that you'd come to expect. The movie also features the legendary Michael Jai White as Boyd's Sargeant, Lewis Strutt. This addition to the cast only added to the high quality martial arts that are found throughout the fight scenes of Exit Wounds.
Above the Law: The Ultimate Action Introduction to Steven Seagal
The Critical and Commercial Response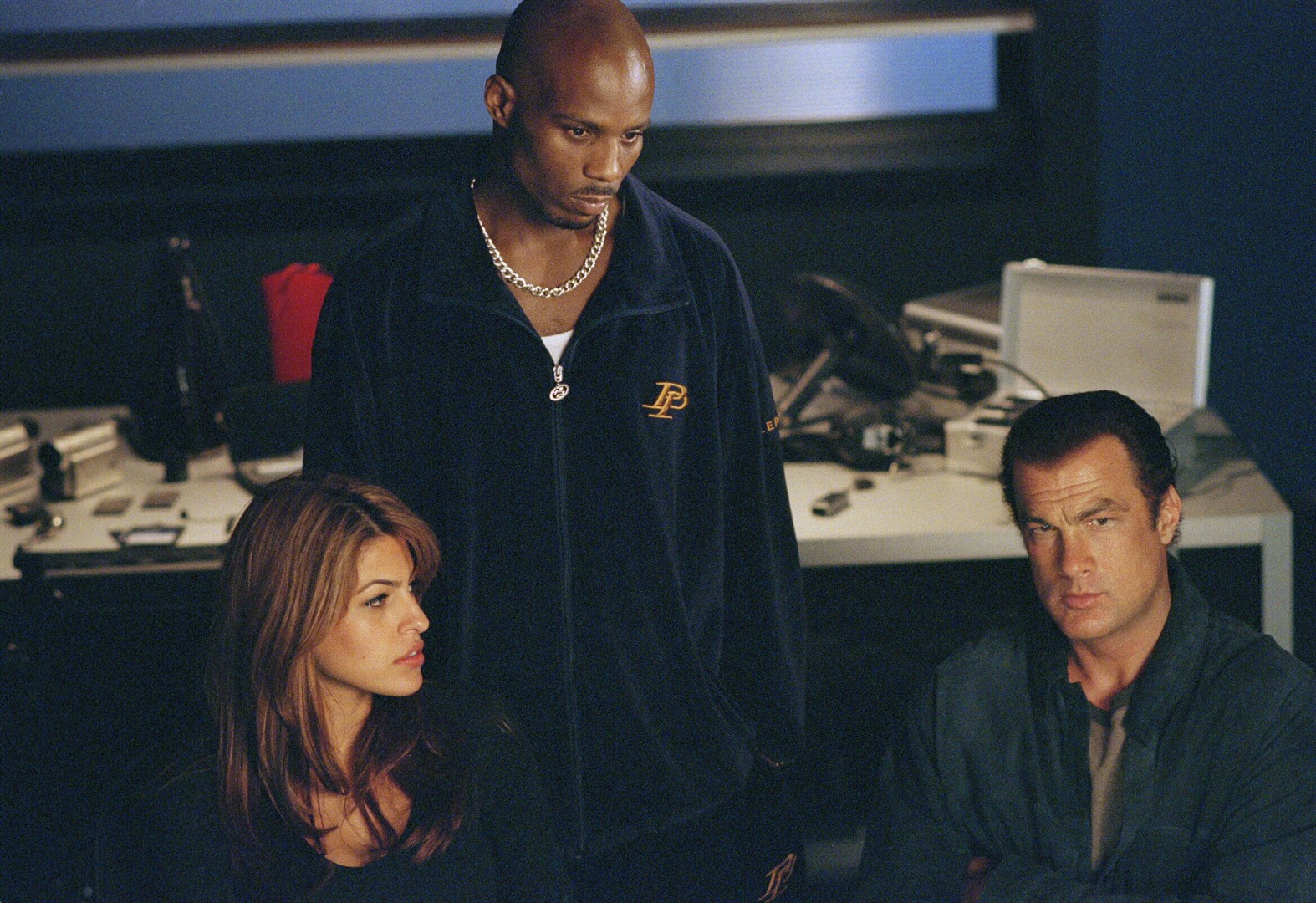 After its release, the film received mixed reviews. Some claimed it was the 'comeback' of Seagal, whilst others said it was unimaginative and stale. Nonetheless, in terms of appealing to a commercial audience, Exit Wounds was a big hit. With a budget of $33 million, it managed to turn over $80 million. Not bad for a supposedly failed movie star past his time. Interestingly, it also spawned one of the biggest hits of DMX's music career. The soundtrack was a hip-hop collaboration album that featured some big names such as Nas and Trick Daddy. The first song of the album was 'Ain't No Sunshine' which was a DMX cover of the classic Bill Withers song. Although it was a good song on its own, it also helped cover the gritty theme of crime that was central to Exit Wounds as a movie.
Returning to the critical response to Exit Wounds, perhaps I am a little biased but I always enjoyed the film. Let's be honest, action movies should be judged as action movies. If you want something with a deep, philosophical narrative then you probably won't find this in Exit Wounds, or many action films for that matter. Of course, that doesn't mean that action movies have an excuse to be lazy. My point is that action films can sometimes be judged too harshly.
With this said, Exit Wounds fits most of the criteria of being a solid action title. This isn't to say that it's one of the greats or even the best film in Seagal's filmography. However, it performs well in fulfilling its main objective, which is to be entertaining throughout. From start to finish, Exit Wounds puts on a show and delivers. Too often when it comes to such films, critics can be snobby and judgemental. Basically, I'm trying to say that you shouldn't be put off by professional critics of Exit Wounds as they may have seen it as an easy hit. Instead, I simply ask for you to judge it by your own standards without being influenced by others.
What Next for Steven Seagal?
As alluded to earlier, Exit Wounds was dubbed as something of a 'comeback' for Steven Seagal at the time. In some ways, it was hard to argue otherwise as the numbers spoke for themselves. Critically, the film did ok whilst commercially it was a big success. However, life just wasn't the same for Seagal afterward. A string of lawsuits helped damage his personal reputation. Further, his persona shifted from being viewed as slick and cool to corny and cheesy.
Not only this but Seagal never removed his tag of being typecast. Very rarely do actors successfully defeat this status and turn their career around, from that perspective Seagal almost became a parody of himself after Exit Wounds. You could go as far as to say that his reputation was hit by the growth of the internet. It was the birth of gossipy message boards and the exposure of modern martial arts that helped bring him down. Since then, his career has never been the same.
Strangely enough, DMX also suffered a similar fate. After a string of personal issues and drug abuse, he also slipped away from the mainstream. Like Steve Seagal, his career also peaked during the 90s and sadly died out later. Like Seagal, he eventually went on to become somewhat of a cult figure later on in his career, being celebrated for reasons of nostalgia as much as anything. This isn't to hint that Exit Wounds was cursed because it wasn't. It's more an example of how things can unravel quickly and how public moods shift so rapidly.
Perhaps it's not Seagal that has changed at all, instead, society around him has changed and is actually a lot more serious than it was in the 90s and 2000s. As a result, the humor and corny nature of Seagal are no longer celebrated, neither is he taken seriously as an actor either. Sadly, you could say this has also spread to action movies in general. Although they're still very much mainstream, it's hard to disagree that the 90s represented the golden era of the genre. After this, films such as Exit Wound sadly weren't as common, or at least they didn't land as well with a more modern audience. For those wanting to capture Seagal in one of his best roles, however, Exit Wounds is a great place to start.