A slightly cheesy, but compelling, story smoothly combines with ultimate action in The Substitute (1996).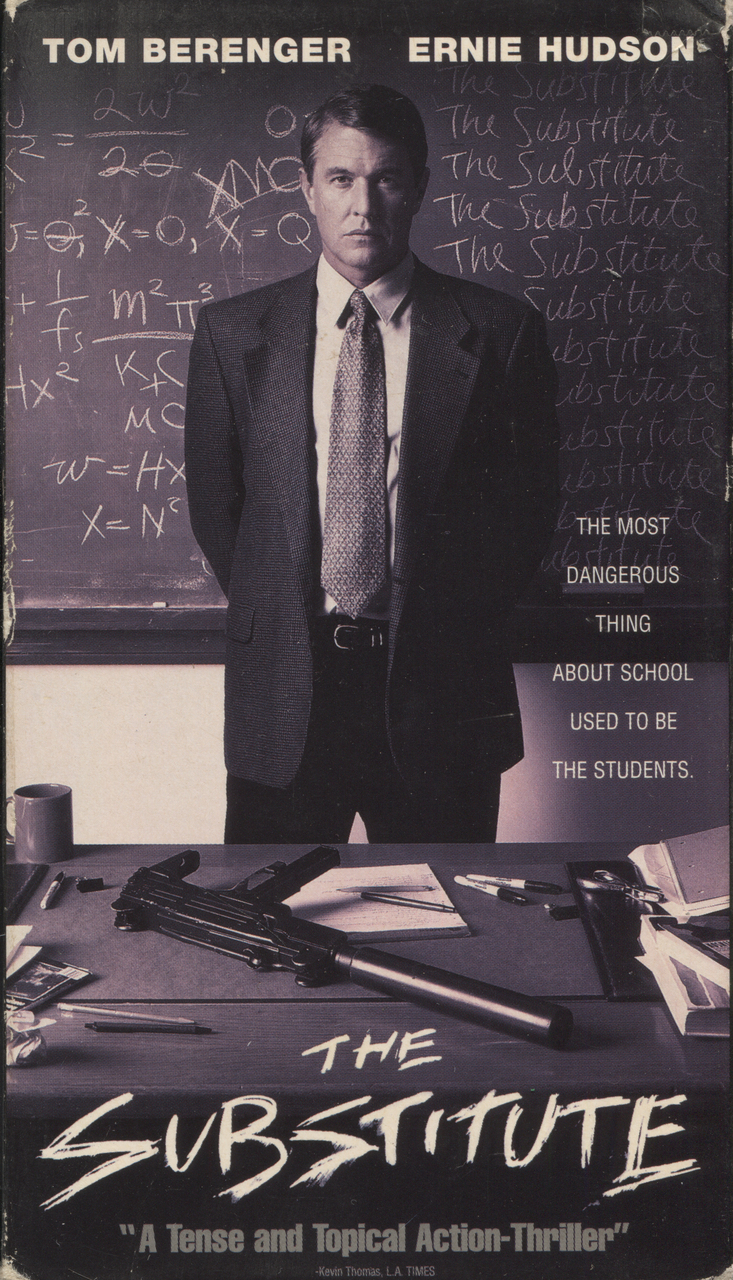 Going to school is pretty boring sometimes, but in the action movie realm schools can become playgrounds of destruction and arenas for heroic deeds! The sub-genre of action films in a high school setting is rather narrow, but gave us a few classics such as The Principal.
Toy Soldiers and Class of 1999 (a sequel of sorts to the somewhat unpleasant exploitation flick Class of 1984). All of them went deliciously over the top, and threw students and teachers into merciless fights against cyborgs, terrorists or drug-dealers. And in 1996, The Substitute followed in their footsteps.
UAMC Reviews 'The Substitute' (1996)
The Substitute came out one year after Michelle Pfeiffer gave the tough, but good-hearted U.S. Marine-turned teacher for black students from a rough neighborhood in the schmaltzy school drama Dangerous Minds. The Substitute likely was conceived to benefit from the commercial success of this teacher-on-a-mission type of film, but thankfully it strongly dialed back on the melodrama and added some healthy doses of testosterone-infused old-school action!
Jonathan Shale and his crew of mercenaries return from a covert mission in Cuba. He visits his girlfriend Jane in Miami, who is a school teacher. She gets kneecapped after a run-in with one of her students, gang leader Juan Lacas. While Jane is recovering from the assault, Shale poses as her replacement to make sure she remains safe in the future. When he finds out that Lacas and other members of the school are involved in drug trafficking, he reactivates his old squad to clean house in Gangster's Paradise.
Social Messaging and Hard-hitting Action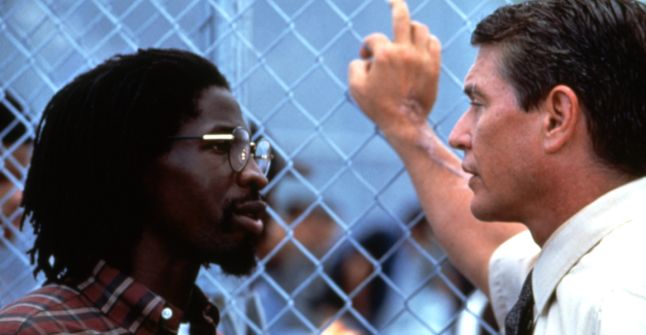 If you know a school where a drug ring operates from the building's basement, please let us know! This and some other parts of the film's premise are a bit bonkers, but once you accept them the film tells a fairly consistent story in its setting. A chaos class gets straightened out by Shale, who teaches them valuable life lessons about his time in Vietnam and in a biker gang, but his biggest gift to the students is to rid the school of drug crime. We all know that more than discipline and some pep talk are needed to help kids succeed, but there is a coarse charm to this idea, that is only enhanced by the film's unapologetic mixing of its social message with hard-hitting action. 
The Substitute is a film that cares for its characters, every actor plays their part with verve and manages  to create a sense of sincerity even in some of the more absurd situations. Tom Berenger of eternal Sniper fame is Jonathan, the tough guy with a kind heart. He takes no prisoners when things get rough, and just owns every scene he's in. Berenger is joined by a jovial gang of ex-mercenaries who are chilling out at the shooting range. The great William Forsythe is the most flamboyant member of Shale's posse. His character Hollan looks wild, behaves wild, and shows us what psycho-killer Richie from Out for Justice would be like if he joined the forces of good.
William Forsythe Leads 'The Librarians' in 'Strike Force' (2003)
But, How Ultimate is it?
The films also devotes a good chunk of its runtime to a couple of nice action sequences. We follow Shale as he goes from one encounter to another with Lacas' gang, with each time things getting more violent and deadly. Disciplinary arm-bending is succeeded by throwing thugs out the window, and Jonathan's crusade culminates in a Cannon-esque finale where our merciful mercenaries defend the school against a whole squad of baddies. It's all staged on a modest scale compared to blockbuster action flicks of its time, but there's enough creative ideas and spectacle to keep things exciting.
Despite a bunch of bloody killings, the film has an uplifting vibe. A fart joke early into a movie is always a good signal that we shouldn't take things too serious. There's also lot of positive attitude in The Substitute, and that is a nice change from the all-too common cynicism we find in so many action films. The Substitute combines a slightly cheesy, but ultimately compelling story with fun action sequences, and goes after its premise in an amazingly smooth way. And if nothing else, the message that we need more ex-mercenaries as school teachers will stick for sure!