Before there were the Expendables, there were the Librarians in 'Strike Force'!
UAMC readers, by now you know what a big fan of Daniel Bernhardt I am. When it comes to underrated martial arts action stars from the 90s, Bernhardt is at the top of heap in my book. So far, I've brought you reviews of a couple of the Bloodsport sequels, Perfect Target and G2 Mortal Conquest. Not to mention his lead villain role in Norris' The Cutter. While I still have some other Bernhardt-led vehicles to bring you, today my journey through his catalog leads me to Strike Force. The alternate title to this movie is The Librarians, so that is probably why I overlooked it until recently.
A Case for Daniel Bernhardt and 'Bloodsport 4: The Dark Kumite' (1999)
William Forsythe and the Librarians
Okay, so Bernhardt isn't the main character here, but he is in it plenty, serving as the right-hand man to William Forsythe's badass, take no shit, lead mercenary character. Yes folks, known for being a legendary movie bad guy in Out For Justice, The Rock, and Stone Cold, we get to see Forsythe here in a rare hero role. He is Simon, the leader of a team of mercenaries called The Librarians. Yea, I am glad they went with the Strike Force title. More generic, sure, but still cooler.
Forsythe's family was taken and murdered years ago, so he has been out of the game for a while, now living in Miami. His old boss John Strong (Ed Lauter/Raw Deal, Death Wish 3, Mercenary), needs him for a job, he of course refuses until he finds out the daughter of an old friend (Michael Parks/The Hitman) has been kidnapped, he is in. He calls on his old team; Toshko (Bernhardt) and G-Man (Amaury Nolasco/Prison Break) down to Miami and the fun begins.
More Action Movie Stars Than you can count!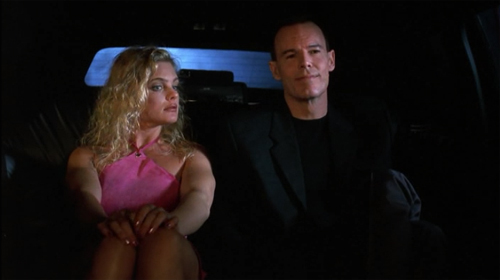 They go up against this Miami mobster Marcos, played brilliantly and memorably by Andrew Divoff (Blast/Air Force One/Another 48 Hours/Martial Law). His 'heavies' or henchman include Christopher Atkins (Project Shadowchaser III) and Mr. 'Shirtless In Hollywood' himself, Matthias Hues (Dark Angel/Fists of Iron/Kickboxer 2). Also another element thrown in the mix is Erika Eleniak's (Under Siege/Breakaway) character, Sandi. At first, she just appears to be arm candy for Divoff, but we come to find out she is an undercover officer, on her own quest for vengeance. I've always been a big fan of Eleniak, she is of course beautiful and always great to watch on screen.
Pretty much like another film I reviewed for you, Shadow Warriors: Assault on Devil's Island, this film admittedly has a made for TV vibe to it, with a story we have seen plenty of times, but that is okay, when it is executed well like it is by this all star, b-movie cast of familiar faces. Speaking of familiar faces, the legendary Burt Reynolds (Smokey and the Bandit/Universal Soldier 2 & 3) as 'Irish' and Dennis Hayden (Die Hard) as a bouncer.
Hulk Hogan and Carl Weathers in 'Assault on Devil's Island' (1997)
So How Ultimate is it?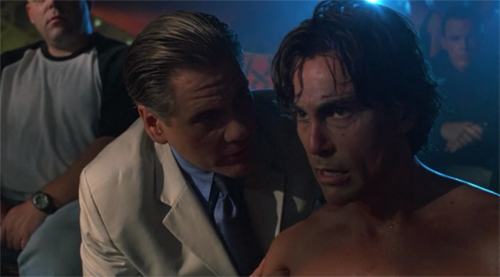 While there are no huge set pieces, it captures a very fun atmosphere with the fun in the sun Miami locations. The usual staple bad guy Forsythe does the good guy thing very well and is as cool as hell, armed with his duel wielding pistols and wisecracks alike. Forsythe has had more notable roles over the years, but I'm sure getting to have a sex scene with Eleniak has got to be a personal highlight.
The movie starts off immediately with this crazy over the top shootout, while the finale seemed slightly rushed, it still was satisfying and had its moments.. like Forsythe and Divoff crashing through walls in their fight and falling out a window onto a car. But this will come as no surprise to you, that probably the biggest highlight for me was another aspect of the film was that Divoff ran these underground fights at his nightclub. We even get to see Eleniak showing off some moves in a fight of her own. But then we get Bernhardt vs Hues! Yes. Praise the ultimate action movie gods for making this matchup happen! It did not disappoint.
What an overlooked, fun Shadow Warriors or Expendables style flick this turned out to be. How did I not have this in my life before? If names like Forsythe, Bernhardt, Eleniak, Divoff and Hues pique your interest, you need Strike Force aka The Librarians in your life, too!