Yup, you read that right. Here's how to get your Michael Jai White action fix right now!
Before we get to the goods, let's take a moment to consider what you're asking here. You are a Michael Jai White fan. You know MJW from his early comedy work in the films of Tyler Perry. Or maybe you knew him as Jax Briggs in Mortal Kombat: Legacy. Or maybe even as Cyborg Seth in Universal Soldier: The Return. Or maybe you know him as Mike Tyson in the HBO biopic Tyson. Or MAYBE you know him from his famous parody role in Black Dynamite.
It doesn't matter really, you're here to watch MJW do his thing. And more probably, it's because you want to see Jai White do what he does best – kick butt and take names. You're in luck too. Michael Jai actually has quite a robust action movie career that's filled with some under-seen and very under-appreciated hardcore action genre classics.
And many of which you can watch online – for free! But we do have to mention that – if you are a true MJW fan – then you should probably, you know, invest in either renting or buying your Michael Jai White movies so that you can support the man and his action movie friends. But hey, if Netflix, Amazon Prime and platforms like Crackle want to put up his movies on their services for free (or based on subscription) then more power to them. So, here… we… go!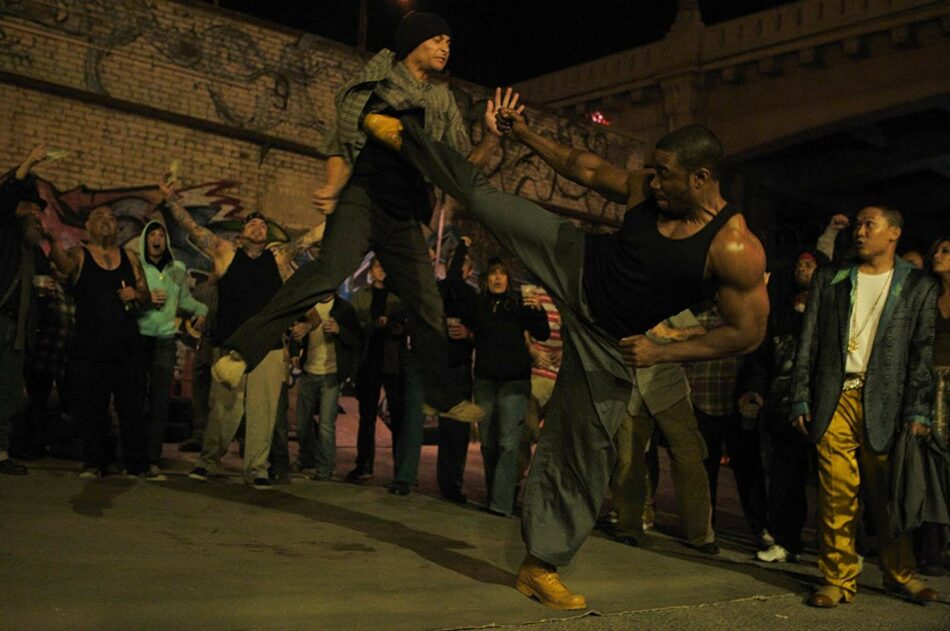 We're gonna start with one of the ultimate best of Michael Jai White's action filmography. This. Movie. Slaps. Hard. So hard in fact that it's #1 on our ranking list of the great MJW films of all time! Seriously – check it out. It's 100% made for Michael Jai White to star in his most prime form – as a badass fighter with a heart of goal. For an indie movie without a mega budget, it's beautifully crafted and everything you'll want for your man MJW.
Blood and Bone: Michael Jai White's DTV Ultimate Action Classic
One of the most ultimate action movie casts ever assembled, Triple Threat is pure, unbridled action at its most ultimate-ness. This movie has everything. Badass martial arts. Gun fights. Kickass assembling the squad montages. Triple Threat is directed by Jesse V. Johnson and also stars Tony Jaa, Iko Uwais and Tiger Chen, as well as Scott Adkins, Michael Jai White, Michael Bisping, Celina Jade, and Jeeja Yanin.
This is actually a very awesome documentary that examines the influences of Hong Kong martial arts cinema on mainstream ultimate action. It's a great look throughout action history to see how these genre filmmakers have influenced so much of your favorite action movies and their stars. MJW is featured – so check it out!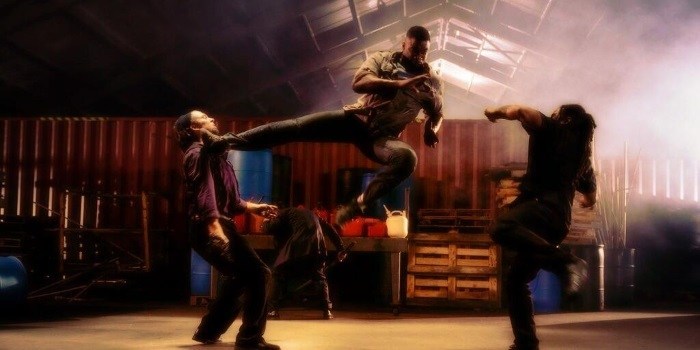 Also on Crackle, as well as Amazon Prime and Tubi, Falcon Rising is the ultimate action franchise we always wish we had – but as of yet only have the ultimate beginnings to. Michael Jai White really deserves this to have so many sequels. As you watch it, you'll see why. It's one of MJW's most ambitious projects and showcases his absolute A-List star power – you just have to give him the chance, Hollywood. C'mon!
While you should probably watch Never Back Down 2: The Beatdown first which also starred Michael Jai White. Or maybe even the original Never Back Down which didn't star MJW. Never Back Down 3 – aka Never Back Down: No Surrender is the most ultimate edition in the series and one of Jai White's absolute best. It will seriously punch you in the goddamn face. So be ready for some beatdowns!
More Michael Jai White Movies Online
There's certainly plenty more Michael Jai White movies out there to list, but those are our top 5 that you should watch right now if you can. (What else are you gonna do, huh?) We'd highly recommend you checking out some of these search lists on sites like Amazon Prime, Tubi and Vudu as well as… you know… going to your local Best Buy or wherever and buying a damn copy of one of your favorite Michael Jai White actioners. Today! Like right now!