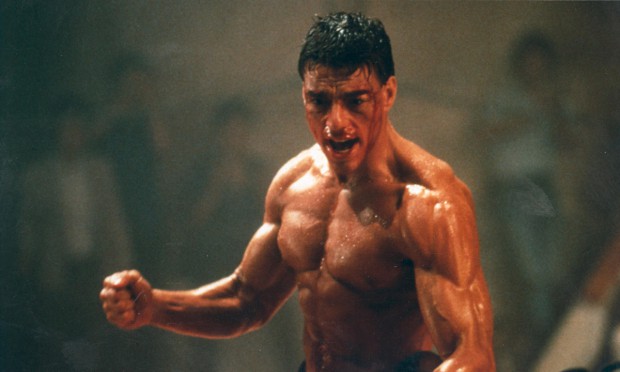 What's your all-time favorite Van Damme kick-out?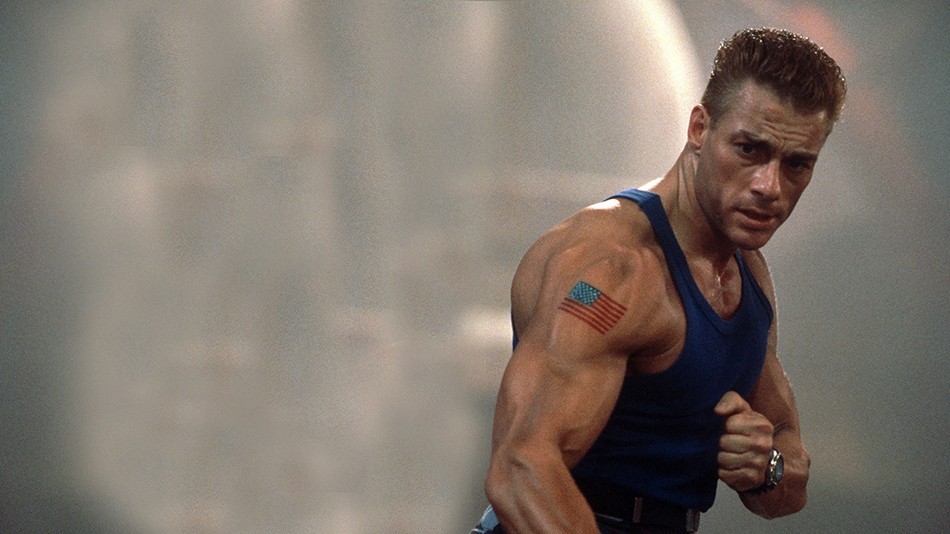 From his villainy in No Retreat, No Surrender to his hardened brawling in The Bouncer, Jean-Claude Van Damme kicks ass wherever he goes, whatever he's doing, be it good, bad or ugly – even with that black hair in Replicant. Fully equipped with a background in karate amongst other hard-hitting, wild shit, Van Damme is as legitimately tough as they come.
Van Damme's enemies include the likes of Dolph Lundgren, hockey mascots, and even himself – "Dos Van Damme!" was a marketing tagline for Double Impact in Europe. But which fights are his best? ALL of his fights are epic encounters.
Below, in order of release, are his 10 best fights, but there is one rule: for fairness and diversity, only one fight per film is allowed.
Bloodsport (1988) – Frank Dux vs. Chong Li
Ah yes, the final fight from Van Damme's most cherished film. Not only was Bloodsport his breakout film, it displayed all of the great ass-kicking conventions we would be wowed by for the entirety of his career. In his encounter with Bolo Yeung's Chong Li, peak physical prowess and fitness is on display.
Like any decent display of good vs. bad storytelling in action, the villain has to provide actions which draw heat from the viewer, and inspiration for the hero. Emphatically presented in slow-motion like all good fights, Frank Dux is beaten badly here and there, but it is in this notion that the character transcends into somewhat of an underdog, almost Rocky-esque, therefore establishing greater importance and emphasis on the hard-hitting action throughout the fight.
The Top 10 Reasons Why Bloodsport is Van Damme's Magnum Opus
Kickboxer (1989) – Bar Fight
Like Bloodsport listed above, Kickboxer is not just one of Van Damme's greatest films, but one of the greatest action films of the 1980s. From start to finish, Kickboxer is absolutely loaded full of great action and great fights. Of course, Van Damme's final fight against the villainous Tong Po (Michel Qissi) tends to be the showcase of this revenge spectacle, but instead, it is the bar fight halfway through – despite being overshadowed by the comic nature of Van Damme's dancing – that shows the true variety of his action skills.
Severely drunk and smooth with the ladies, Van Damme's Kurt Sloane embarrasses the young fighters belonging to the sleazy Freddy Li (Ka Ting Lee). From roundhouse kicks to reverse headbutts, the comedic nature in the timing of the fighting provides great awe.
Universal Soldier (1992) – Luc Deveraux vs. Andrew Scott
The first sci-fi Van Damme in this list, and probably his best, Universal Soldier is somewhat of a clash of the B-movie titans. Though both having flirted with The Cannon Group, Van Damme was the slightly more successful, though you could argue that Dolph Lundgren had the bigger career hit with Rocky IV. Universal Soldier, however, had a badass premise mixing sci-fi with war and action, a terrific, yet frightening concept. Deceased soldiers brought back to life as "UniSols"? WILD!
To an extent, the fight between Van Damme and Dolph Lundgren can be read as a, "winner gets the better movie career" fight. The fight and the film itself saw a return to villainous form for Dolph Lundgren, which we can all agree is what he does best. In a fight that can be detailed as skill vs. power and strength, so much is at stake in this final battle. Luc Deveraux is the more human of the two, whereas Andrew Scott boasts a machine/monster-like presence in a fierce spectacle, the fight of a lifetime.
Nowhere to Run (1993) – Sam Gillen vs. Mr. Dunston
Nowhere to Run was the first Van Damme film to possess a great deal of humanity, more so than his preceding films. Firstly, Van Damme's Sam Gilen is a crook, a convict. His subsequent escape and befriending of Rosanna Arquette's Clydie Anderson provides a quest for redemption from his crime. Beyond a friendship and potential romance, Clydie is alone with her two children in a vulnerable position up against a threatening, corrupt property developer lead by Joss Ackland's Franklin Hale, and aided by Ted Levine's Mr. Dunston. Sam can make a difference, but as a wanted man, up against a corrupt system, only his fighting can do the talking.
The Muscles from Brussels taking on Ted Levine – the man behind Buffalo Bill! Throughout the fight with Dunston, there is a vulnerability shown by Van Damme, in an almost humanising manner. The fight itself is somewhat more domesticated and rugged, thus adding a touch of authenticity in what is, essentially, a full-on exciting brawl.
Hard Target (1993) – Chance Boudreaux vs. Rattlesnake
Yes, Van Damme fights a rattlesnake, and if this list was ranked, the fight would be a contender for #1. In probably the biggest film of his career, Van Damme was the star of John Woo's US debut following his transition from Hong Kong. Looking at the action bonanza within Woo's previous film, Hard Boiled, expectations were high for Hard Target and Van Damme – fans were not left disappointed!
In sporting a slick mullet, overcoat and double-denim, Van Damme's Boudreaux oozes style. But just when you think his coolness has peaked in Hard Target, think again.When leading Nat (Yancy Butler) through a woodland trail, romance seems imminent, but instead, Boudreaux punches a damn rattlesnake. Without doubt, the toughest fight of his career.
Scott Adkins Channels his Inner-Van Damme in 'Hard Target 2'
Timecop (1994) – Home Invasion
The highest grossing film of Van Damme's prime, Timecop proved to be another sci-fi success for the action star having previously battled in the genre two years prior in Universal Soldier – a financial success also. Despite showing a little amount of grey within a healthy mullet, Van Damme's kick-ass fighting fails to display any sign of ageing. If anything, his physique looks better than ever too. 
A peaceful sleep? No chance. Equipped with 50,000 volts, knives, and pain, the bad guys are sent to Max Walker's (Van Damme) house to take him out, but little do they know, Walker hates his sleep getting interrupted. A domesticated fight, taking place all over the living room and kitchen, we are witness to one of Van Damme's more technical fights – the usage of knives disarms his traditional moveset, but instead, adds a new layer to the spectacle of Van Damme, which concludes with the most absurd display of athleticism in action cinema.
Street Fighter (1994) – Colonel Guile vs. General Bison
Bookended in release by other classic video game films, Super Mario Bros. and Mortal Kombat, Street Fighter could very well be the best of the three. Based on Street Fight II, Van Damme leads the charge as Colonel Guile against military dictator and all-around mad man, General Bison (Raul Julia). In what was to be Julia's last film, a career best performance was present in a comedic, yet terrifying manner.
"Come out from behind the curtain, wizard." Invites Guile, leading to Bison swinging into action, ready for a fight till the death, full of high kicks, power punches, and close-ups of biceps. Superbly, the fight itself is as theatrical, ridiculous and over-the-top as is much of the content within Street Fighter, thus leading to no incoherence contextually and tonally.
Is The Game of 'Street Fighter: The Movie' starring Jean-Claude Van Damme Being Re-Released?
Sudden Death (1995) – Darren McCord vs. Hockey Mascot
Die Hard in a stadium? Yes please! Collaborating with Peter Hyams for a second time, Van Damme is Darren McCord – a former firefighter turned fire safety and stadium security in Sudden Death. Essentially, caught in the right place at the right time – he is security after all! – McCord has to save the day by protecting both his kids and the vice-president from terrorist Joshua Foss (Powers Boothe) during the Stanley Cup. Of course, terrorists have to be taken out one at a time, including one dressed as a team mascot…
Despite the limitations of a mascot's costume, the fight in question is both highly skilled and intense. Using the surrounding environment, Van Damme serves a five-star meal of a fight in the kitchen prep area. From conveyor belts to deep fat fryers, all expectations are met and subsequently surpassed in a fight that, despite being absolutely ridiculous on paper, is full of great action moments and perfectly fits in with the tone of the film.
Double Team (1997) – Jack Quinn vs. Stavros' Henchman
Having previously worked with John Woo on Hard Target, and Ringo Lam on Maximum Risk, Double Team saw Van Damme lead the fight for the third time in the US debut of a prominent Hong Kong director – this time, it was with Tsui Hark of Once Upon a Time in China for Double Team. In the midst of tracking down bad guy Stavros (Mickey Rourke), with the help of Dennis Rodman's Yaz, Van Damme finds himself kicking ass in a hotel full of Stavros' henchmen.
After taking out one guy, Van Damme faces the ultimate hotel suite duel, featuring everything from flying chairs and flying shoes. Under the eye of Tsui Hark, the action is choreographed and shot magnificently – the movement of the camera is almost the antithesis of Van Damme's earlier action work.
A Tribute to Mickey Rourke's Scene-Stealing Turn in 'Double Team'
Replicant (2001) – Replicant vs. The Torch
Yet another "Dos Van Damme!" and another collaboration with Ringo Lam, having previously worked together on the director's US debut, Maximum Risk. Unlike the previous editions of "Dos Van Damme!", Replicant features Van Damme as the villain of the film as well as the usual hero – the sadistic villain, The Torch, and his replicant, secretly produced to aid the capture of the bad guy.    
Though The Torch and Replicant do cross paths in a bar, resulting in a brief fight halfway through the film, the real magic and spectacle occurs right at the end in an exceptionally choreographed fight. Armed with the same moves, and presented in the absolute best Dutch angles, it takes something special – maybe even superhuman – for either to break the deadlock in a battle of life and death, evil vs. science.