Ranking the best action films from legendary star Wesley Snipes!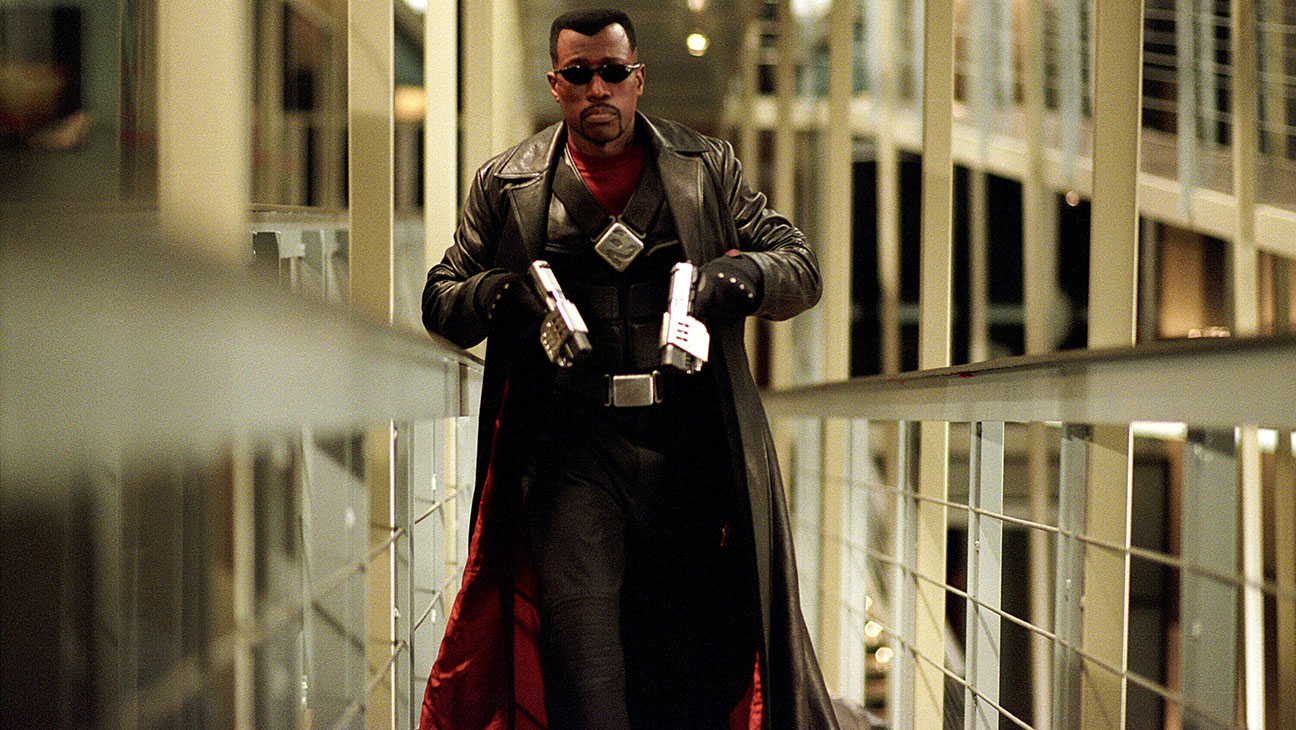 Wesley Snipes is one of the grandees of action cinema who had a big contribution in shaping the genre in the 1990s up to the early 2000s. His acting talent and charisma also earned him plenty of roles outside action films, and these traits together with his multi-disciplinary martial arts skills were a killer combination for his parts in action flicks. Swords, guns and fists, Snipes mastered them all, and in this article we'll list his top 10 ultimate action classics!
Money Train is a buddy cop flick that picks the unique setting of the "money train", a guarded subway picking up the collected passenger fares from each station. Foster brothers John (Snipes) and Charlie (Woody Harrelson) work as transit cops for the New York Metro. Charlie's gambling addiction, love troubles and a subway train full of money turn out to be an explosive combination. Harrison and Snipes have a solid chemistry, and their funny banter turns even the most mundane conversations into entertaining moments.
The biggest problem of the film is that all the story hooks are not that exciting, and we just follow our two main protagonists through their daily lives and struggles. Fortunately, in the last third of the film, the brakes finally come off (literally). The big finale is absolutely worth watching with spectacular stunts and demolitions on a subway train out of control. Despite some issues, Money Train is an easy-going actioner with funny and relatable characters.
Wesley Snipes to Star in New Zombie Action Thriller 'Outbreak Z'
The third reunion with our favorite action heroes brought even more star power to the table: Harrison Ford, Mel Gibson, Antonio Banderas and of course Wesley Snipes! Barney and his crew take it up against former team member Stonebanks (Gibson), who has chosen the path of evil. Barney decides to bring in some fresh recruits, which does not sit well with his old brothers in arms. The proven formula of over-the-top set pieces and cheesy one-liners also worked for the third installment of the Expendables franchise, even though everything may be just a tad less exciting compared to its predecessors. 
But it's an old-school action fest yet again, and Snipes' performance as Doc (aka Dr. Death aka The Knife before Christmas) shows that he's still a formidable action hero. Being part of an ensemble cast, his screen time is limited, but after a decade of low-budget flicks, it's great to see Snipes return to the big screen, and he even is able to poke some fun at his real-life prison stint!
What The Expendables Series Got Right (and What it Got Wrong)
For some people, the United Nations has the reputation of a paper tiger, but in The Art of War this global organization employs a group of secret agents to execute a "policy of aggressive peacekeeping". When a Chinese diplomat is murdered during the celebration of a US-Chinese trade agreement, UN operative Shaw (Snipes) chases the killer, but ends up on the run himself after being framed for the crime.  The idea of secret UN operations to enforce world peace is intriguing, and this actioner with political undertones has a lot to offer.
Snipes gets plenty of opportunity to display his martial arts skills frequently and impressively. Besides the kicks and punches there's a nice suite of shootouts, chases and explosions to keep the adrenaline going. It's all stylishly filmed, with lots of high-tech spy equipment being showcased, and yet the film retains a pleasantly old-school vibe with straightforward storytelling. The Art of War kicks some serious ass, and shows Snipes in top form!
6 Ultimate Action Stars Who Should Have Starred in John Wick
U.S. Marshals is a sequel to the Harrison Ford classic The Fugitive, which earned Tommy Lee Jones an Oscar in 1993 for his intense portrayal of U.S Marshal Sam Gerard. Mark Warren (Snipes), has been accused of murder of two federal agents, and escapes in the aftermath of a prison plane crash. U.S marshal Sam Gerard and his team pick up his trail, and embark on a turbulent chase that is also littered with hints of government machinations.
The film is a copy of the original, but we don't not mind. The plot moves at break-neck speed with plenty of twists to keep you hooked every single minute. Tommy Lee Jones is the epicenter of the movie, and delivers yet another performance with almost uncanny energy and intensity. Snipes provides a formidable counterpart, though, and is certainly a lot more menacing and bad-ass than Harrison Ford in the first installment. U.S. Marshals will keep you at the edge of your seat, guaranteed!
Snipes' first role in a major action feature put him on the map as A-tier action hero. Passenger 57 is one of the numerous "Die Hard on a moving vehicle" films, and arguably one of the best. John Cutter is on his way to his new job as airline chief of security. Convicted terrorist Charles Rane (Bruce Payne) is on the same plane for transfer to his trial. Rane's associates hijack the plane, and the mayhem is on! This non-stop thrill ride delivers fights and shootouts on and around the plane (after landing), all expertly executed.
In his role as airline security specialist, Snipes convincingly demonstrated that he is both a charismatic actor and a skilled martial artist. Snipes and Payne's characters propel the film, and keep coming up with new ways to make each other's life miserable. A healthy dose of tongue-in-cheek humor and a tight runtime with just above 80 minutes, and no idle moments, all contribute to make Passenger 57 a fantastic old-school actioner.
1994 was the year of skydiving action when Terminal Velocity and Drop Zone both hit theaters. Both of them are fun flicks, but only one of them featured another slam dunk performance from Wesley Snipes! When U.S. Marshal Pete Nessip escorts convicted hacker Leedy, the plane is hijacked and the kidnappers escape with Leedy by jumping off the plane in mid-air. Pete's brother gets killed in the chaos, and he goes undercover into the skydiving scene to track down the criminals.
This Point Break clone has a simple setup, but the film is just a fun ride from the first minute with breathtaking skydiving sequences, and some highly creative villain deaths (exitus by copy machine!). Snipes once again shines as a formidable action hero with a coolness like liquid nitrogen, and goes after the great Gary Busey, who delivers another unhinged master villain performance. Drop Zone is classic of 1990s action cinema with the perfect package of amusing characters, cheesy one-liners and spectacular action.
Wesley Snipes to Star in New Zombie Action Thriller 'Outbreak Z'
The directorial debut of Mario Van Peebles takes the backdrop of the devastating 1980s crack epidemic to create an action-packed gangster saga. New Jack City tells the story of drug kingpin Nino Brown (Snipes) and his gang, their rivalry with the Italian mafia, and an undercover police unit going out of their way to make an end to the drug business. 
The film is ripe with death and tragedy, and yet there are many genuinely funny moments. Vivid performances by everyone (among them future stars Ice-T and Chris Rock) propel the film towards awesomeness, but center-stage is taken by Snipes as flamboyant and ruthless drug kingpin with an otherworldly performance that is campy and yet frequently terrifying at the same time. There is also no shortage of action with brutal gang violence and police raids, all brilliantly filmed. New Jack City is as unique as it is awesome, and carries a message that remains relevant to this day.
Guillermo Del Toro is a master of modern Gothic Horror, and with Blade 2 he also showed his talent for creating spectacular action films. The vampires are threatened by the Reapers, a new breed of blood-thirsty monsters led by the tormented Nomak. Blade is persuaded to team up with the Blood Pack, a group of elite vampire warriors, to annihilate Nomak and his Reaper army. 
In Blade 2, darkness and shadows replace the glossy and sometimes glaring visuals of the first Blade. The martial arts sequences are even better than in the first part, the action is relentless, and there's vampire ninjas and Lovecraftian monsters everywhere! Snipes is just as awesome as in the original film as cold and charismatic avenger, slashing and gunning through hordes of enemies. Frenetic fights, a healthy camp factor and stunning visuals make Blade 2 another genre masterpiece!
"Send a maniac to catch one." One of the great 1990s action classics gave us one of the best movie villains of all time. In 2032, violent criminal Simon Phoenix (Snipes), who was put into cryo-stasis in 1996, escapes during a parole hearing. The police do not know how to stop him, as crime has been eliminated from society. John Spartan (Sylvester Stallone), who captured Phoenix and was sent into cryo-sleep along with him, is defrosted and assigned to employ his archaic 20th century police methods to capture Phoenix.
The jovial psychopath Phoenix holds up a mirror to this Brave New World society that is completely unprepared for his sadistic escapades. Rarely were villain and cop both as funny and bad-ass as in Demolition Man, and their cat-and-mouse-game leads to plenty of shootouts, bloody deaths and, of course: demolitions. Like the best of satires, Demolition Man does not moralize with a sledge hammer, but embeds its message into an incredibly entertaining actioner with an endless stream of awesome one-liners. It's a classic for the ages, not least thanks to Snipes hyperactive and hyperviolent performance.
How Do The 3 Seashells in 'Demolition Man' Work? 3 Ultimate Theories!
If a movie would ever be used to define the word coolness in a dictionary, it would be Blade! Blade (Snipes) is the Daywalker, a vampire hunter who is a vampire himself, but suffers from none of their weaknesses. After assaulting a vampire night club, he gets into a lethal feud with vampire yuppie Deacon Frost who is researching an ancient prophecy that promises infinite power. Director Stephen Norrington infused his film with techno music, martial arts and an overkill of 1990s party fashion, and radically disposed of the old vampire flick cliches.
The action is slick, fast and violent, and will get your blood pumping. Snipes owns every scene with an almost arrogant ruthlessness, and displays some impressive swordplay and martial arts skills. Blade set a standard for high-octane comic book adaptations that has not yet been surpassed. It's the greatest superhero flick ever made, and one of the ultimate classics of 1990s action!