Lionheart takes on Bloodsport for JCVD Supremacy

With Jean-Claude Van Damme's recent revelation that later this year he will begin filming Lionheart 2, a direct sequel to 1990's stellar Lionheart, I thought it was a good time to revisit this classic JCVD flick.
Many fans rightfully consider 1988's Bloodsport Van Damme's masterpiece. I couldn't agree more. To make a sports analogy, if Bloodsport is Michael Jordan, Lionheart has to be considered Kobe Bryant. It's a 1A/1B situation. Many action actors would love to have the movie listed on their head shot.
UAMC News: 'John Wick' Directors Looking to Helm 'Bloodsport' Reboot
Solid Martial Arts Action
Lionheart doesn't try to add too many plot elements into the mix; it's a hand-to-hand, martial arts action movie first, second and third. There's no love interest, no slain karate master to avenge, no sidekick to train, and no yelling police chief (although it does co-star Harrison Page, who played one on the criminally underrated 80s TV show Sledge Hammer!).
Lionheart came in the midst of Van Damme's career apex (1988–1995), when he starred in the following: Bloodsport, Cyborg, Kickboxer, Lionheart, Death Warrant, Double Impact, Universal Soldier, Nowhere to Run, Hard Target, Timecop and Street Fighter. Physically he looked great (age would take a tremendous toll on his face over time), he moved exceptionally well, and the fighting scenes are arguably better than any other put to film that year; Steven Seagal's Hard to Kill is its only real competition.
FUN FACT: Lionheart also has the distinction of being the first Van Damme film where his character has a French surname (Lyon), which immediately explained his thick Belgian accent and allowed audiences to accept he "could have" been American in many of his movies, albeit with a French lineage. (In case you were wondering, the others were: Deveraux from the Universal Soldier series; Boudreaux from Hard Target; Dubois from The Quest; Moreau from Maximum Risk; Lefevre from Legionnaire; Garrotte from Replicant; LeBlanc from In Hell; Frenchy from Soldiers; Vilain from The Expendables 2; and Frenchy from Full Love.)
But let's get back to Lionheart, shall we? Oui.
You Know The Story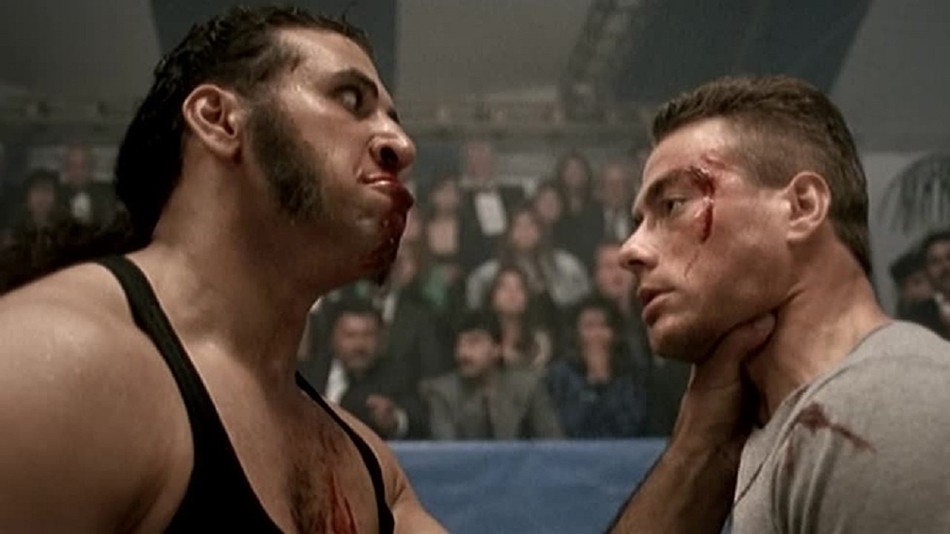 The plot of the movie is simple enough to follow: a French legionnaire deserts his post and heads to America. Here he finds his sister-in-law in dire straits financially, so he resorts to illegal street fights as a way to earn money to support her and her young daughter. Cue the action!
Lionheart boasts a who's who in terms of recognizing several actors who make you want to shout out "I know that guy". In addition to the aforementioned Harrison Page, the movie has Michel Qissi (who would find immortality as Tong Po in the original Kickboxer series); Billy Blanks (Tae Bo marketing guru); Jeff Speakman (ahem); and Brian Thompson (the Night Slayer from Sylvester Stallone's Cobra). I would be remiss if I didn't include Abdel Qissi among these gentlemen. He is the younger brother of Michel Qissi and looked like a clone of Andre the Giant when he opposed JCVD in Lionheart.
Worth a Revisit
While it never won any awards, Lionheart did earn eight times its $3 million budget. I just wonder why it took more than three decades to make its sequel. Regardless, I can say with certainty that I'm among its target audience. (And if you're reading this, I suspect you are, too.)
I'm glad that at this stage of his career, JCVD is giving fans what they want: a co-starring role in the Kickboxer reboot; a self-depreciating title role in the short-lived Amazon series Jean-Claude Van Johnson, where he mocked many of his most famous films; and this, the long-awaited sequel to Lionheart.

---
Let us know what you what you think in the comments!