Ranking the best action movies from the great Mark Dacascos!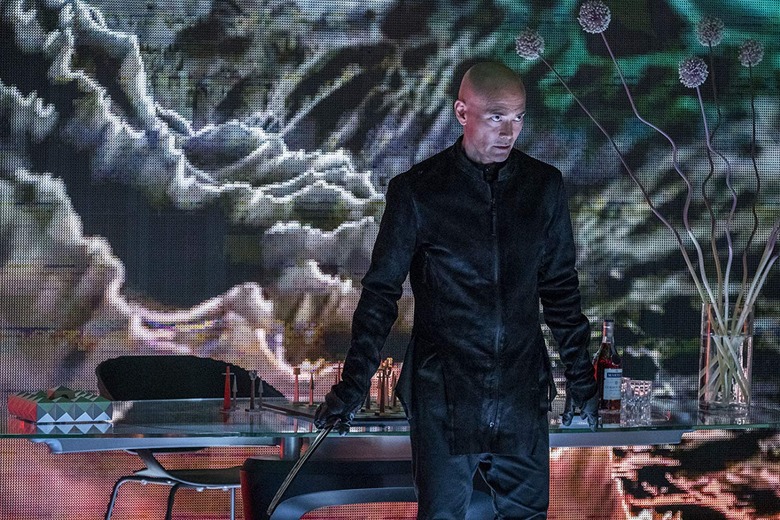 Hawaii is famous for many things, among them surfing, Albert Pyun, and also Mark Dacascos! The multidisciplinary martial artist entered the movie business in the early 1990s and became a mainstay with fans of direct-to-video action, while also making appearances on the big screen every once in a while. His calm, but charismatic demeanor, combined with some impressive fighting skills made him a perfect action hero. In this article, we have compiled a list of the ten best action films Mark Dacascos has made to this day. He is far from being done, so let's hope we can update this list in the years to come with more masterpieces!
Sanctuary was the last of three successful collaborations between Dacascos and director Tibor Takacs in the realm of cost-effective 1990s action. Luke (Dacascos) worked as a government-hired assassin, but abandoned his profession. He becomes a priest but his past catches up with him, and much mayhem follows. More of a spy movie than a full-fledged action flick, Sanctuary has the typical hazy DTV thriller look.
Luke's backstory is pretty bonkers and is the only thing that stands out from the run-off-the-mill plot. Fortunately we're indulged with a couple of solid action sequences to keep things moderately exciting, and the film picks up the pace significantly in last thirty minutes with the action coming at a good rate. Dacascos does a good job with a brooding performance that occasionally erupts into brutal violence. Sanctuary is perfectly watchable, but only once.
How Mark Dacascos Paved the Way for John Wick in 'Sanctuary' (1997)
Early video game adaptations were interesting experiments trying to bridge the gap between the digital and back then still analog screen. Double Dragon was the second entry into this genre, and tells the story of two brothers Jimmy (Dacascos) and Billy on their quest to prevent kingpin Shuko from obtaining two halves of an ancient medallion that grants its wielder infinite power. The brothers traverse a post-cataclysmic LA. that looks like a playground for adolescents, and make violent acquaintances with the different gangs dwelling in the ruins of the city.
The world-building is pretty much incomprehensible, the special effects are cheesy, and some of the action sequences are seriously wonky, but it's never boring! Robert Patrick shines as master villain in Eurodance fashion and hairstyle, and Dacascos is tuned in properly with an upbeat performance, who also delivers the goods in a couple of nice fights. Double Dragon is as chaotic as a movie can get, but it's a fun ride for the whole family. And it is oh so colorful, it's the Mary Poppins of video game adaptations!
Redline (aka Deathline) saw Dacascos in a villain role, all complete with a bad fake Russian accent and    circle beard. In a cyberpunk future, Wade (Rutger Hauer) is betrayed and killed by his fellow smuggler of biotechnology Marrick (Dacascos) during a run. Brought back to life by the Russian government, Wade is sent to go after Merrick. Director Tibor Takacs creates a perfect B-movie setting with a world where not many things make sense, but with a unique look that blends Eastern-bloc architecture, 1990s Techno music and fashion, and a neo-noir vibe á la Blade Runner.
Redline is primarily a Rutger Hauer vehicle, but whenever Dacascos shows up someone gets hurt, and he even gets to pull off some nice moves occasionally. On top of that there's plenty of gunfights and nudity, the two of which occasionally coalesce into Kalashnikov-shooting half-naked women. A good pace and plenty of action make Redline a fun B-actioner that is actually worth a re-watch every once in a while.
Alien Agent: Mark Dacascos Plus Jesse V. Johnson Equals Ultimate Action
Director Sam Firstenberg returned to his roots in this production of the late Cannon era that was also the real career starter for Mark Dacascos. Andrew (David Bradley) is a samurai master and a journalist. When he is sent to Turkey to investigate a sword killing, he is abducted and forced to partake in a deadly tournament where he faces his old nemesis Kenjiro (Dacascos). American Samurai is your typical tournament flick, the only variation it puts on the familiar Bloodsport theme is that this time it's all about sword fights instead of bare fists.
It doesn't have the good production values of Firstenberg's opus magnum American Ninja, but its fight sequences are a lot better thanks to the many skilled martial artists involved, first and foremost Bradley and Dacascos. The latter impresses with an intimidating evil stare that is on permanently, literally in every scene. There's all sorts of interesting weapons brought into the ring by the contestants, and the sharp blades give rise to some surprisingly gory moments. All in all, American Samurai is perfect entertainment for fans of arena fight films.
David Bradley and Mark Dacascos in 'American Samurai' (1992)
Being cast as a villain to take it up against John Wick is an accolade for every martial artist, and in the third installment of the saga Mark Dacascos was granted this honor. After the proceedings of the second film John Wick is expelled from the High Table syndicate. Every assassin in town goes after him, including the fiercest of them all, Japanese weapons master Zeno (Dacascos).
It's only a supporting role but a spectacular comeback for Dacascos on the big screen in one of the best contemporary action franchises in the world. The final confrontation between Zeno and Wick is an epic fight in a labyrinth of glass, and the highlight of the film. After his impressive performance in John Wick 3, we can only wonder why we don't see Mark Dacascos in more high-profile actioners these days.
Sabotage gave Dacascos the opportunity to shine as calm and cool ex-elite soldier with explosive fighting skills. Michael is a former Navy Seal who now works as a bodyguard. When his boss is assassinated, he joins the police investigation, and discovers a link between the murder and his dishonorable discharge many years ago after a mission in Bosnia got sabotaged. The story is properly convoluted for a conspiracy thriller, but there's enough action thrown in to make keep the excitement level high.
The action sequences are stylish and brutal featuring a mix of martial arts, sniper kills (with one of the earliest instances of bullet time) and shootouts. For a film of its budget segment, director Tibor Takacs impresses with atmospheric locations, grainy visuals and a sharp cinematography. Same goes for the cast, with Carrie Anne-Moss, Graham Greene and Tony Todd all giving spirited performances. Sabotage is a movie that looks a lot better than your average DTV flick, and can be recommended for every fan of 1990s action thrillers.
Christophe Gans' spectacular debut was a big nod to the Heroic Bloodshed genre, and another slam dunk for Dacascos early on in his career. Yo is an assassin for the triad clan Sons of the Dragon. When a woman witnesses one of his kills, he is bound to kill her, but falls in love with her. With an ongoing war between the triads and the Yakuza, Yo needs to make some difficult choices.
The film owes its visual style to John Woo's classics with lavish and elegant set pieces and plenty of slo-mo takes. The action choreography inevitably is second rate compared to the grand master's works, and yet Gans puts on an A-list spectacle with the full suite of martial arts battles, shootouts and explosions (lots of them). Dacascos owns every scene of the film without saying much, and succeeds in creating a mystical aura for his character while also displaying killer fight skills. Crying Freeman is a masterpiece, and if any action flick other than a John Woo film ever deserved attributes like poetic and dreamy, this is the one!
After their first successful collaboration Crying Freeman, director and writer Christophe Gans and Mark Dacascos teamed up again a few years later, and created an absolute masterpiece of modern French cinema. Grégoire de Fronsac and his Iroquois companion Mani are sent by the French king to track down a mysterious beast that roams through a province ripping peasants apart. Gans thoroughly dusted off the historic adventure genre and created a wild mix of costume drama, monster horror and martial arts flick.
The 18th Century french countryside becomes a mystical place full of secrets and dangers, and the plot takes one turn after the other. The atmosphere and composition of every scene is just perfect, and we are acquainted with many memorable and charismatic characters. Dacascos' role is one of the most impressive in the film, as a mystical Native American who is also a martial arts master. Besides some frenetic chase scenes involving the mysterious beast there's a couple of killer fight sequences, and Dacascos gives it all in the bloody battles. Brotherhood of the Wolf is action-packed, grisly and sexy, just my type of popcorn entertainment!
Ironclad: 10 Years Later and Still Going Medieval on Your Ass
With Only the Strong Dacascos successfully demonstrated that he has the charisma and physical prowess to carry an action film as main actor. Ex-Green Beret Louis returns to his old high-school and starts a Capoeira class for the biggest misfits to straighten them out. He also takes it up with the local drug dealer gang. We all know it takes more than a few martial arts lessons to turn a rough life around, but we should embrace the romantic idea, and simply enjoy this action fairy tale.
Dacascos is great in his role as kind, but assertive Capoeira master, and the film puts a big spotlight on this beautiful martial arts school with its fluid and dance-like movements. The movie also benefits a lot from its charming characters, good and bad alike, and director Sheldon Lettich perfectly captures the urban vibe and some awesome street fights with a calm and effective cinematography. Even hardened action fans need a film like Only The Strong every once in a while, with its hopeful and uplifting vibe, something that has become exceedingly rare in the action genre.
Interview: Sheldon Lettich on Bloodsport, Van Damme and Stallone
Creature designer Steve Wang's brief excursion into the action genre as a director gave us an ultimate classic of 1990s high-octane action! Toby Wong flees from Hongkong to the US from the grip of an evil corporation, carrying a valuable secret implanted into his chest. He crosses paths with song-writer Malik, and they join forces in their fight and flight from cowboy mercenary Vic Madison and his  henchmen. With Drive, Wang and his action unit showed infinite enthusiasm and creativity, and deliver one flawlessly staged action sequence after another!
When there's no one being beaten up or things exploding, the film switches to dialogues chock-full of cheesy jokes that do not advance the plot the slightest, but keep viewers entertained every single second. Dacascos shows some comedic talent while roundhousing people every other minute. He fights with shoes on his hands against half a dozen enemies trying to electrocute him, and empties out a hotel room throwing a mattress, a complete set of furniture and people towards his opponents. Loaded to the brim with excitement and laughs, Drive is the perfect action comedy, an exhilarating experience that up this day belong to the best the genre has to offer.
Mark Dacascos is a Cybernetically Enhanced Kung Fu Master in 'Drive' (1997)